US Embassy to Start Opening from July 15 in Phases (India?)
US Embassy to start reopening on July 15 in phases. Consulates in India reopening may be delayed. Travel ban restrictions will be maintained.

By Anil Gupta
Updated 15 Jul, 20
Update July 15, 2020: One of our guest has shared that Indian embassy in Hyderabad asked him to send the documents to prove emergency appointment for his H4 dependents who are stuck in India.
We do not know if the US embassy quickly reacted to the newly filed H1B travel ban lawsuit on July 15 that primarily claims the separation of H1B and H4 families.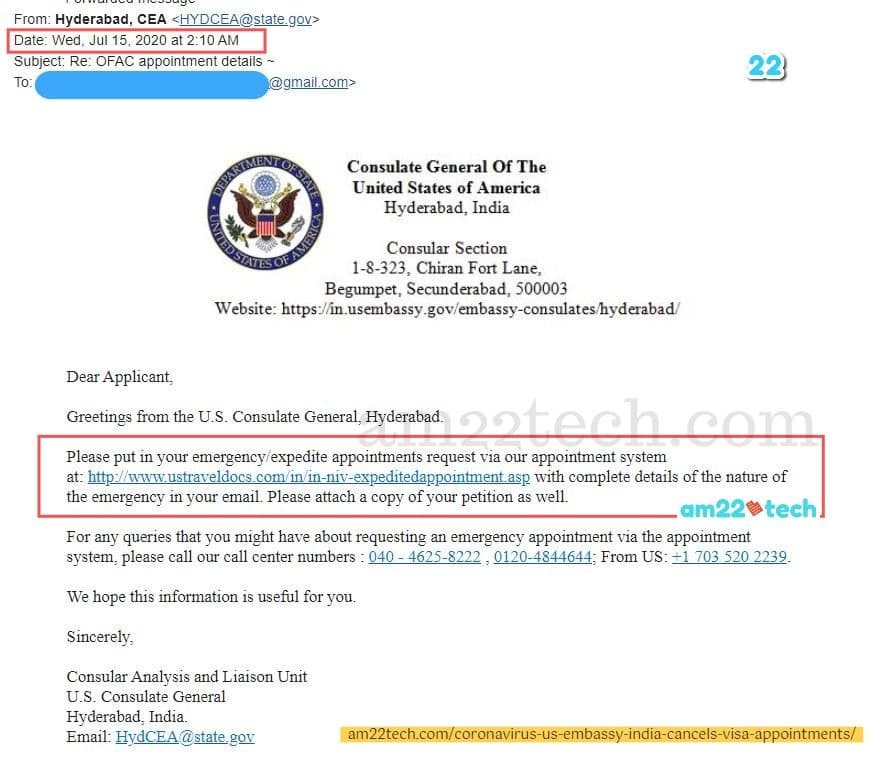 H1B Scenario:
This person is physically present in the USA working on an H1B visa. His family members are currently in India.
His H4 dependents had an H4 dropbox appointment in April second week which was canceled due to COVID-19 closures.
The sequence of events as shared by our guest:
He sent an email on June first week to the Hyderabad US embassy asking for help.

Embassy reply: Embassy closed. Cannot process applications.

Follow up email in July first week requesting help for H4 dependents.

Embassy reply (July first week): Embassy cannot process H4 visa applications due to Travel ban EO signed by trump.
Embassy reply (July 15): Send documents to prove emergency for H4 visa.
Is there Hope for you?
We do not know if the US embassy has reacted to the lawsuit or this event is a coincidence.
If your H4 family is stuck in India, you can give it a try and try requesting an expedited visa processing by sharing details such as:
Your kid (H4) is missing school and has never attended school in India.
Your H4 spouse does not work in the USA – so there is no chance of affecting American worker jobs. Chances are good in this case but not guaranteed.
We do not know if these points will be considered as valid emergency points by the US consulate.
There is no harm in trying.
This article will discuss:
US embassy Reopening
Earlier on July 11, 2020, the State Department has announced that the US embassy all over the world will start reopening from July 15.
There is no news about the US embassy reopening in India yet. It is possible that the US embassy in India may remain closed for some more time due to the high number of COVID-19 cases.
We will update once we hear any news about the US embassy reopening in India.
Earliest US Visa Appointment Date Available
Some people have reported that they are able to see the earliest date in Mar 2021 on the us-travel-docs India website.
You may not be able to book the appointment anyway even if it is shown as available.
I believe that these dates will change and new dates will be available as soon as the embassy announces reopening plan.
You should expect and be prepared:
Delays in appointment availability.
Check if you are eligible for dropbox to prepare ahead of time.
US embassy may prioritize appointments for visa types like B1/B2 and others which are not part of the travel ban.
It is good if you do not get an appointment for a work-based visa before Nov 2020 elections as the anti-immigrant sentiment is high in the US and the chances of denial might be high.
Travel Ban Restrictions
If you are trying to apply for a visa category that currently has travel restrictions like H1B, L1, J1, or their dependents, then you may not be issued a visa.
There are new visa issuance ban and travel ban applicable for F1 and M1 students too unless a stay order is issued by the court for ICE's student visa guidelines in Harvard & MIT lawsuit.
Will dropbox appointment be allowed after Embassy Reopening?
Dropbox should be allowed along with normal visa interviews once the embassy reopens.
Will my Visa interview fees be refunded?
US visa fees are non-refundable.

US embassy will give you a chance to reschedule your visa appointment later without paying fees again.
Can I visit any other country for my US visa stamp outside India?
You can visit any other country for your US visa stamp if you can and the embassy is open there.
Can I work remotely from India on US payroll?
You can work remotely from India. Short term work from outside USA on H1B or Lr visa is acceptable.
Can I apply for H1B visa stamp once US embassy reopens?
You can apply for H1B or any other visa stamp but the travel ban rules will apply and you will be issued form 221g if your visa type is part of travel restrictions at this time.
US Embassy Closures – March 2020
Earlier on Mar 12, 2020, the US embassy in India announced the cancellation of all US visa interviews appointment starting Mar 16, 2020.
The interview appointments were automatically canceled for all types of visa interviews like H1B, H4, L1, L2, B1/B2, F1/F2, and other immigrant green card visas.
If you had an appointment already booked before this ban, you can expect to receive a cancellation email like this: