COVID-19: USCIS Allows Extra 60 Days For RFE & NOID Response
USCIS announced extra 60 days to respond to RFE & NOID issued between Mar 1 to May 1. Attorneys & Employers can wait until their offices are reopened.
AM22Tech Team
Updated 5 Sep, 21
USCIS has announced on Mar 27, 2020, that they will allow extra 60 days for sending RFE and NOID responses.
Any RFE or NOID sent by USCIS between Mar 1, 2020, and May 1, 2020, is eligible for additional time.
This is a big relief for H1B employers who are struggling to follow the immigration law rules in Coronavirus emergency.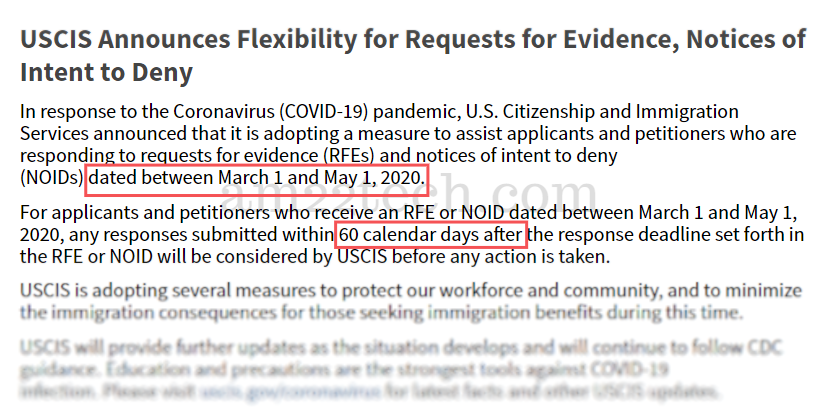 Attorney law offices are closed and employers were facing difficulty in collecting pieces of evidence as requested by USCIS.
On Mar 26, 2020, Official Travel.State website asked Medical professionals all over the world to apply for H or J visa. USA wants Doctors and nurses who can help with treating rapidly increasing COVID-19 cases.
How will the new deadline date of RFE submission be decided?
The new deadline date of RFE response can be calculated by adding 60 calendar days to the current date mentioned in the USCIS RFE letter.

Example:
If USCIS issues RFE on Mar 1 and asked to reply by April 30, 2020, you can now reply to this RFE by June 30, 2020. This means that you get an extra 60 days.
Will USCIS wait for RFE response automatically or We should ask for extra 60 days?
There is no need to request for extra 60 days. All RFE and NOIDs sent between Mar 1 to May 1 will automatically get an extra 60 days.
Can we submit RFE response within old timeline?
You can submit an RFE response anytime you want. USCIS is only giving your additional extra 60 days.
What are the Chances of H1B approval after RFE in Coronavirus Situation?
Chances of H1B approval in Coronavirus are the same as without an emergency. We do not think that USCIS is giving any relaxation in the number of documents you need to submit.

Example:
Recently, a Physician doctor received an RFE to prove H1B specialty occupation.

My i94 will expire before the new RFE deadline, Should i wait?
You are legally allowed up to 240 days of stay and work in the US even if your i94 expires while your application is pending with USCIS.
Is it Automatic Extension?
Note that USCIS has allowed only extra time to file your RFE response. There is no automatic extension of any visa type announced as interpreted by many users.
All other rules of pending H1B, L visa, L2 and H4 EAD remain same. There is no automatic extension at this time.
Source: USCIS Announcement