H1B Wage Levels to Increase By July 2021 (LCA, PERM PWD)
H1B wage level for extension, transfer & change of status set to increase by July 2021 again! DOL is publishing new rule after court struck down their wage increase in Oct 2020.
AM22Tech Team
Updated 19 Jan, 21
DOL is trying its hand again at increasing the H1B wage level for extension, transfer, amendment and change of status.
This time they are going through the rulemaking process and expect the rule to start in July 2021.
Earlier in Jan 2021, USCIS also published the increased wage rule for H1B lottery selection.
Last year, DOL was forced to roll back the wage level increase after the courts in California and New Jersey canceled both the H1B wage and the new specialty occupation rules.
This article will discuss:
H1B Wage Level Increase (Check with App)
Check My H1B Wage Level
These are estimated wages based on an artificial intelligence algorithm that will be required based on new levels defined by DOL now. The actual wage levels should be published by DOL soon and will be final.
We have taken the example of Santa Clara County, California wage levels and these are not actual wages defined by DOL.
The app suggests if a salary raise will be required or not based on your current salary per year.
In this example above, a software engineer in California with a wage level 1 and getting 120,000 per annum will need an increase of about $2,000 to maintain the same wage level.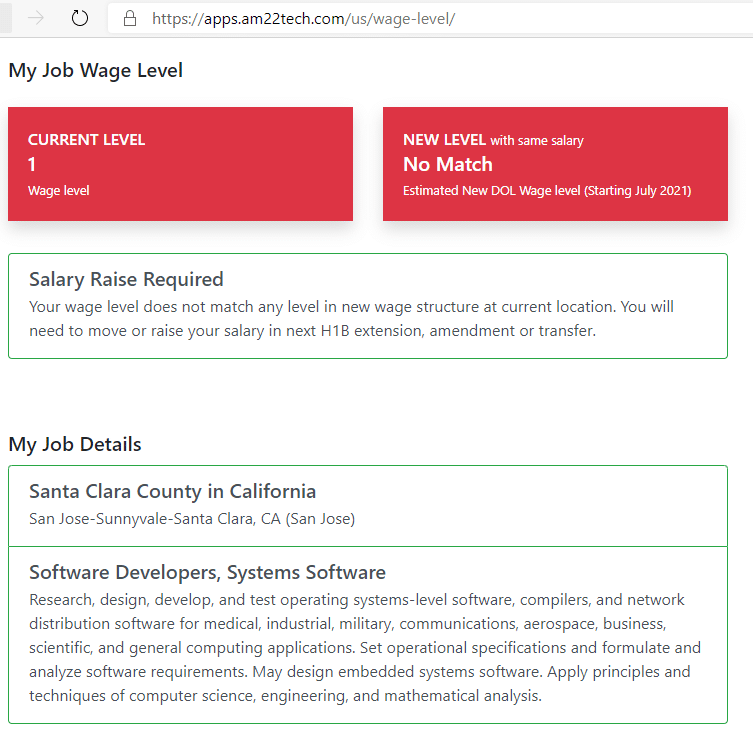 The new rules will apply to all types of new H-1B, H-1B1, or E-3 applications:
H1B Extensions.
H1B Transfer.
H1B Amendments.
H1B Change of Status
The existing pending (already filed before the rule implementation date) and approved applications will not be reopened.
LCA and PWD for green card will be affected starting Oct 8 itself.
You can check your new H1B wage level using zip code and SOC Code here based on FLCDataCenter wage level updates:
Check My H1B Wage Level
H1B LCA: New LCAs will need a new salary. LCAs already filed before this rule's implementation will be fine with old salary requirements until there is time for H1B extension/transfer or amendment.
PERM prevailing wage determinations: New PWD for PERM filing will also need a new higher salary.
Can I downgrade my H1B LCA from level 3 from Level 1?
Example H1B Wage Comparison with New Wage Level
Dallas, TX – Assuming Level 1 wage for a software developer in Dallas, TX at the prevailing wage of $76,000 per year, then the new wage required will be $95k per year.
San Diego, CA – Similarly, Level 1 wage in San Diego, California might jump from the current 120k to about 150k per annum.
Level 1 is now Level 2 – In simple terms, the Level 1 wage will now be made equal to the current Level 2 and so on.
LCA, PERM – These will be applicable for both H1B LCA and PERM filings.
It would hit international students looking to get H1B sponsorship right after finishing studies in the USA.
As per the report by Law 360, the new rule aims to increase the H1B wage level but not at the same levels as they did in Oct 2020.
Non-US citizen students make the biggest part of the chunk that rides on wage level 1 salary as an entry-level H1B worker.
Note that the percentile is not same as the percentage.
Transition, Phased Wage Increase
The transition phase will start after 60 days of final rule publishing. Assuming it is published on Jan 14, 2021, the rule implementation should start on Mar 15, 2021.
We will base all our calculation on Mar 15, 2021 now.
Find my H1B LCA Salary Level, SOC Code
The final wage rule allows for a transition period by setting an interim year of wages as explained by immigration attorneys Fragomen.
New H1B – at 90 percent of the above wage levels for new H-1B visas.
H1B waiting for Green Card means approved PERM, i140 – A three and a half year transition period of 85 percent, 90 percent, 95 percent of the above wage levels for workers on track for Green card.
New H1B LCA, PWD after March 15, 2021
| New H1B LCA, PWD | Level 1 to 4 |
| --- | --- |
| Mar 15 to June 30, 2021 | New wage level required (DOL will publish numbers for this period)but it will effectively remain the same as the current level due to the suggested formula for this period. |
| July 1 to June 30, 2022 | 90% of the wage level |
| July 1, 2022, Onwards | 100% of the wage level |
Approved PERM before Oct 8, 2020
| H1B Extension, Transfer, Amendment, COS, PERM | Level 1 to Level 4 |
| --- | --- |
| Mar 15 to June 30, 2021 | Current Wage Level |
| July 1, 2021, to June 30, 2020 | 85% of Wage Level |
| July 1, 2022, to June 30, 2023 | 90% of Wage level |
| July 1, 2023, to June 30, 2024 | 95% of Wage level |
| July 1, 2024, Onwards | 100% of Wage Level |
FAQ
Will approved PERM or LCA be affected?
Approved PERM and LCAs will not be affected.

The new LCAs for the H1B job will be evaluated based on new wage levels and new job rules.

The prevailing wage (PWD) for PERM will have new increased wage criteria now.
Are these rules final or will be challenged in court by way of Lawsuit?
The h1B wage rules are part of the final rule and DOL is following them through the process of comments and then publishing the rule.

The chances are low that a lawsuit will be filed. Even if a lawsuit is filed, the chances of winning it may not be good.
Will my EB2 to EB3 downgrade be affected by new H1B rule?
The new H1B wages rule might affect people who have changed their employer and need to file a new PERM and hence new prevailing wages.

In this case, it will become difficult to qualify for the new PERM if your employer cannot promise to pay you higher wages.

Your best chance would be to reuse the old employer's PERM and file EB2 to EB3 downgrade with the old employer itself.
Are the new H1B rules applicable for H1B visa stamping if i797 is already approved?
The H1B visa stamping should not be affected as the new rules are applicable for new H1B filings with USCIS going forward.

If you already have an approved H1B i797 for the next 3 years, then you are fine till the approval validity and can get a visa stamp.
Can Biden Stop Wage Level Increase?
It does not look like Joe Biden will be able to stop the increased wage levels immediately unless he uses his superpowers of issuing executive orders as Trump did.
The DOL is publishing them using the rulemaking process and hence it is not going to be easy to remove them abruptly.
Source: DOL H1B Final rule