Court Cancels Third Party H1B for 1 Yr Rules (Higher Wage Level too)
California court cancels H1B third-party client site approval only for 1 year and Wage level increase rules. Get full 3-year approval now.

By Am22tech
Updated 1 Dec, 20
Update Dec 1, 2020: A court in California has canceled both the H1B wage and the new specialty occupation rule today. Good news.
This effectively means that H1B third-party applications can get full 3-year approval and the new increased wage level will not be required now.
H1B extensions, transfers, amendment, and change of status can now be filed normally with normal wages.
DOL should publish the new rules on how they will apply the old wages to pending PWD and LCAs. We will update here once we hear from them.
H1B lottery wage rule is still active and is going through the normal lawmaking process. It changes the lottery system to favor high wages. This is still active.
Suzanne Monyak of Law360 reported that both laws by stuck down by Judge white giving the decision in favor of members challenging DOL and DHS decisions.
Earlier in Oct 2020
The new H1B approval criteria rules have been published by DHS and will be applicable within 60 days unless challenged and stayed by the court.
There are two separate rules and their own start dates:
H1B increased wages – has already started from Oct 8, 2020. A lawsuit has been filed to challenge the wage level increase.
H1B specialty occupation, 1-year approval rule – scheduled to start on Dec 7, 2020. The lawsuit is expected to be filed in Dec.
The new rules will apply to all types of new H1B applications:
H1B Extensions.
H1B Transfer.
H1B Amendments.
H1B Change of Status and new Lottery applications.
The existing pending (already filed before the rule implementation date) and approved applications will not be reopened.
The agenda to change H1B visa eligibility criteria was put on the fast track after Trump's executive order signed on Aug 3 even though it was pending for the last 2 years.
H-1B Changes
#1 H1B Approval Term Reduced
This new rule will create problems for IT consulting companies like TCS, Infosys, Cognizant, etc as they will have to file H1B extensions every year.

Small consulting companies who hire H1B workers as a consultant and only act as middle-vendor will face challenges in surviving after the new H1B rules.
1 year only: For H1B workers deployed at a third-party client site, the maximum approval will be given for 1 year.
3 Year: For H1B full-time jobs with direct clients, the H1B can be approved for 3 years.
Short H1B approval terms were overturned by the court recently in an IT Serve case. DHS will now be able to ignore the court settlement as this rule will act as their shield.
DHS intentionally wants to force H1B dependent employers to pay more fees by making them file extensions every year.
#2 H1B Wage Level Increased (Check with App)

LCA and PWD for green card will be affected starting Oct 8 itself.

You can check your new H1B wage level using zip code and SOC Code here based on FLCDataCenter wage level updates:



Open App in new Window > &nbsp&nbsp&nbsp&nbsp&nbsp


H1B LCA: New LCAs filed on or after Oct 8 will need a new salary. LCAs already filed before Oct 8 will be fine with old salary requirements.
PERM prevailing wage determinations: New PWD for PERM filing will also need a new higher salary after Oct 8. The current pending PWD on Oct 8 will be judged based on new salary rules as explained by immigration lawyers Fragomen.
The other H1B rules are part of DHS and USCIS. They will be applicable 60 days after Oct 8.
Can I downgrade my H1B LCA to level 1 from Level 3?
An example discussed by Rahul reddy in the video for wage level is for Dallas, Texas.
Dallas, TX – Assuming Level 1 wage for a software developer in Dallas, TX at the prevailing wage of $76,000 per year, then the new wage required will be $110k per year.
San Diego, CA – Similarly, Level 1 wage in San Diego, California might jump from the current 120k to about 168k per annum.
Level 1 is now Level 3 – In simple terms, the Level 1 wage will now be made equal to current Level 3 and so on.
LCA, PERM – These will be applicable for both H1B LCA and PERM filings.




Open video in new Window > &nbsp&nbsp&nbsp&nbsp&nbsp



It would hit international students looking to get H1B sponsorship right after finishing studies in the USA.

Non-US citizen students make the biggest part of the chunk that ride on wage level 1 salary as an entry-level H1B worker.

The wage levels have been revised as explained by attorney Greg Siskind here:
Note that the percentile is not same as the percentage.
#3 Revised Specialty Occupation Definition
The specialty occupation definition now includes the following criteria:
The education degree must be DIRECTLY related to the H1B position. [New] – The cases of mechanical, electrical engineer, etc. working as a software engineer will find it difficult to pass these criteria.

A bachelor or higher degree in a directly related specific specialty is the minimum requirement for entry into the particular occupation in which the beneficiary will be employed.
A bachelor or higher degree in a directly related specific specialty, or its equivalent, is the minimum requirement for entry into parallel positions at similar organizations in the employer's United States industry;

The employer usually hires workers with a bachelor or higher degree in a directly related specific specialty for the job position.
The H1B employer must also prove that position requires such a directly related specialty degree to perform its duties.
The specific duties of the proffered position are so specialized, complex, or unique that they can only be performed by an individual with a bachelor or higher degree in a directly related specific specialty.
Lawyers claim that it is difficult to change the definition without passing the law in congress.
#4 Revised Employer Employee Relationship
The rule would also restrict which companies would be eligible for an H-1B based on the "employer-employee relationship".
USCIS will now look into the relationship in more detail with special emphasis on these points as explained by attorney Emily Neumann:
Supervision: H1B employer supervises the employee and where such supervision takes place i.e. the actual location of manager and employee's interaction.

Where is Supervision done? [New] – If the supervision is not at the H1B employer's own office, how do they maintain such supervision at regular intervals?

Right to Control Daily Work – The right to control the work of the H1B employee on a day-to-day basis and to assign projects

Can the H1B employer hire, pay, and has the ability to fire the beneficiary?
Does the employer evaluate the work-product of the employee?
Your daily work is seen by your H1B employer or the end client?

Are Laptop/Other Instruments Provided by H1B Employer? [New] Does the H1B employer provide the tools or instrumentalities needed to perform the duties of employment?
Tax [New] – Does your employer consider the H1B employee for its own business tax purposes?
Employee Benefits: Does the H1B employer provide any type of employee benefits?
Intellectual property: Does the H1B worker uses proprietary information of the H1B sponsor to perform the duties of employment. This is like using a custom-built software for the client.

Is the end-product directly linked to the H1B employer's line of business?
FAQ
Will USCIS reopen existing approved H1B and issue Notice of Intent to revoke?
DHS has clarified that existing approved H1B applications will not be reopened.

No NOIR will be issued.

The new extensions, transfer, amendment, or change of status will go through the new rules though even if the old ones were approved earlier.
Will approved PERM or LCA be affected?
Approved PERM and LCAs will not be affected.

The new LCAs for the H1B job will be evaluated based on new wage levels and new job rules.

The prevailing wage (PWD) for PERM will have new increased wage criteria now.
Are these rules final or will be challenged in court?
The rules are part of the interim rule which is not required to go through the public comment period.

The chances are high that a lawsuit will be filed and a court stay will stop USCIS from implementing these rules.
Is the 1 year H1B rule applicable for i140 approved candidates too?
Yes, the new H1B rule will be applicable for all H1B employees who work for a client.

The important part to understand is the client worksite. If you work in the client's office, you will get only 1-year H1B term irrespective of your i-140 approval status.

This will affect H4 and H4 EAD terms as well. H4 extension and H4 EAD can only be given for the same term as primary H1B's i797 validity.
Will my EB2 to EB3 downgrade be affected by new H1B rule?
The new H1B wages rule might affect people who have changed their employer and need to file a new PERM and hence new prevailing wages.

In this case, it will become difficult to qualify for the new PERM if your employer cannot promise to pay you higher wages.

Your best chance would be to reuse the old employer's PERM and file EB2 to EB3 downgrade with the old employer itself.
Are the new H1B rules applicable for H1B visa stamping if i797 is already approved?
The H1B visa stamping should not be affected as the new rules are applicable for new H1B filings with USCIS going forward.

If you already have an approved H1B i797 for the next 3 years, then you are fine till the approval validity and can get a visa stamp.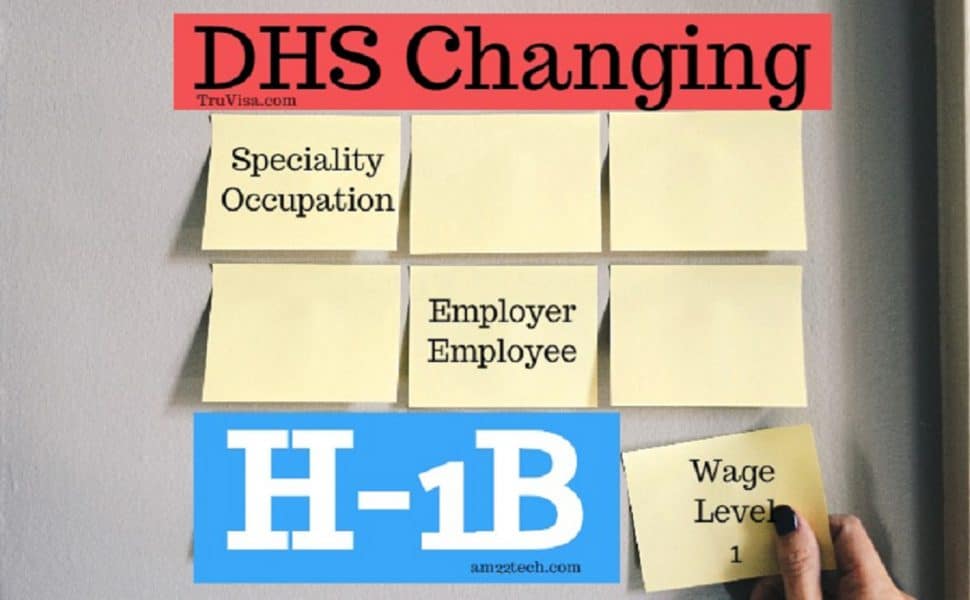 Chance of Lawsuit
A lawsuit is imminent if OMB approves and implements the new H1B rules immediately without public comments.
But, if the rules are applied and until the court case is filed and a stay is obtained, you will have to live by the new process.
The chances of getting a stay and wining the litigation, if filed, are very good.
The Trump administration is riding high on its political agenda and targeting H1B and their families with a new rule almost every month under his 'Buy American Hire American' policy.
Source: DOL H1B Interim rule