DHS Changing H1B Specialty Occupation Definition, Revise Wage Level
DHS agenda to revise H1B specialty occupation definition, revise wage level requirements and redefine employer employee relationship to target consulting company.

By Am22tech
Updated 2 Mar, 20
DHS agenda to revise H1B Specialty Occupation criteria
DHS has updated their agenda item to change H1B visa eligibility criteria. It seems they just want to make getting H1B as difficult as getting on the moon.
This item appeared first on their spring 2018 agenda and now have been refreshed in Fall 2019 calendar.
Revise Specialty Occupation Definition
The DHS rule named 'Strengthening the H-1B Nonimmigrant Visa Classification Program' aims to redefine 'Specialty Occupation' possibly to exclude a large percentage of occupations that are currently considered eligible for H1B visa.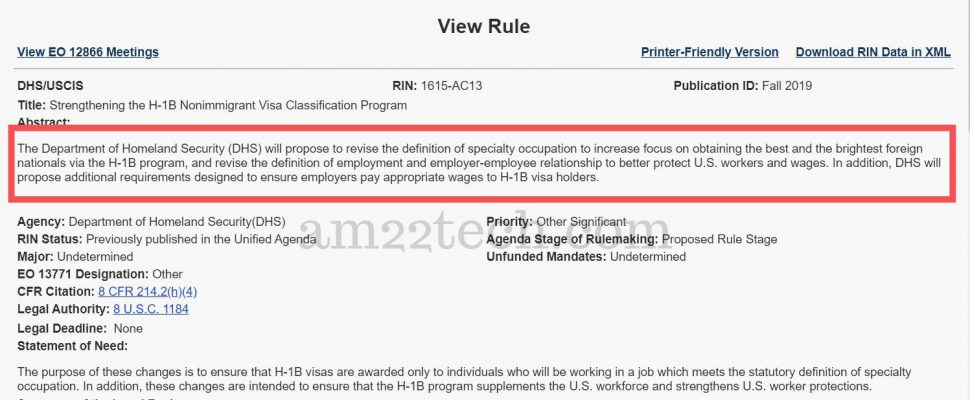 Lawyers claim that it is difficult to change the definition without passing the law in congress. DHS may be looking at lawsuit if they do go ahead with it.
Revise Employer Employee Relationship
The rule would also restrict which companies would be eligible for an H-1B based on the "employer-employee relationship". Even though there is no clear mention of anything, but looks like DHS is planning to target third party consulting companies here.
Revise Wage Level 1 for H1B eligibility
In addition, DHS will propose additional requirements designed to ensure employers pay appropriate wages to H-1B visa holders.
The chances are high that wage level 1 would probably be removed from H1B qualification. If it does, it would hit international students looking to get H1B sponsorship right after finishing studies in USA.
Non-US citizen students make the biggest part of the chunk that ride on wage level 1 salaries as an entry level H1B worker.
DHS H1B redefine rule making timeline
DHS may take its own time to draft and publish rules and it normally takes more than a year.
A similar proposed rule to withdraw H4 EAD work authorization has been in draft stage since DHS 2017 fall agenda.
The Trump administration is riding high on their political agenda and targeting H1B and their families with a new rule almost every month under his 'Buy American Hire American' policy.