DHS Fake Social Media Account to Monitor Your Activity
USCIS, CBP, DHS can create fake social media account to follow you on Facebook, Twitter. Name, Phone, email, post content is saved. Visa, Green card or Entry can be denied at airport.
AM22Tech Team
Updated 2 Mar, 20
DHS has published a social media privacy report which clearly says that they can create fake social media accounts on Facebook, Twitter and other such platforms.
The policy allows the USCIS, DHS and CBP officers to deny your US visa application, or deny you a Green card or stop you from entering US at any of the port of entry.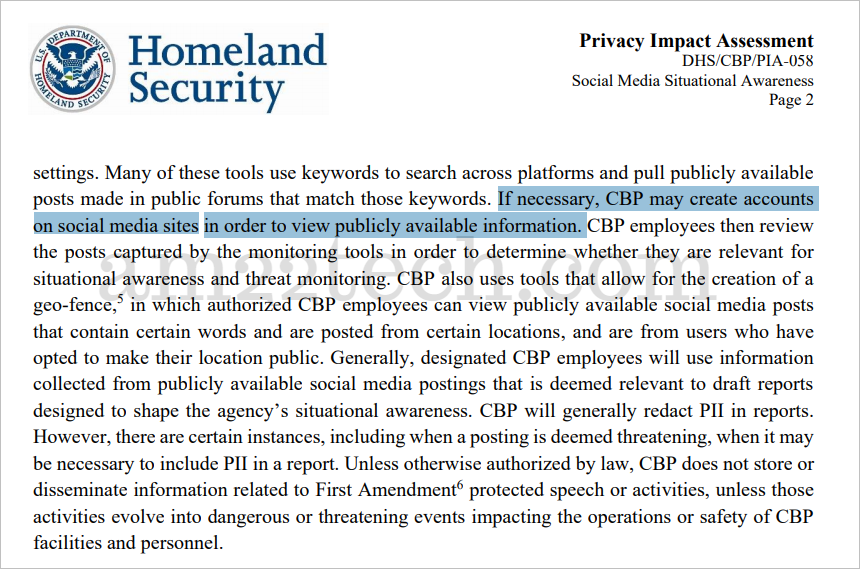 A CBP officer can create a fake Facebook or Twitter profile and follow your posts to understand your behavior. 
As reported on Washington post, USCIS says that fake online identities will help them find potential evidence of fraud and deny entry into the U.S.
What If You Post In Error and Then Delete?
CBP monitors social media sites continuously which means that if a post is made in error and then later corrected or deleted, their tools and CBP officer would correct CBP's records.
However, it is possible that the tools miss some of your post edits and CBP may not be able to make edits to the information stored about your post in their database.
In a report by NYTimes recently, a Harvard student was not allowed entry to US at Boston Airport citing the reason that one of his friend posted her political views on Social media that were against US.
It is important now that you un-friend the friends that have any views against United states.
Facebook & Twitter Fake Account Policy
FoxNews has said that this new policy may violate Facebook's and Twitter's terms of use as they both prohibit users from creating fake accounts.
It is also possible that they join WhatsApp group using fake phone number and track the group member's views and activities.
Be careful about what you share, like, Re-tweet and forward in your WhatsApp, Facebook or twitter accounts.
What Information Can CBP Collect from your Profile?
CBP is allowed to collect and store this information from your social media profile:
Your name
Social media user name, handle, or alias
Your address or approximate location
Your phone number
Your Email address or other contact information that is made publicly available on social media
US government has been continuously adding new rules to check your social media to understand your mindset and behavior to check if you pose any potential threat to US security. Earlier this year, a new question was added to DS160 form to share your all Facebook and Twitter account details.
The issuance of form DS 5535 extreme vetting to assess your social media, past 15 year travel, addresses and employment history is on the rise. This is being issued to H1B work visa applicants too.
CBP Will Track Keywords
As per the policy, CBP may create keyword lists that are processed by various tools to identify social media postings containing information related to threats against US.
For example, A keyword may be the name and home address of an important political person or a CBP officer. Posting the name and address of a specific important US person may give the signal that you are planning something against him.
CBP Fake Account will work in hidden mode as it will not:
Post any information on social media sites
Connect or engage with other social media platform users
Accept invitations to connect
Interact on social media sites
This social media privacy policy is included as part of July 2019 version of DHS privacy policy assessment.
Open in New Window