Find H1B Salaries, LCA, Employers, Compare & Estimate
Find H1B employer in USA, salaries and wage levels. Compare wage with co-worker to negotiate for better pay for same designation. Sample TCS, Facebook salary in California.
AM22Tech Team
Updated 19 Jan, 21
US department of labor publishes all H1B salary data publicly on their website.
This data includes all information about the foreign worker that has been employed along with the salary level, pay per hour, and the work location address.
Since the data is publicly available, you can download it in excel spreadsheet format and then search to find your LCA. The other easy way is to use am22tech's H1B LCA salaries app.
Find H1B salaries and Employers
Example:
This is a list of H1B salaries given by IT consulting company Infosys in the US: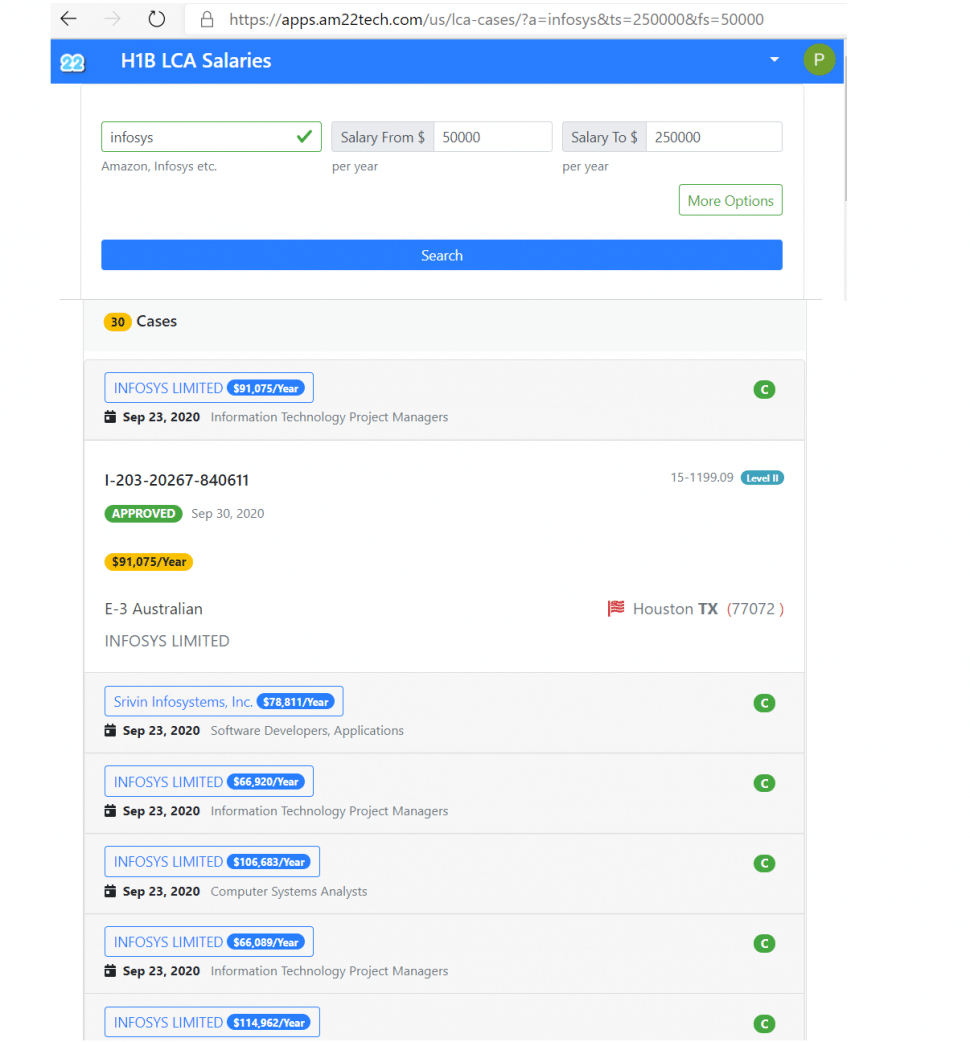 Find H1B Salary in San Francisco California
It is easy to find the current H1B wage levels offered in the silicon valley of America before you accept that lucrative job offer from a FAANG company.
For example, Amazon, Facebook, Google, Microsoft, and Apple do hire H1B workers and usually pay a very good salary in comparison to IT consulting companies like TCS, HCL, Cognizant, Deloitte, etc.
This is an example of the salary package offered by Facebook in California: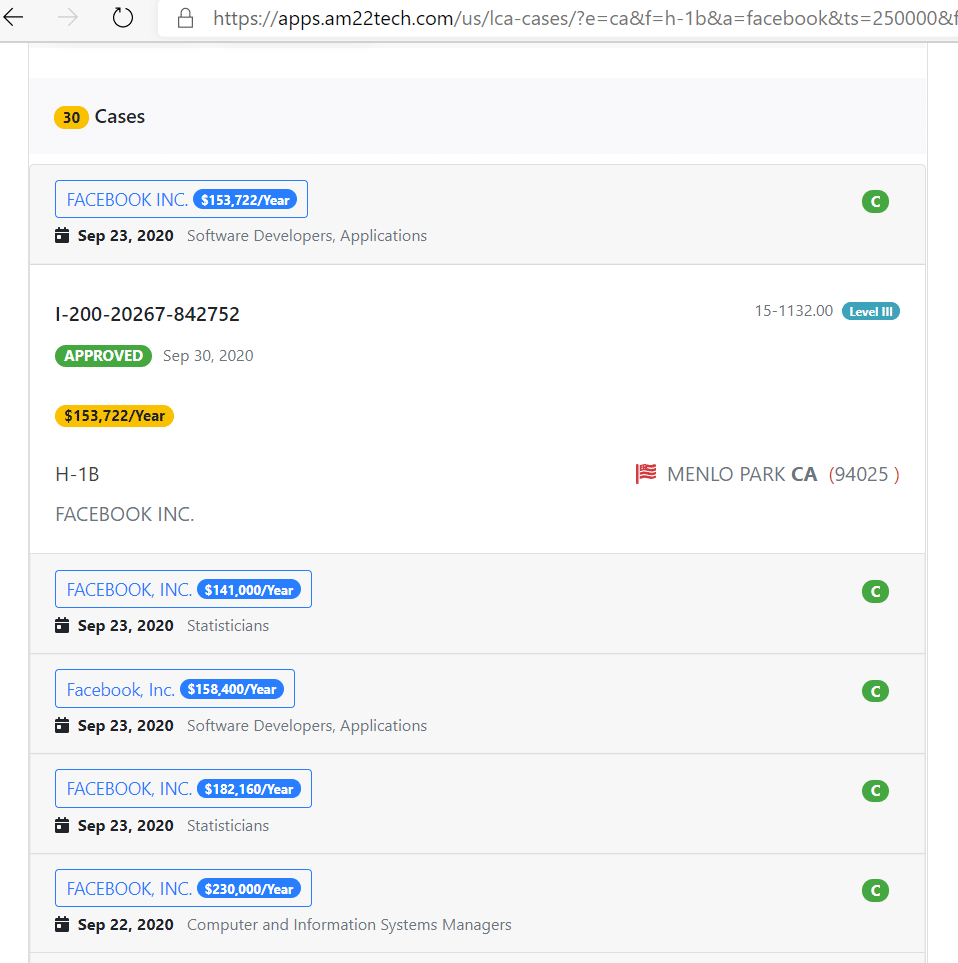 Compare this with the salary paid to software engineers by Tata consultancy services in California. The IT services company's business model does not allow them to pay higher salaries as they have to maintain their own margins as well.
The salaries at TCS will always be lower than the full-time positions offered by Apple, Amazon, etc. for direct employment even if you are working in the same team at the same location and in the same designation.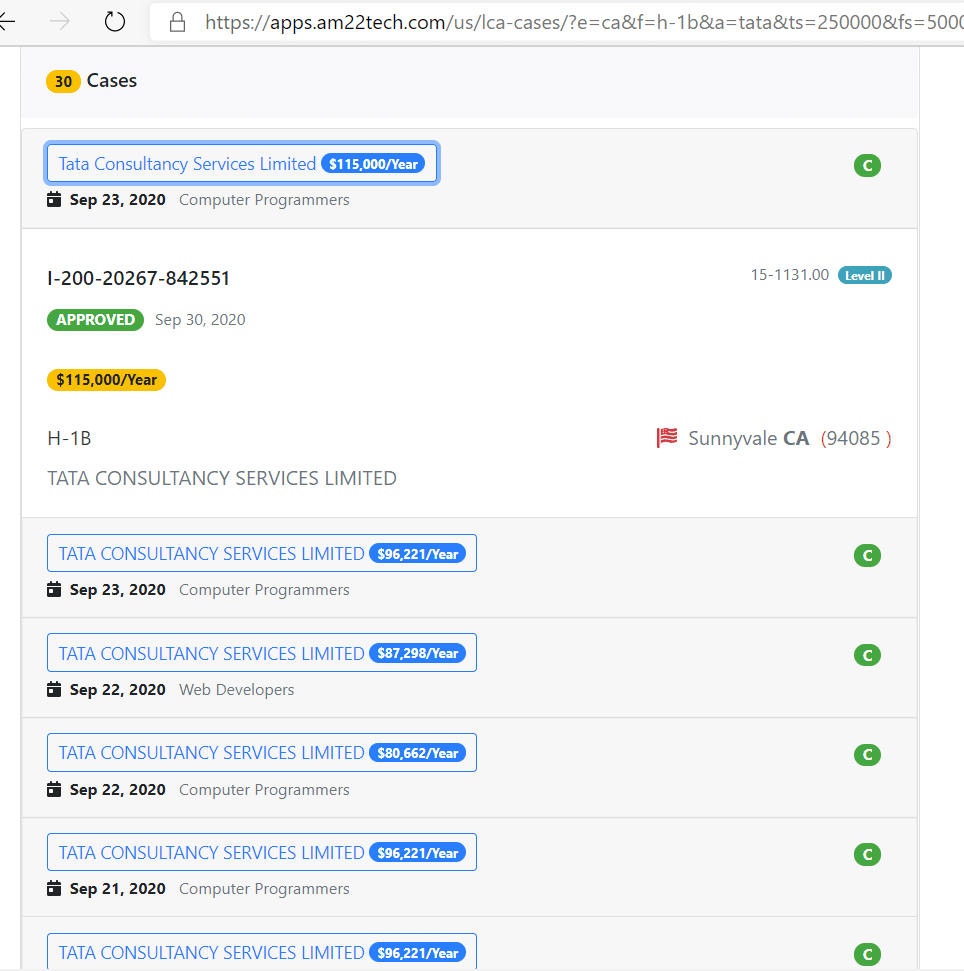 Find My LCA
You can find your own H1B, H1-B1, or E-3 Australian visa LCA if you can enter your work location zip code, employer name, and your job title.
The more information you add to the LCA search, the better result will appear.
Example:
An H1B worker in New York and employed by JP Morgan Chase can locate his LCA using this search criteria: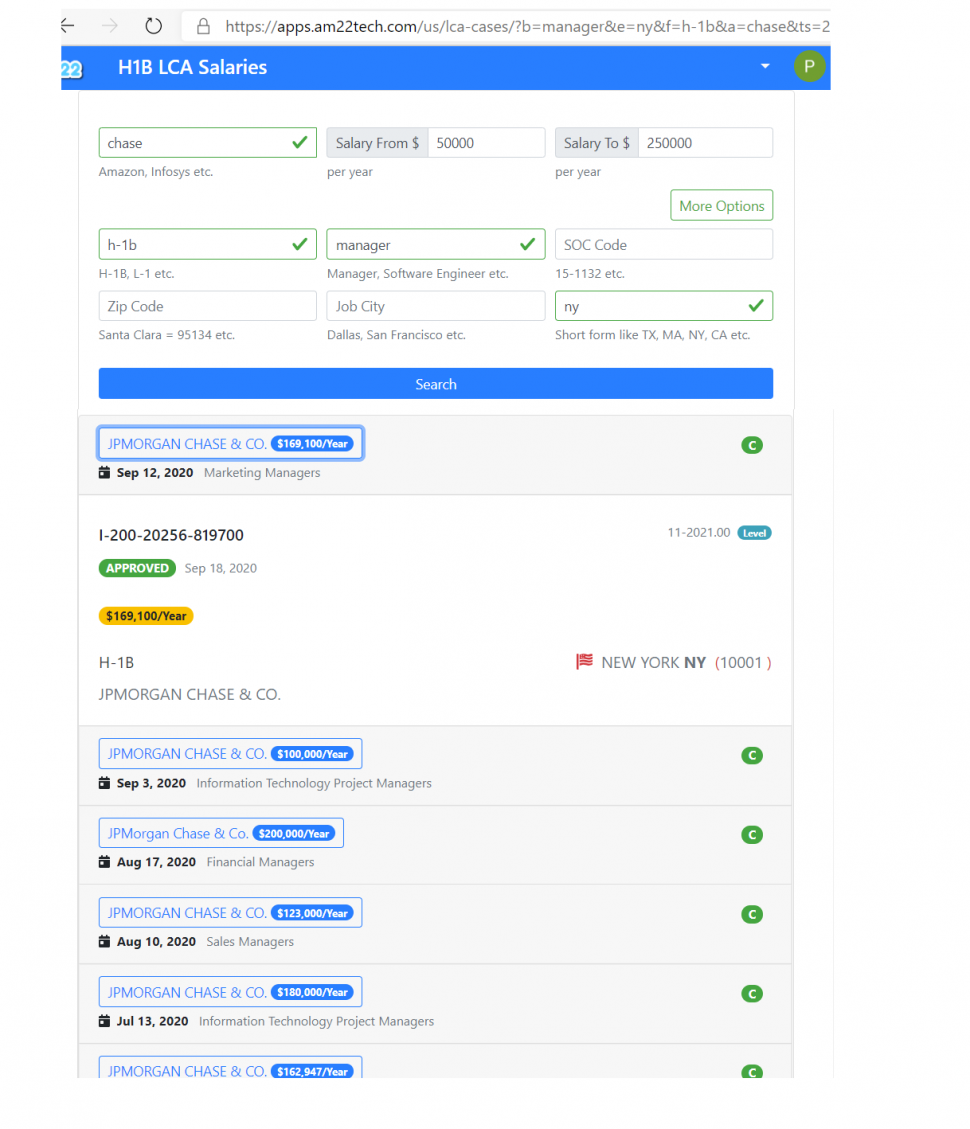 JPMorgan Chase hires all types of workers using an H-1B visa including an MBA with financial management experience, software engineers with a computer science background,s and sales managers.
An international worker can be hired by a US-based company using the H1B visa if the job qualifies as a specialty occupation.
H1B Wage Levels
H1B wage level is an important factor while hiring the employees. The labor department certifies the LCA (labor condition application) based on the pay rate and its relevance with the person's work experience level.
You should carefully analyze the zip codes and their wage levels to make sure the chances of your first time H1B through the lottery are good.
Check H1B Wage Level, Suggestions for Zip Codes
It is possible that your wage level 1 is too low for your software engineer job as a fresher in San Francisco, but the same salary may have a level 2 wage in a place like Austin, TX.