Form i-944 Self Sufficiency – US Green Card (Documents Required)
USCIS requires form i944 to prove your financial worth and judge if you will become a public charge in future. i-485 green card requires this form.
AM22Tech Team
Updated 4 Nov, 20
Update Nov 4, 2020: i-944 form has been again made mandatory by District Circuit today after being vacated by a lower court earlier.
This means that USCIS is not ready to budge and does require i944 with your green card application as reported by immigration attorneys Fragomen.
Earlier on November 2, a federal district court in Illinois stopped the public charge regulation nationwide on the basis that the rule violates the Administrative Procedures Act (APA). DHS appealed the decision quickly and requested the lower court decision be stopped.
The stay was granted on Nov 4 and hence USCIS can continue to request form i-944.
It seems the fight will reach supreme court soon.
What is Form i-944
Form i944 is required to be filled for each family member separately to prove that you will not become a public charge after getting a green card.
This form is an overload for an employment-based green card for people who are and have worked in the USA on H1B or L visa.
The fact that a visa worker has been sponsored to get a Green card after stringent PWD, LCA, and PERM makes this form pretty much useless for the purpose of proving the financial worth.
But, it does not matter if you like the form or not, you still have to fill and send it with your application.
Documents Required for Form i-944
#1 Credit History Report
Transunion, Experian, and Equifax offer their credit reports through the annualcreditreport.com website.
How to get a free credit history report?
If you have recently applied for an auto loan, mortgage, rental apartment, an internet connection, or any service that has used your SSN to make a hard inquiry on your credit history, you are eligible to get a FREE credit history report within 60 days of that inquiry.
You will receive a postal mail as per law which will tell you how to claim that free report. Note that the Fair Credit Reporting Act allows only 1 report per year.
You can also use the popular credit karma to get your free credit report.
#2 Checking Account Statements
You should include at least one of your checking account statements preferably the one getting the major portion of your income or salary every pay cycle or every month.
Primary and spouse should submit their own checking count statements if they have separate accounts.
#3 Savings Account Statements
Primary and spouse should submit their own savings count statements if they have separate accounts.
#4 Health Insurance Coverage Letter
Your health insurance coverage letter is also called a HIPAA letter and can be issued by your employer if you have an employer's group insurance policy.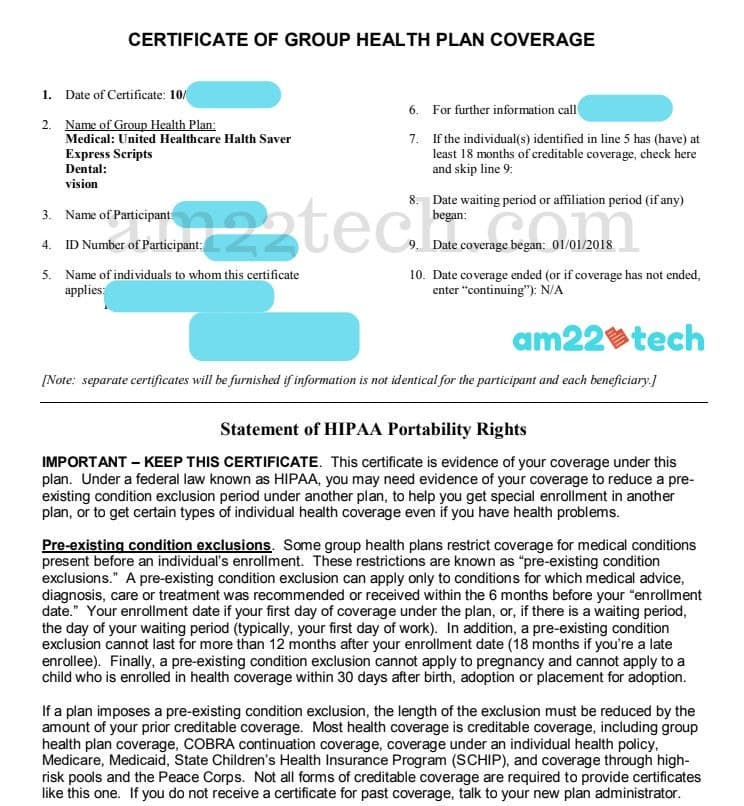 The letter should also mention your yearly deductible. If the deductible is not mentioned in the HIPAA letter, then you should get a separate letter from the insurance company which shows your co-pay, co-insurance, and deductible limits.
If your whole family is included in the same health insurance, you can have a single letter with all family member names.
#5 Health insurance Card
You should submit a copy of the health insurance card along with your i944 form submission.
#6 Home Mortgage Statement
If you have a home mortgage or home loan, then you should submit its most recent statement.
#7 Home Appraisal Report (Optional)
Home appraisal reports are optional but recommended if you have a recent one from the last 6 months.
You can submit the documents to prove the homeownership if you have one in-home country outside the USA too. You will need to submit a copy of the sale deed in a foreign country which shows the amount of sale.
#8 Credit Card Statements (Optional)
Normally, you would not need to submit the credit card statement if your credit score is above 600.
We recommend including a credit card statement if your credit score is less than 600.
#9 IRS Tax Transcript
You can get tax transcripts for free from IRS website.
Sample i944 Sections
HouseHold Income
You can include your own and your spouse's income and account balances on the form i-844 household income section.
The form needs to be filled separately for the child and his income can be the same as the household income for parents.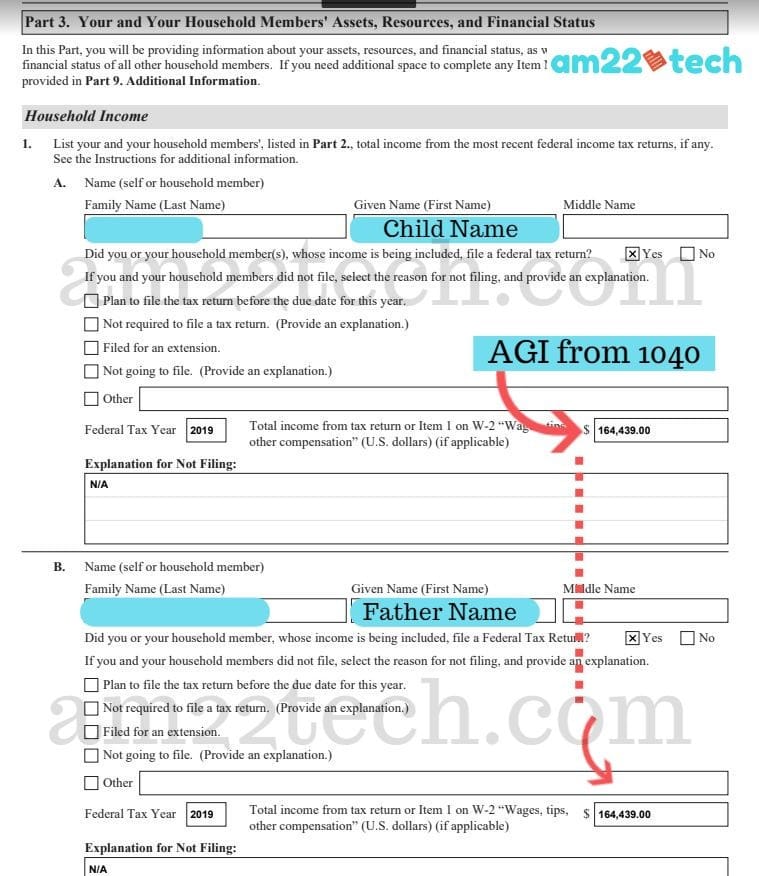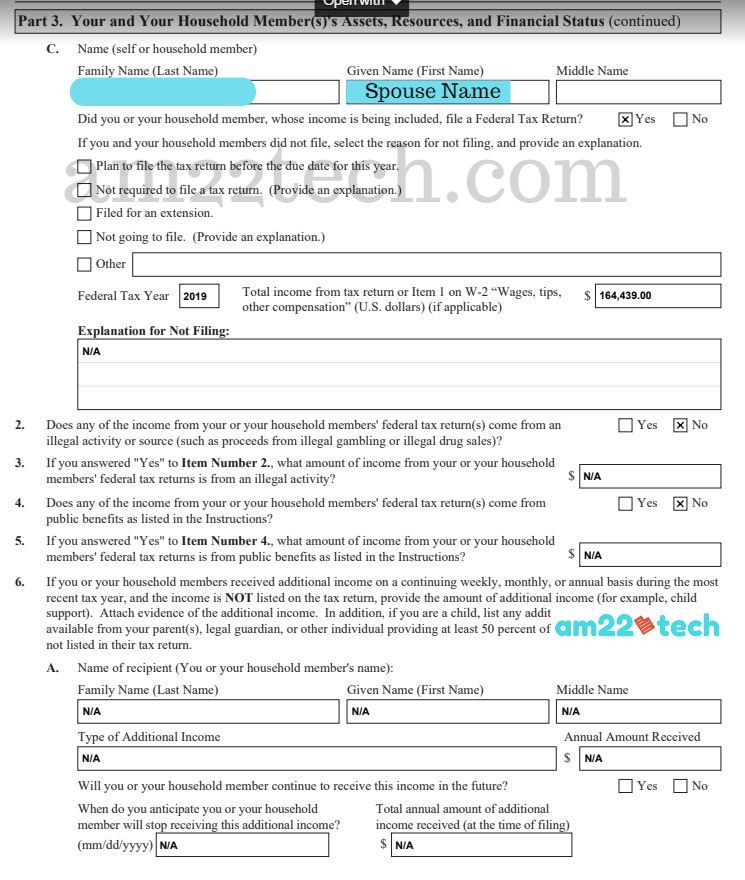 Similarly, the two sections A and B in the household can be filled with primary and then spouse in primary's i-944 form and vice versa.
Health Insurance Section
Here is a sample for values to be filled in health insurance section.
These are sample values. You should use your actual yearly deductible and the next renewal date.

For most employment-based health insurance, the open enrollment period starts somewhere in Oct and then ends by December. But, the actual coverage starts from Jan 1. So, the renewal date should be the date when the renewal is actually due.
Write N/A
You should write N/A in all fields which are not applicable to you.
Do not leave any fields blank as USCIS may reject your application if you leave it empty.
Can My Green Card be Denied If I have Used Public Charge?
The USCIS case officer will look at your situation and will draw positive and negative points based on your financial history.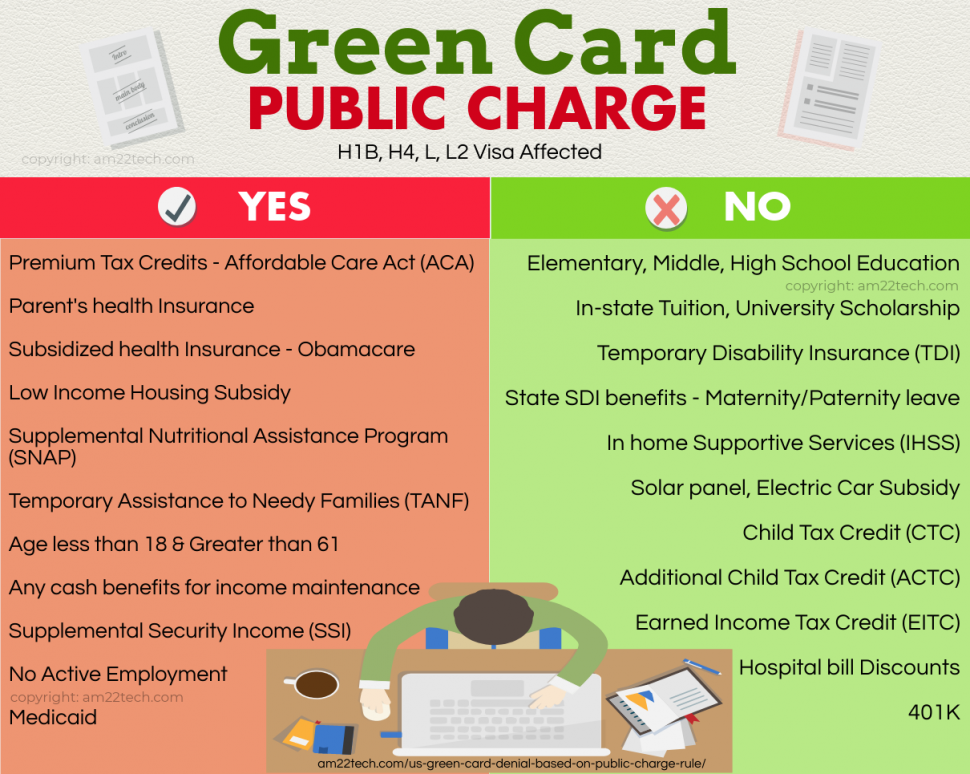 If negative points weigh more than positive points, then your green card application (i-485 AOS) can be denied based on the analysis that you are probably going to use government resources for surviving in the US.
FAQ
Is form i-944 required for each member of family filing i-485 green card application?
Form i-944 is required for each family member separately including children who are filing an i-485 adjustment of status application within the USA.
Is form i944 required while filing US green card application at US embassy outside the USA?
Form i944 is not required while filling US green card application at the US embassy.

The visa officer will analyze your financial capabilities at the time of the interview and before issuing your green card.