USCIS got 275k H1B Lottery Applications in Apr 2020, Indians Dominate with 67%
H1B April 2020 lottery registrations result. USCIS received 275k applications, 186k Indians, 36k Chinese. Apply starting Apr 1. Waitlist second chance difficult.

By Anil Gupta
Updated 1 Apr, 20
USCIS has announced that it received 275,000 unique H1B registrations in the initial registration period in Mar 2020.
USCIS noted that Indian H1B applicants shared the lion's share of the total at 2,22,750 followed by China which stands at 36k.
| | |
| --- | --- |
| H1B Lottery | Registrations |
| India | 186,175 (67.7%) |
| China | 36,300 (13.2%) |
| Others | 52,525 (19.1%) |
| Total | 2,75,000 |
How many H1B applications were selected in lottery? The data has not been shared by USCIS publicly. We estimate that they must have selected around 105k as they usually select about 25% more than 85k to leave space for denials.
There were more than 40,000 registration accounts created meaning that each employer filed an average of more than 6 H1B applications. 46% of these registrations were filed by US advanced degree holders. This is roughly equal to about 1,26,000 US degree holders.
It would be interesting to see if the current Coronavirus recession is the US will affect the H1B approvals or not. On March 30, US tech workers groups sent a letter to Trump and asked to stop H1B hiring for 1 year.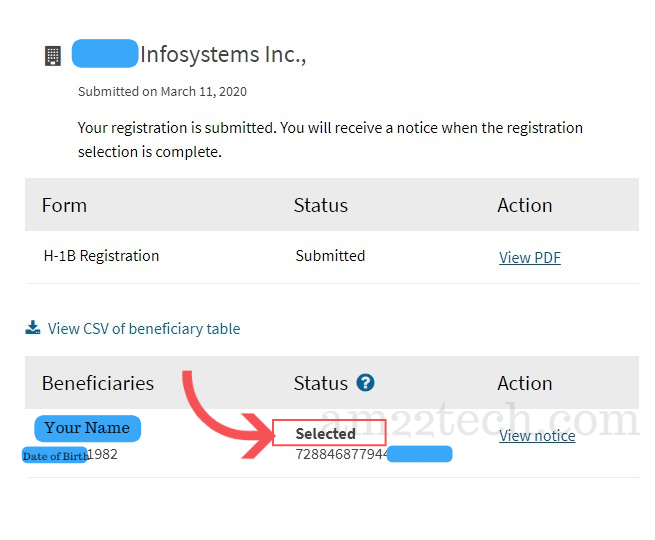 You will be kept in a wait-list until Sep 30, 2020, if your registration is showing "Submitted" at this time.
You can now file the actual H1B application using form I-129 if your status is shown as "selected". Ask your employer to check the status online.
Does Wait-list Has any Chance of Selection after Apr 1?
The chances of selection from the wait-list are quite low given the high number of applications that have already been received by USCIS.

If you have not been selected yet, the only thing you can do is keep your hopes alive. I can understand the pain and frustration but you can't really do anything when thousands of people are filing for limited 85k spots.
Can I file an H1B Registration Now?
The H1B registration can be filed only when it is officially open. USCIS closed the first round of H1B registration for season 2020-21 on Mar 20, 2020.

It may open again but the chances are low due to the high number of applications received already.


Is Online Filing Available for Selected Candidates?
There is no H1B online filing available at this time for selected candidates.
Your H1B employer should send the paper application including your approved LCA.
How much time is available for filing H1B Application?
USCIS will allow 90 days to file your H1B application.
Do we need to attach the Lottery Selection Notice with H1b Application package?
You need to send the printed copy of i797C selection notice along with your H1B application package.

Your employer can download it from the H1B registration site.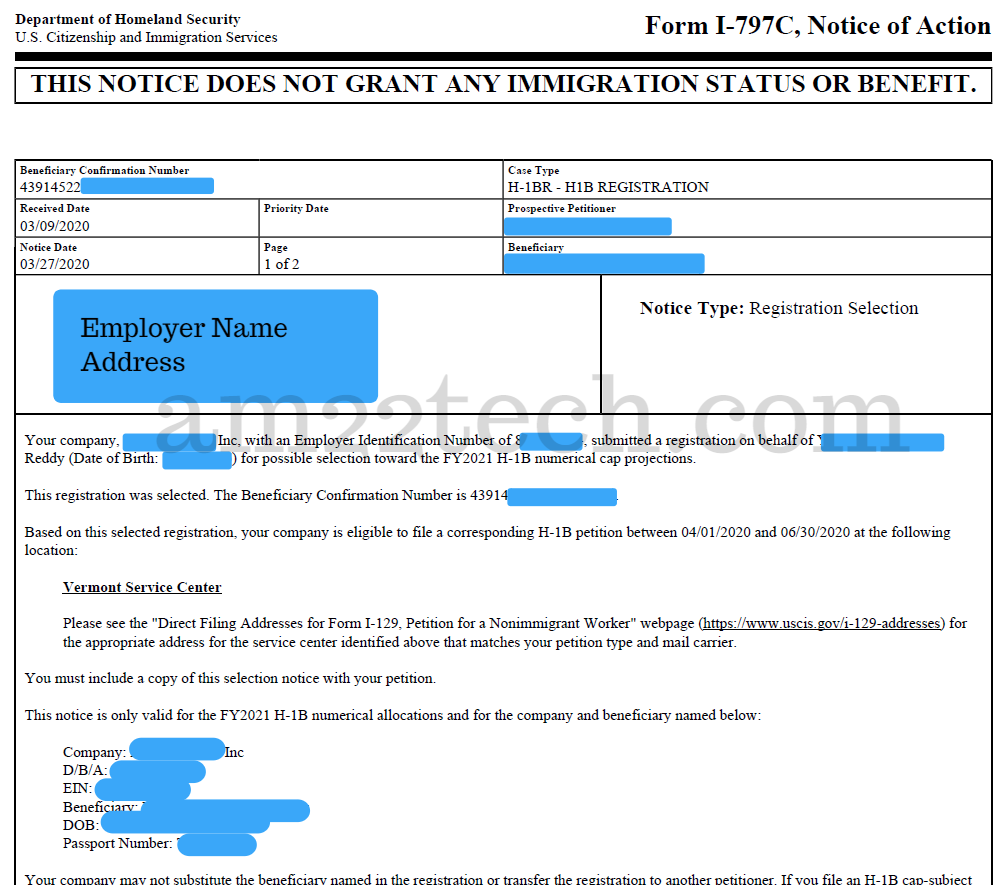 Does selection in Lottery mean H1B Approval?
Selection in Lottery does not mean H1B approval.

USCIS will review your H1B application package and then evaluate it based on Specialty occupation and employer-employer relationship. If it passes all the eligibility tests, you can expect approval.

It is possible that USCIS sends an RFE (request for documents) to ask for a client letter.

You should make sure that your end client project stays active until the H1B is finally approved.

Your initial H1B application should try to include all paperwork to avoid these top 10 RFE reasons.
Track H1B Approvals
Fill this H1B Lottery tracker to see the user driven data for H1B Selections:
USCIS has claimed that the new electronic registration process was a huge success as it saved money for employers and time for USCIS. The new registration process only required a $10 USCIS fee for registration.