DHS Asks Court to Not Revoke H4 EAD, May 2020 Good News
H4 EAD news update today - DHS asks Federal court to not revoke H4 EAD rule. OMB review is pending and may never come out. Trump government has changed its stand?

By Anil Gupta
Updated 7 May, 20
Update May 7, 2020 – H4 EAD news update today: GOOD NEWS!
DHS has asked Federal court to not stop H4 EAD work authorization. Seems like Trump's government is having a change of heart.
DHS changed its old opinion of revoking the H4 EAD rule in front of D.C. federal judge. They told the federal court that any claims of economic harm suffered by Save Jobs USA are completely speculative as reported by Law360.
For people who are not able to believe, here is a snapshot of Law360, a LexisNexis US-based company: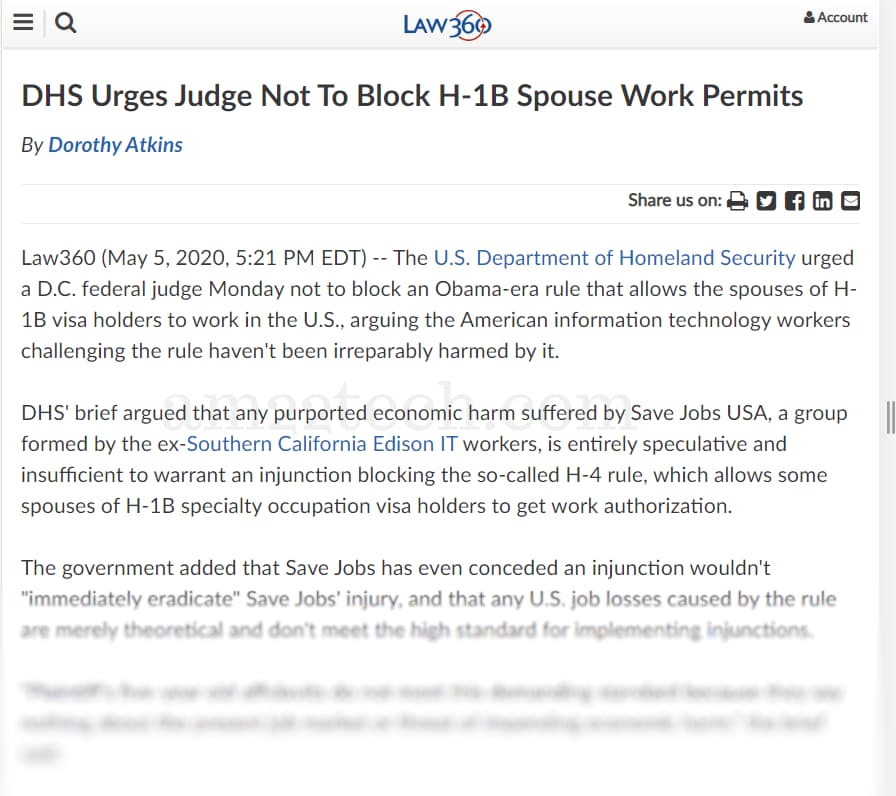 The H4 EAD revocation process is going on in parallel with the SaveJobsUSA vs DHS court case. Both are related and hence sometimes cause confusion. H4 EAD's fate is hanging on to these two streams separately:
SaveJobsUSA vs DHS court case – American workers group asking to stop H4 EAD as it increases competition and takes away jobs.
DHS's own idea and process of revoking H4 EAD work Authorization motivated by Trump's orders.
Note that neither of the two streams has reached a final result yet. The court has not taken any final decision and I expect that the OMB may not do anything either as DHS is not able to justify any economic loss to the US government at this time.
The hopes are alive that H4 EAD will not be terminated.
New York-based attorney Cyrus Mehta has echoed the sentiment in his talk with Times of India that DHS may be facing difficulties to convince OMB.
He says, "The Trump administration's position in its latest pleading is at odds with the position it has taken earlier against work authorisations for H-4 dependants. They have been trying to issue a regulation to rescind the Obama era rule, but have not been able to get it through. Probably the Office of Management and Budget (OMB), may have advised that the proposed regulation had no economic and legal rationale. The administration must also be facing a lot of pressure from allies in big business who support H-4 EADs."
Earlier on Sep 16, 2019, DHS had told the court that the earliest possible date that H4 EAD revoke may be published is Spring 2020.
OMB H4 EAD Revocation Rule Prediction
We created this small app to help you find possible dates 'in case' OMB does decide to approve DHS's H4 EAD revocation. It may be useless if DHS has really seen any change of mind with recent developments.
H4 EAD in Coronavirus
Meanwhile, in Coronavirus emergency, ImmigrationVoice tried to add an H4 EAD automatic 1-year extension in house version of stimulus bill 2020 to help workers who can't get EAD renewal within time, but it did not pass.
Can H4 EAD be approved while OMB review is pending?
You can apply for new H4-EAD and H4-EAD renewals at this time. USCIS is actively approving H4-EAD applications.

Is DHS still working on revocation after SaveJobsUSA court case decision?
DHS is still working on the H4 EAD removal and the rule is currently pending for OMB approval.
This is a separate process and DHS initiated it themselves due to Trump administration policies.

The federal court judgment does not affect this process and H4 EAD termination is still on the cards.
Will H4 EAD be valid after DHS revoke rule publication?
Existing H4 EAD cards will remain valid after revocation. DHS is expected to stop the issuance of new cards and renewals.
Can H4 EAD be saved with Lawsuit?
Yes, a lawsuit is expected as and when DHS publishes its H4 EAD revoke rules.

A lawsuit will definitely extend the available time and the final judgments would define as to what happens with H1B dependent work permits.
Is the SaveJobsUSA vs DHS Federal Court Case over?
The federal court has sent the case back to the lower court after it gave a decision for SaveJobsUSA vs DHS case on Nov 8, 2019.

The lower court will now hear the case and decide whether DHS has any authority to issue H4 EAD work permits or not.

SaveJobsUSA has challenged that only congress can give EAD work authorization and not DHS.
When Can I apply for H4 EAD renewal?
You can apply 180 days before your current H4 EAD card expiry. USCIS is giving full 3-year validity.
H4 EAD Protection Act
H4 Employment Protection Act was re-introduced by the California Congresswoman (Eshoo, Lofgren) in 116th congress in May 2019 last week. The chances of saving H4EAD with this law are very low at this time as compared to the high probability of success with H4 EAD revoke lawsuit.
ImmigrationVoice Appeal Favors H4-EAD
ImmigrationVoice presented good defense in support of H4 EAD rule on April 8, 2019, in federal court:
H4EAD does not affect American workers
DHS had full authority to give H4 work authorization as per law
H4 EAD add to federal and state taxes
H4 EAD is important for H1B families to help them economically sustain in the USA
DHS says H4 EAD not affecting US workers
DHS informed Federal court on Apr 1, 2019, that the H4 EAD program does not affect job competition in the US job market based on their economic analysis.
The acceptance that H4 EAD does not affect American jobs is a win for H1B spouses along with a big blow to SaveJobsUSA's case. It might be a hint that DHS may have something good for H4 EAD in their kitty. Only time will tell.
EAD Revoke Rule details
H4EAD revoke rules will be available as and when OMB publishes them for public comments. DHS submitted the revoke rules to OMB for review on Feb 20, 2019.
DHS is actively working on making rules on removing H-4 Dependent Spouses from class C(26) of Aliens Eligible for Employment Authorization (EAD).
Marked as 'Economical Impact and Significant' rule, DHS has the legal obligation of giving only 30 days for public comments instead of longer 60 or 90 days!
H4-EAD Withdrawal Survey – 14k responses

Find the mood of H1B, H4EAD community. Google account required to fill the survey.


Open link in new window.



The survey's 14K responses reveal that H1b skilled people are getting ready to get Canada or Australia PR.
H4 EAD News Timeline
Sep 26, 2018 – U.S. Senators Kamala D. Harris (D-CA) and Kirsten Gillibrand (D-NY) letter to USCIS. USCIS reply (on last page) – Oct 16, 2018.
Aug 23, 2018 – Business Roundtable letter supporting H4 EAD signed by Apple, ADP, American Airlines, Pepsi, Coca-Cola among other CEOs.
Aug 20, 2018 – DHS to Federal Court – No intention of backing off on H4 EAD withdrawal.
May 16, 2018 – 130 bipartisan congress members signed a letter of support.