H4 EAD News July 2019 DHS Revoke Rule OMB Review Pending
H4 EAD news update today- lawsuit has better chance of saving than H4EAD protection act. OMB revoke review pending in July 2019. Next Federal court hearing Sep 27.
July 22, 2019 – OMB Review Pending
H4 EAD news update today: No news is good news. H4 EAD revoke OMB review is pending even as we approach the end of July. The next date of SaveJobsUSA vs DHS case hearing is Sep 27, 2019.
HR 1044 has been passed in house. If it becomes the law, you will not need H4 EAD anyway!
It is expected that DHS might come out with the revoke rules before this date. Only time will tell though. Multiple journalists from AILA have reported that DHS is redoing its economic analysis on effects of H4 EAD revocation and hence is causing the delay.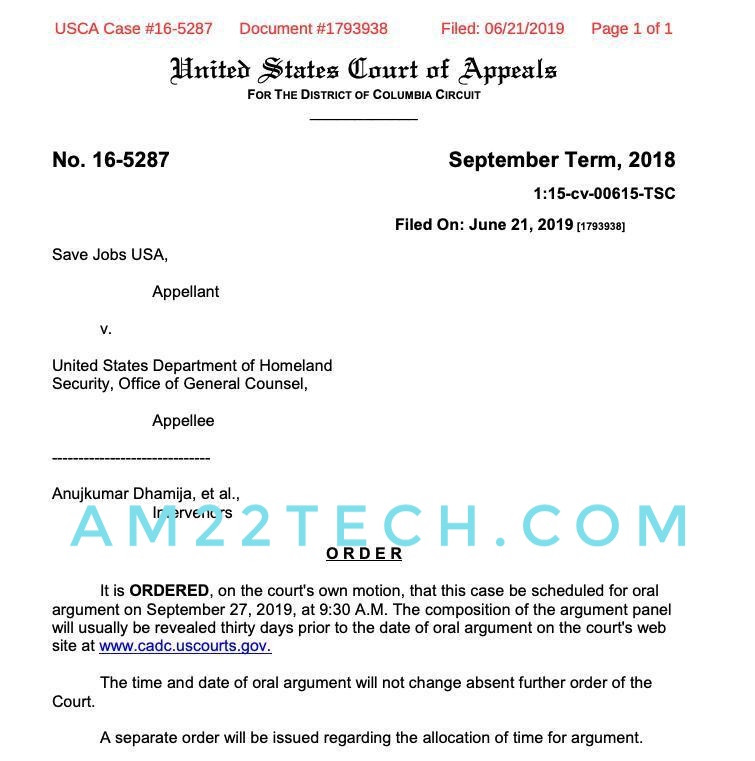 OMB review is pending for more than 120 days now after the DHS submitted revoke rules on Feb 20, 2019.
H4 EAD Protection Act
H4 Employment Protection Act was re-introduced by California Congress woman (Eshoo, Lofgren) in 116th congress in May last week. The chances of saving H4EAD with this law are very low at this time as compared to high probability of success with H4 EAD revoke lawsuit.

DHS Spring 2019 Agenda, Cissna Resigns
H4 EAD revocation appears on DHS Spring 2019 rule making agenda and USCIS director Cissna resigns. Cissna was strictly against giving out H4EAD work permits.
Trump's DACA Executive Order Overturned by Court
A positive news came from Federal court on May 17 when they ruled against Trump's attempt to stop DACA program that shields young immigrants from deportation.
Court mentioned that DHS did not "adequately account" for how ending DACA program would affect the hundreds of thousands of young people who "structured their lives" around the program, reports NBCNews.
This probably means that DHS H4 EAD revocation rule also has low chances of standing lawsuit.
We are actively tracking OMB for any update but neither the meeting attendees nor OMB has published any details.
OMB Proposed Rule Meetings
An OMB meeting on Mar 26, 2019 was attended by lot of Indian people possibly putting the strong argument in favor of H4-EAD in front of OMB:
We do not have details of the outcome of these OMB Proposed Stage meetings that they are conducting regularly:
If you are one of the attendees or know the meeting details, please do share with us on our Facebook Group. We will share it here with your name.
No details are available for Amanda's OMB review meeting from May 1 either. We contacted her directly for an update but she has not responded.
The Amanda's meeting shows as 'scheduled' at this time which probably means that it did not happen.
OMB May Not Approve H4EAD Revoke Rule
John Miano from Center for Immigration Studies has the opinion that OMB may not approve H4EAD revoke rule.
Miano says that 'Deep State' (business lobby with government without explicitly showing it to public) will not let the H4 EAD go away. He has argued that DACA EAD was not defended by DHS in court with good arguments when they had the intentions of revoking it either. The same behavior has been shown by DHS in SaveJobsUSA federal court case.
John Miano believes that the text of H4 EAD revoke rule has been drafted in such a way that it is unlikely to survive a legal challenge.
My opinion and attorney analysis on why H4 EAD revoke may be blocked by lawsuit even if passed by DHS and OMB.
SaveJobsUSA brief in Court
SaveJobsUSA presented their points in federal court hearing on Apr 29:
Congress has not given authority to DHS to give out EADs.
Majority of H4 EAD holders are working in IT sector and taking away American jobs.
My opinion is that SaveJobsUSA is not able to prove their argument in court convincingly at this time. DHS has already conveyed that H4 workers do not impact US economy negatively based on their study.
Federal court has not given any opinion yet. My hopes are high that federal court is going to rule in favor of H4 workers.
ImmigrationVoice Appeal Favors H4-EAD
ImmigrationVoice presented good defense in support of H4 EAD rule on April 8, 2019 in federal court
H4EAD does not affect American workers
DHS had full authority to give H4 work authorization as per law
H4 EAD add to federal and state taxes
H4 EAD is important for H1B families to help them economically sustain in USA
DHS says H4 EAD not affecting US workers
DHS informed Federal court on Apr 1, 2019 that H4 EAD program does not affect job competition in US job market based on their economic analysis.
The acceptance that H4 EAD does not affect American jobs is a win for H1B spouses along with a big blow to SaveJobsUSA's case. It might be a hint that DHS may have something good for H4 EAD in their kitty. Only time will tell.
EAD Revoke Rule details
H4EAd revoke rules will be available as and when OMB publishes them for public comments. DHS submitted the revoke rules to OMB for review on Feb 20.
DHS is actively working on making rules on removing H-4 Dependent Spouses from the class C(26) of Aliens Eligible for Employment Authorization (EAD).
Marked as 'Economical Impact and Significant' rule, DHS has the legal obligation of giving only 30 days for public comments instead of longer 60 or 90 days!
H4-EAD Withdrawal Survey – 14k responses
The survey's 14K responses reveal that H1b skilled people are getting ready to get Canada or Australia PR.
Find the mood of H1B, H4EAD community. Google account required to fill survey.
Open H4 EAD withdrawal survey in a new window.
Is H4 EAD still valid?
H4EAD is still valid. You can apply for new H4-EAD and H4-EAD renewals at this time. USCIS is actively processing H4-EAD applications within 2-3 months. Apply 180 days before your current H4 EAD card expiry to get full 3 year validity.
Will H4 EAD be valid after DHS Termination?
Existing H4 EAD cards will remain valid after revocation. DHS is expected to stop the issuance of new cards and renewals.
H4 EAD News Timeline
USA
USA News