H4 Employment Protection Act – Save H4 EAD Bill By Democrats
H4 Employment Protection Act will stop H4 EAD revoke process. Chances of HR 3033 passing are very low. Democrats Exhoo, Lofgren re-introduced HR 7150 in 116 Congress.
AM22Tech Team
Updated 1 Mar, 21
H4 Employment Protection Act has been introduced as HR 3033 by Democrats in House. The bill aims to stop DHS from revoking the H4 EAD. It has been referred to the House Committee on the Judiciary for further review.
H4 EAD protection act finally adds 3 more Democrat co-sponsors to reach a total of 5. I don't think it can still save H4 EAD as compared to a lawsuit.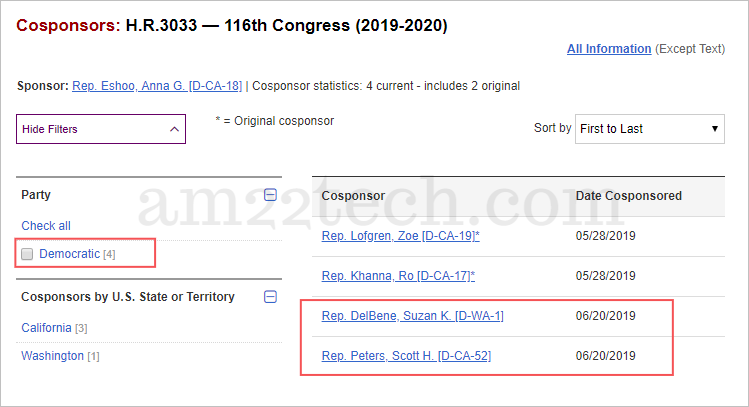 We already know that H4 EAD termination rule is under OMB review and Trump government has cleared their intention of taking away work authorization in SaveJobsUSA vs DHS Federal court case.
California Democrats Congress Woman Eshoo and Lofgren first introduced the H4 EAD save act in November 2018 in 115th Congress by the name of H.R. 7150 – H4 Employment Protection Act.
The same bill has been re-introduced in 116th congress with new ID as H.R. 3033 H4 Employment Protection Act.
Chances of H4 Employment Protection Act Approval
The seriousness of H4 Employment Protection Act can be gauged from the fact that even the text of the bill has not been edited since it was first introduced in Nov 18.
It seems that Democrats just want to make some headlines to show that they are also in favor of skilled immigrants in the background of Trump's new Merit based immigration plans.
The bill to save skilled H1B dependent spouses from getting jobless only has 2 co-sponsors at this time. This again shows how democrats are treating it.

A bill stays in a house for about 2 years of congress's term and is considered dead if no progress is made within 24 months.
My opinion is that H4 Employment protection act will never pass. Democrats have always been in favor of protecting DACA dreamers instead of H4 dependents while they negotiate in the house. It is all about who is who's vote bank.
The bill has to pass house followed by senate and then signed by president to become law. To give you a perspective, green card country based limit removal bill has been getting re-introduced for last 9+ years and has not seen day of light yet. It is active in current house with 290+ co-sponsors by name of HR 1044 and we are still skeptical with its chances.
It is like hanging carrots here and there for skilled immigrants to keep running after it. High skilled immigrants from India and China are just waiting infinitely without any real and substantial efforts from US government to recognize their contribution to US economy, Social security and taxes.
H4 EAD Save Act vs H4 EAD lawsuit
As per my opinion, H4 EAD lawsuit in court has much higher chance of saving H4 EAD from revocation than the H4 EAD protection act in congress.
The H4 EAD lawsuit is expected to be filed by a non-profit organization like ImmigrationVoice. They have been vocal and have also filed an appeal in SaveJobsUSA federal court case presenting strong arguments in favor of H4 work permits.
Courts have a balanced view of H1B dependent work authorization at this time and are in a better position to save H4 rights than the long process of making a bill.
Recently, an executive order by Trump to end DACA was overturned by court when challenged with rational arguments. The same criteria may work for H4 EAD revoke lawsuit too.
H4 EAD Protection New vs Old Bill
There is no difference between the new and old bill introduced in 116th congress that started on Jan 3, 2019.
The HR 7150 bill from 2018 had the text as
The Secretary of Homeland Security may not amend or repeal the rule entitled "Allowing Certain H–4 Dependent Spouses to Apply for Employment Authorization" (8 C.F.R. 214, 275), and shall continue to apply such rule as in effect on May 26, 2015.
There is nothing new in the new HR 3033 bill as can be seen on official press release by Eshoo.
Eshoo re-iterates the sufferings of H1B families as they are stuck in extremely long green card queues just because they were born in a specific country.
Eshoo strongly argues in favor of skilled workers by saying that they have rights to pursue their own professional goals and contribute to the U.S. economy. She adds that many H-4 visa holders are highly skilled professionals and DHS gave them H4 EAd work permits to help share the economic burdens with primary H-1B workers. This is extremely helpful for families who live in high cost areas like Silicon Valley on a single income as they await green card approvals.
Since the rule was implemented, over 100,000 workers, mainly women, have received employment authorization, and the H-4 Employment Protection Act prohibits the Trump Administration from revoking this important rule.
Eshoo thinks that this is a matter of economic fairness and this H4 employment protection will ensure that H4EAD will continue.
Chances of H4 Employment Protection Act Approval?
The chances for H4 employment protection becoming a law are extremely low at this time.
Is H4 EAD protection act better than Lawsuit?
H4 EAD protection bill may never pass in house. The H4 EAD revoke rule lawsuit has better chances of saving H4 work permits than H4 employment protection Act.