IELTS English Test Tips, Tricks for 8+ Top Score
IELTS General English exam is accepted by Canada, Australia for PR points. Score high with tried and tested tips, tricks. Paper and computer based exam available.
AM22Tech Team
Updated 4 May, 20
IELTS is a test of the English language conducted by the British Council, IDP, or Cambridge Assessment around the world.
IELTS Preparation In a Week?
You can prepare for IELTS in a week if you have studied in your school after 8th grade in English medium and are now working in an environment where you speak English in your daily work. Our estimation says that you would have gained enough exposure to clear IELTS with a top score by now.
You will receive sample tests with your IELTS registration. Using these tests, you will get an idea of how much you can score without preparation.
Alternatively, there are many free IELTS listening and reading tests available online that you can use to simply check how much you score.
If you score closer to 38 in these tests, then you only need to fix your errors, and maybe 2 weeks of preparation is sufficient.
If you score between 30 and 35, then you need 3-4 weeks of regular practice.
If you score between 20 and 30, then you need more than 4 weeks of practice.
IELTS Tips and Tricks To Score Higher
IELTS test has two parts. The first part is a 2.5-hour test comprising of the listening, reading, and writing sections. The speaking test is taken separately in a face to face conversation with an examiner.
#1 Avoid silly mistakes such as spelling errors, not capitalizing nouns, improper punctuation, grammatical errors. Look out for these errors during practice.
#2 Get the Barron IELTS book that covers all sections, question types, and provides many practice questions to orient you with the test format. The writing section especially shares useful strategies to help you structure your letter and essay easily so that you don't waste time during the exam.
Its available on Amazon:
#3 E2 Language has Free IELTS practice videos on YouTube.
Jay, an English teacher at E2Language has very good command over English and teaches very good tricks to master each IELTS question.
We have given his best IELTS method videos here.
IELTS Listening Tricks
Four sections containing a total of 40 questions. 1 mark for each question. 30 minutes of time provided. Questions include multiple-choice, matching, map/diagram labeling, table completion, and sentence completion.
Open video in new Window
In the listening section, labeling/map based exercises are the hardest. Take special care to practice this specific question type thoroughly before attempting the exam.
Writing Method to Score 8+
Two writing tasks. The first task involves writing a letter and responding to a situation. The second task involves writing an essay in response to an argument or point of view. 60 mins provided.
Open video in new Window
Stick to the minimum and maximum word limit in your writing test. Examiners will specifically check this while marking.
IELTS Reading Cheat Sheet
Three sections containing a total of 40 questions. 1 mark for each question. 60 minutes of time provided. Questions include multiple-choice, True/False, information matching, matching headings, features, sentence completion, short answer questions, table completion.
Open video in new Window
Speaking Methods for IELTS Test
Face to face conversation with an examiner. 10-15 mins provided. Examiner is looking for your ability to communicate your point of view on everyday topics, fluency, pronunciation, grammar, how you organize your thoughts, and your ability to express an opinion and/or justify it with analysis.
Open video in new Window
Avoid short responses to questions like "Yes, I do" or "No, I don't". Try to elaborate on why you think so that the conversation seems more interactive and natural.
Is IELTS Exam Result General for Australia PR?
Yes, IELTS general test result is accepted for Australia PR process.
Can I Use Same IELTS Result for Both Canada & Australia PR?
You can use the same IELTS result for both Canada and Australia PR process.
There is no need to give separate tests.
Can I take IELTS Exam Online at home?
You cannot take the IELTS exam online at home.
IELTS exam is conducted in an examination center using either a paper-based or a computer method.

You have to physically visit the examination center for either type of test.
How long are IELTS test results valid?
IELTS test results are valid for 2 years from the date you took the test.
Can I take the IELTS test multiple times?
You can take the IELTS test as many times as you want and submit the best scores in your immigration PR application.

The new test result does not override the old test result. It is your choice as to which test result you want to use. If the new test result is lower than the previous one, you should the previous IELTS report to file your application for better chances and more PR points.
What is best IELTS Score for Canada PR?
The best IELTS score for Canada PR is CLB 10 which can get you 32-34 CRS points.
The most achievable IELTS score for Canada PR is 8777 in Listening, Reading, Writing, and Speaking as it takes you to CLB 9 and you get 29-31 CRS points.
CLB 7 is required for basic eligibility for Canada PR.
When Are IELTS Results Sent?
IELTS Paper-based test results are sent after 13 days from the test date IELTS Computer-based test results are sent after 5 to 7 days from the test date.
Your result will be posted online on a portal, and the Test Report Form will be sent to your mailing address.
IELTS Band Score
Your score is then converted to a band, which will then be printed on your Test Report Form as IELTS "Overall Band Score".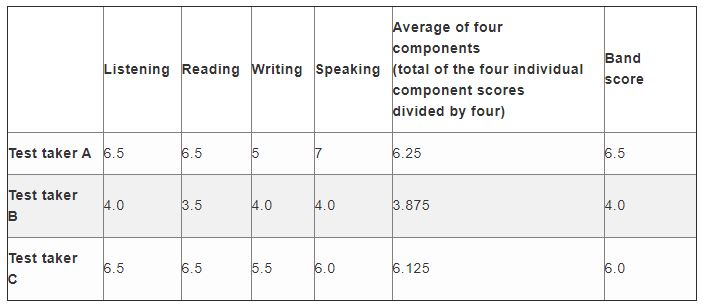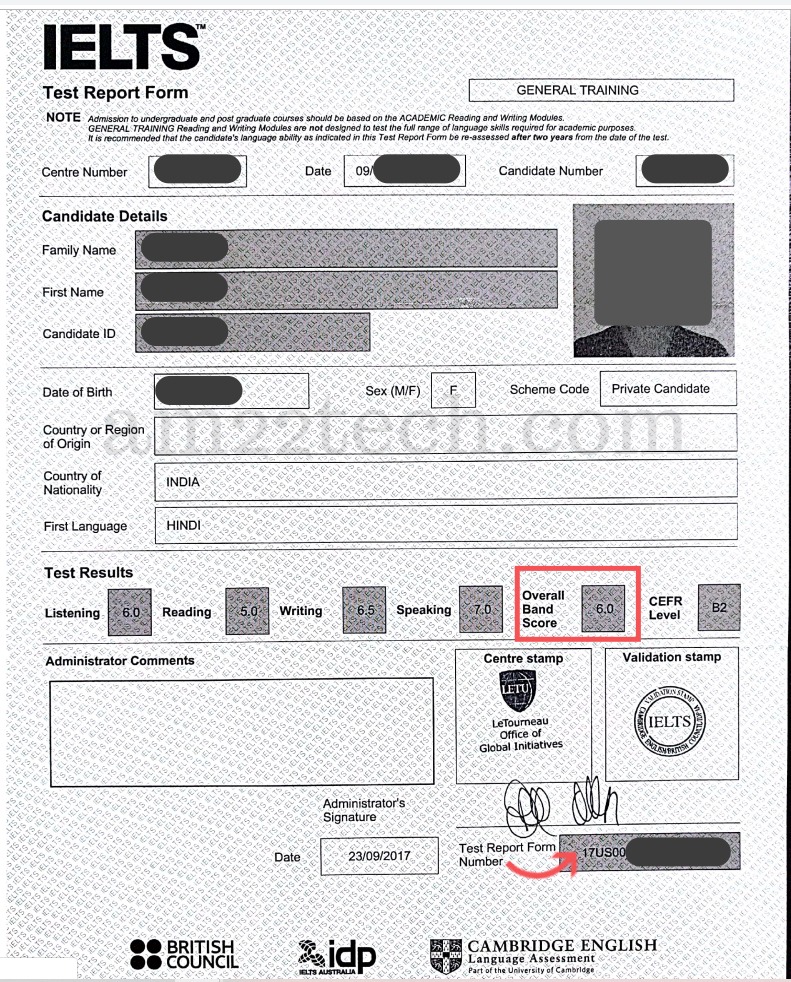 How do I register for IELTS test?
#1 Look for the nearest test center:
Find the nearest IELTS test center to your place of residence.
It is possible that a center farther from your place has earlier test dates available. You can choose any center that you like irrespective of your home location.
#2 Register for your test:
Look for an available test date for that particular center. I recommend choosing a test date at least 25 days in advance so that you have sufficient time to prepare, regardless of how good you think your English is.
Register online and make the payment. You will be asked to upload a valid identity document – be sure to upload your passport, instead of any other identity document.
#3 Receive confirmation:
Once you register, your application will be processed, and you will receive an email confirmation on your test date and timing. Your speaking test may or may not be on the same day as your paper-based/computer-based test.
Cost of IELTS Test
The IELTS fees can vary depending on which part of the world you live in. IELTS pricing around the world at the time of writing this article:
| | |
| --- | --- |
| United States | USD $240 |
| United Kingdom | GBP 170 |
| Canada | CAD 320 |
| India | INR 13,250 |
| Pakistan | PKR 34,800 |
| Philippines | PHP 10,680 |
| Nigeria | NGN 75,000 |
| China | RMB 1,960 |
IELTS Coaching For Writing, Speaking
It is difficult to score writing and speaking tests by yourself or online. If you do not feel confident in these abilities, then consider signing up for English coaching classes with Princeton, or other British Council courses.
I recommend using these instead of online cheaper coaching classes, as those are designed for making money rather than outcomes. They are not checked by professional English teachers.
I would also recommend you to regularly practice for the writing section as that's the most error-prone section in terms of grammar, punctuation, and content organization.
What should I carry with me on the IELTS test day?
On the day of the test, be sure to arrive long before the commencement of the test, as the identity verification processes can take a lot of time.
Leave your electronic devices back home. You are only allowed to carry stationery and your passport inside the test center. The rest will have to be deposited outside, and that can take some time. No breaks are allowed during the test.
IELTS Re-Evaluation is Allowed
If you are convinced that there was an error in marking, you can request a remarking or a revaluation. This must be done within six weeks from the date of your test result, along with a fee payment.