DOL allows 30 days to post H1B LCA at home, PWD, PERM Open in Coronavirus
DOL allows to post LCA within 30 days for H1B work from home during Coronavirus. PWD, PERM, LCA Processing is Open. H1B amendment required if working outside MSA.
AM22Tech Team
Updated 5 Sep, 21
H1B LCA Posting for work from Home – 30 days time allowed
This is good news for H1B and L visa workers as DOL has officially allowed posting LCA within 30 days of starting work from home during the Coronavirus crisis.
Normally, you are required to post LCA at your home location before starting work. Your HR (human resource) department should also record the dates of LCA posting.
DOL announced this great news on Mar 20, 2020.
---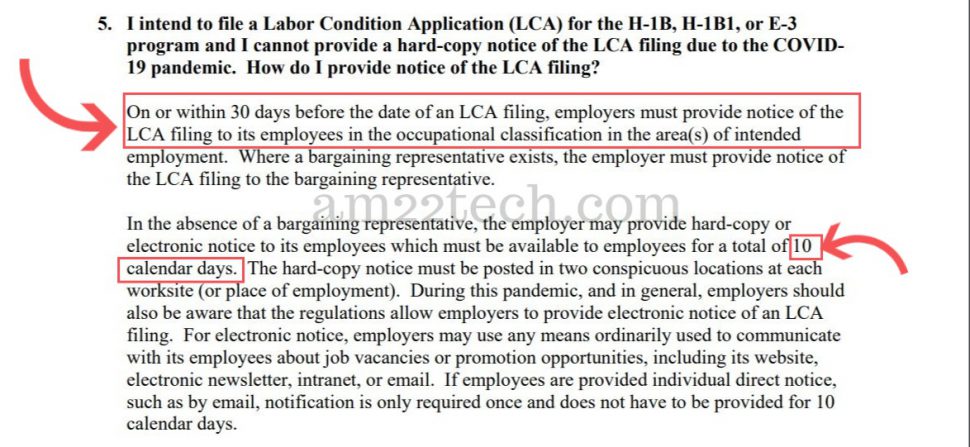 ---
If you follow our coronavirus coverage, we recommended H1B & L workers to post LCA and send a photo to your official HR email when employers started closing offices earlier this month. Your employer can share the approved LCA copy via email with you. You can then print it and post (paste) it on your home door.
LCA posting is required by DOL rules if your home work location is within the same MSA as your current approved work location address.
If your home address falls outside the approved work location address, then you need to file an H1B amendment as well before you start working.
H1B LCA should be posted at home for how many days?
You are required to post the LCA at home for at-least 10 calendar days.
Can H1b work from Home outside MSA during Coronavirus?
Working from home outside MSA is allowed during Coronavirus as long as specific conditions are met.
We have covered those special conditions for H1B workers here.
PWD, PERM & LCA applications are Processing
DOL has explicitly informed that their offices are open and processing PWD, PERM and LCA applications. DOL employees are using work from home facilities to avoid processing delays as much as possible.
The current PERM processing time is higher than normal though.
PWD & LCA Audit Response Deadline Extended
DOL is extending the prevailing wage determinations (PWD) and LCA audit deadline between March 13 – May 12 to May 12, 2020, reports Fragomen:
Requests for audit documentation;
A response to a Notice of Deficiency;
Submissions of recruitment reports;
Business verification and sponsorship documentation, supervised recruitment requests;
Requests for reconsideration of a prevailing wage determination; and
Any other request for information issued by OFLC containing a due date.
PERM Recruitment Window Extended by 60 days
DOL has also extended the PERM recruitment 180 day window by 60 days to give extra time due to the COVID-19 emergency.
As per law, PERM recruitment process must start the hiring process no more than 180 days of PERM filing. This timer has been extended to 240 days now only for cases where recruitment started between Sep 15, 2019 to Mar 13, 2020.
The PERM filing should be done by May 12, 2020 to get the benefit of this extended 60 day window.