S386 Durbin Amendment Deal Points (New Deal Aug 2020)
S386 Amendment with Dick Durbin. ROW 5.75% green card reservations, no increase in GC numbers. Get 3 year i485 EAD after i140. No ageing out for H4 dependent.

By Anil Gupta
Updated 5 Aug, 20
Update Aug 5, 2020: S386 has been renegotiated and there are some important changes added and some previous clauses have been removed.
S386 Durbin Deal (Aug 2020)
Here are the main points from the S386 Fairness for High Skilled Immigrants Act amendment deal.
#1 S386 Implementation Delay by 1-2 yr
Once it is approved and signed by the President, it will be applicable starting Oct 1, 2021, at the earliest if it is passed before Oct 1, 2020.
If the bill is passed between Oct 1, 2020, to Oct 1, 2021, the changes will take effect starting Oct 1, 2022.
The bill needs to pass the Senate first and then the House.
A similar house bill HR 1044 was passed in 2019 but this current version of S386 is quite different and hence needs to be passed separately by House.
#2 File i485 – PD date Current or not
You will be allowed to file i485 including kids and spouses if:
Your i140 has been approved for 2 years
Your i140 has been pending for more than 270 calendar days
This may allow EB1, EB2, and EB3 applicants to get the i485 EAD until they get the green card.
Once i485 is filed, H4 kid will be protected from aging out at age 21.
There is an H4 age out lawsuit currently going on separately to protect them.
Green Card will Be issued Only When PD date is Current
Note that green cards will be issued only when the PD date is current for your case irrespective of when you filed the i485 application.
i485 EAD card for 3 years
The EAD card will be issued for 3 years and will allow you to change jobs, easily leave and return to the US using AP (advance parole).
EAD extension will be allowed.
Documents required for EAD:
Confirmation of Bona Fide Job Offer – An employment offer letter usually known as Supplement J form.
Signed letter from employer that other US employees have the same employment terms and conditions in that geographical area.
Both i485 and EAD will be denied by USCIS if these two documents will not be provided.
Note that moving to i485 EAD by leaving H1B while your green card is still pending is considered a high-risk proposition due to the way US immigration works.
People who have already got i485 EAD still stay on H1B all the way till they get their Green card to make sure that their stay in the US is considered legal if i485 is denied in the future.
H4 EAD may not Get i485 EAD
I am not particularly clear about this clause but it seems that H1B dependents (H4) will not be given the EAD with this new i485 filing system if the H4 EAD work authorization is removed by DHS.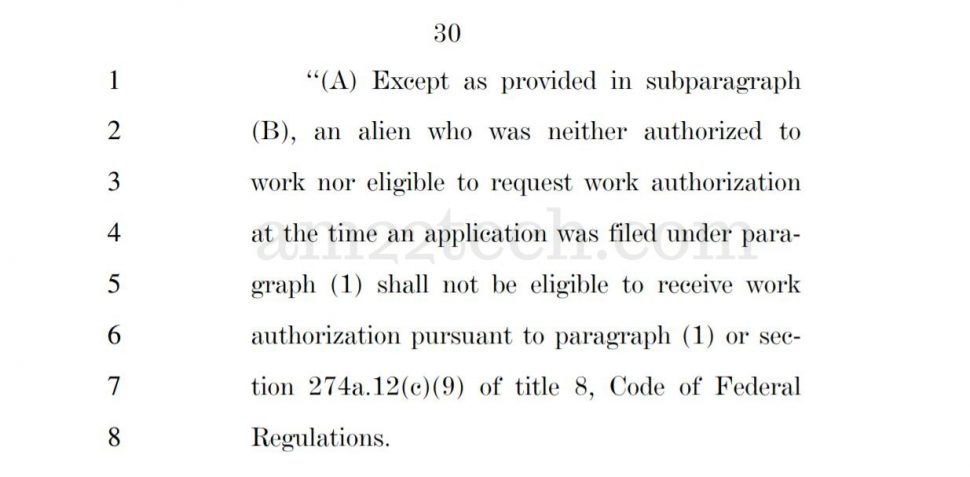 Are they connected?
I will update as I get more information here. If you understand this clause better, please share it in the comments below with us.
#3 Nine year Transition Period
There is a 9 year transition period added to reserve green cards for non-Indian and non-Chinese applicants.
This provision will be applicable for the first 9 years and is in addition to the 1-year gap between the passing of S386 and implementation set-aside. The actual gap may extend to 2 years based on when S386 gets approved.
So, the total transition period can be as long as 11 years and the minimum is 10 years (if S386 becomes law before Oct 1, 2020, which seems unlikely).
5.75% of the total GCs under the EB-2 and EB-3 categories reserved for the 1st nine fiscal years from non-India, non-china. These will be divided as:
Year 2022 – 30% for non-India, non-China.
Year 2023 – 25% for non-India, non-China.
Year 2024 – 20% for non-India, non-China.
Year 2025 – 15% GCs reserved for non-India, non-China
Year 2026 to 2027 – 10% GCs reserved for non-India, non-China
Year 2028 to 2030 – 5% GCs reserved for non-India, non-China
Year 2022 to 2030 – 4400 Green card reserved for Nurses & Physical Therapists
This means that people who are physically outside the USA will be able to file GC application from 2022 to 2030 (with 5.75% reservation) in this order of preference:
Spouse or Child dependent.
Who has not resided or worked in the US in the last 4 years at the time of filing the GC application?
The other ROW people who are physically inside the US will still be in the same queue as India & China.
#4 H1B 50-50 Rule, New LCA rule for Lottery
US companies with more than 50 employees who rely on H1B visa + L1 workers for more than 50% of their workforce cannot sponsor more H1B workers for employment in the US.
This will be applicable for H1B lottery applications only. In new negotiated options, the H1B extensions, transfers and amendments have been excluded.
New LCA rule:
LCA rules changed to include a new searchable website for posting H-1B positions applying for new H1B under the lottery.
If an employer has previously employed an H-1B nonimmigrant, the employer must submit the W-2s of the H-1B with an H-1B application.
H1B extension, transfer, amendment (cap-exempt) does not need to publish LCA publicly on the DOL website.
DOL can charge fees for LCA applications.
LCA violation fines to be tripled.
This clause is going to be really painful for IT consulting companies. The large IT consulting companies may still find a way to mitigate but the small size companies will have to shut their shops.
#5 Do No Harm Clause – i140
This provision has been removed from Aug 2020 deal as a one year gap has been added.
This means that the S386 bill will be applicable from the 2nd fiscal year after the bill is passed. This will give enough time for the rest of the world candidates to get Green cards before the S386 starts to remove the country of birth limits.
Example:
If a non-Indian and non-Chinese file his i140 before this bill passes, he will be given Green card first before Indians and Chinese.
Once the bill passes and is implemented, every new i140 filing will be considered as per new rules.
#6 Dependent Status Protection for H4, L2
The H4 dependent spouse and kids will be allowed to stay in the US even if something happens to the primary H1B visa holder.
This will be a big relief for H4 kids who are on the verge of ageing out.
This clause has probably been added after stories of self deporting featured when the primary H1B member died.
#7 No increase in number of Green cards
The total number of available Green cards remain the same as this is extremely difficult to pass the congress.
Durbin was asking to increase the number of green cards and Mike Lee always contested that it's not possible in the near term.
No change in counting Dependents of employment-based green card application
USCIS counts each dependent on an employment-based green card application as a separate green card applicant. There is no change here.
As per USCIS reports, each immigrant has an average family size of 3 which means that they count 3 green cards for each employment-based green card i140 filed by H1B or other such workers.
#8 Family Based Green Card Country Quota
Family based country based limits are raised from current 7% to 15%.
FAQ
When will S386 Be Active After Durbin's Deal?
Once it is approved and signed by the President, it will be applicable starting Oct 1, 2021, at the earliest if it is passed before Oct 1, 2020.

If the bill is passed between Oct 1, 2020, to Oct 1, 2021, the changes will take effect starting Oct 1, 2022.

The bill needs to pass the Senate first and then the House.

A similar house bill HR 1044 was passed in 2019 but this current version of S386 is quite different and hence needs to be passed separately by House.
Can I Use my i140 from Old Employer to File i485?
Your old employer who filed your i140 needs to file i485 for you.

If your new employer after H1B transfer wants to file i485, they need to file their own i140 for you.
Can i140 and i485 be filed Concurrently after S386 Amendment?
We do not think that i140 and i485 can be filed concurrently if your PD date is not current.

As per the new S386 amendment, your i140 should be approved or have been pending for at least 270 days to file i485.
Will S386 pass Senate after Durbin's Amendment?
It depends on how other senators who supported the bill will react to the amendments added by Durbin.

Overall, it looks like a fair compromise to use as it addresses issues raised by ROW (rest of world).

For any bill to pass, there have to be compromises made by each side. Something has to be lost to gain something.

We still feel that Indians and Chinese will gain a considerable amount of benefits with the new version of the bill.

ROW will also gain a 5.75% reservation. They will be in line with backlogged countries and GCs will be distributed on a first come first serve basis bringing all humans at the same level irrespective of their country of birth.
Why is ROW not Happy with The S386 Amendment?
ROW is used to get US green cards within 6 to 12 months just because they were born in a country that has no backlog at all in the current US immigration system.

Of course, it hurts when you take away something that you are used to getting easily as compared to other countries like India and China who are forced to wait for at least 10 years.

They are opposing S386 and calling it racist without realizing that no human has control over their country of birth. You can get an education and improve your skills but cannot change your country of birth.

Anyways, there are opponents and proponents of S386 on each side and the best way to move forward is to have something for everyone in the bill.
Racist, Aggressive Remarks Against Lee & Durbin
S386 is a bill that can change the way US immigration works. It has both opponents and proponents.
Each side has used aggressive language to target the two senators based on what 'they' think is right.
It is not only Immigration Voice who has used strong words to condemn Dick Durbin's hold on S386. Opponents from the rest of the world led by Iranian groups have also used equally abusing language against Mike Lee.
Both sides need to understand that there has to be a mid-way path to make this happen. Leaving aside anyone staring will not be useful and the bill may just die a slow death if there are no clauses for ROW or Indians and Chinese.
ROW needs to understand that a merit-based green card system is the future of US immigration. You cannot stop it from happening as that's what all other countries have adopted to keep the economic progress intact.
Source: Visa Law