Sample NRI Passport Form India Govt (Made a Mistake?)
Digital photo upload optional. Write Q7 to 29 with blue or black ink pen. Amount paid = $77, Mode = Online, Shipping = $15. Information should match CKGS data.

By Anil Gupta
Updated 13 Aug, 20
CKGS passport application process helps you fill the NRI passport form and connects it to the government site automatically.
You should always fill the form on the CKGS website and not directly on the Indian government site.
In case of some Indian embassies in the USA, CKGS automatically fills the NRI passport form for you (no need to go to gov website separately) and for others, you will be asked to go and explicitly fill it.
Sample NRI Online Passport Form – Indian Govt Form
If you are asked by the CKGS process to fill the NRI application form separately at step 6 in CKGS Indian passport renewal application, follow this process:
#1 Click the link on CKGS website
CKGS creates a unique web reference ID to link to this govt. application form and provides you a link on Step 6.
Click this link to fill the form.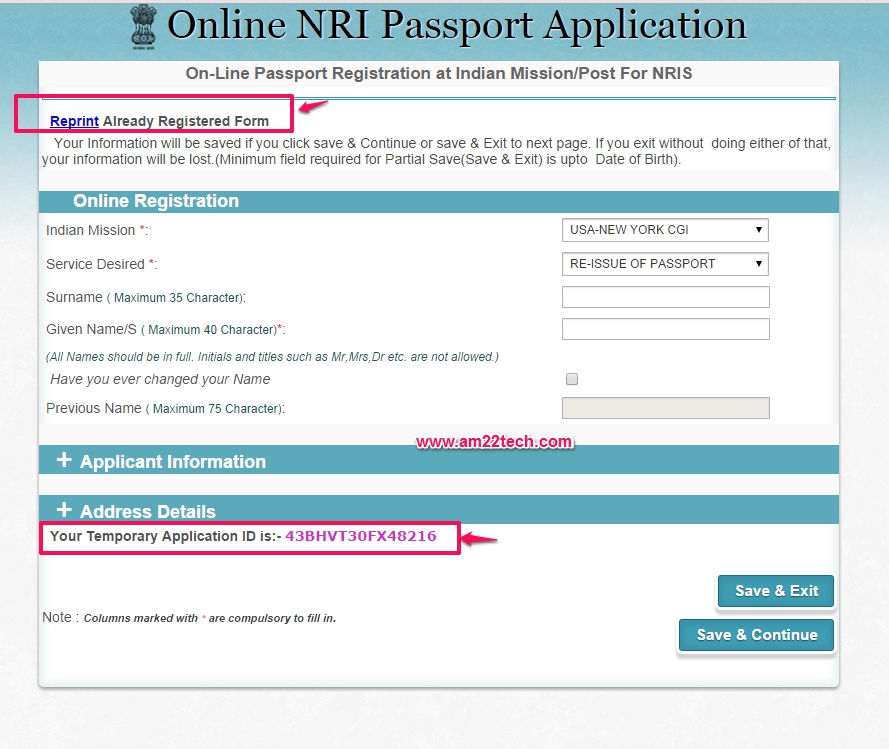 If you fill the government's form before CKGS step 6, then CKGS has a separate process and is NOT recommended.
You will find it on the CKGS home page. We are assuming you started with CKGS.
#2 First fill questions/fields online on the form and then take a print for rest.
The online form will guide you. 
Printed online NRI form has 3 pages in total with about 29 questions/points.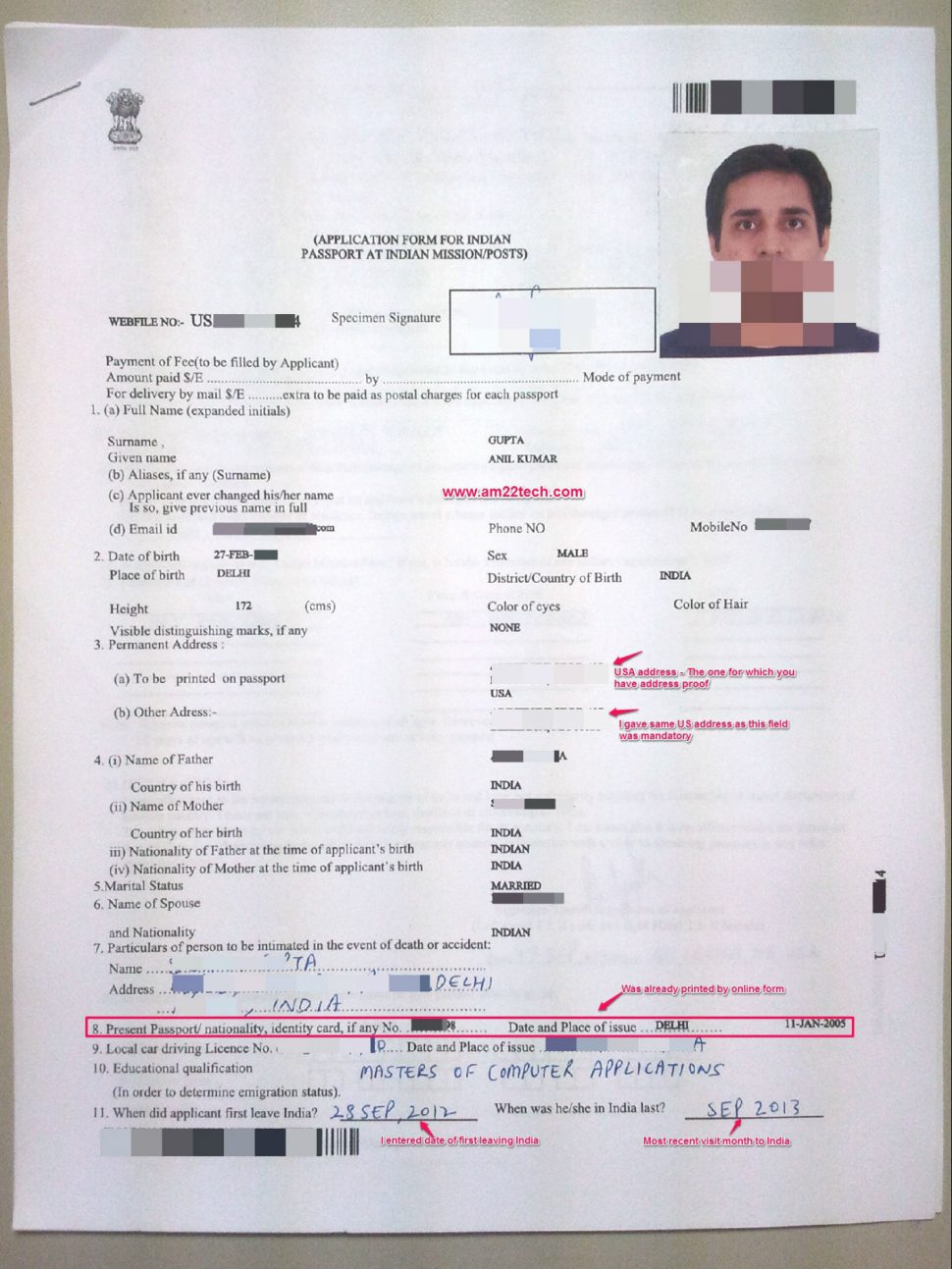 Q 7 to 29 need to be filled manually with hand using BLUE or BLACK ink pen only.
Digital photo upload (Optional)
Online NRI passport application upload image is optional at this time. 
NO option to upload it later if you have moved past the upload photo step.
How to edit online NRI passport application is a common question and remember that No editing allowed on CKGS form once you have clicked the NRI form link at Step 6.
Mistake in Govt Online Passport Application Form
DO NOT try to fill out another new "Online Passport Application Form" online if you made a mistake since both CKGS and Online Passport Application Web Reference numbers are linked together.
Instead, start all over again and follow the process (CKGS -> Online Passport Application -> CKGS) if you have not yet paid the fees.
If you have already paid the fees and made a mistake (which cannot be edited), then cancel your CKGS application with refund and RESTART the CKGS process.
You will get the fee refund but with some deductions based on the current status of your application.
You can change the values written in printed form though. Only the values are written online (Q 1 to 6) should not be changed.
Amount Paid in NRI online Form
The usual fees for passport renewal with CKGS is:
| | |
| --- | --- |
| Passport Fee | $75 |
| CKGS Service Fee | $19.95 |
| ICWF Fee | $2.00 |
| SHIPPING From CKGS to You | $15.00 |
| Text Message | $5.00 |
| Convenience Fee | $4.09 |
| TOTAL COST | $121.04 |
Payment of Fee (to be filled by Applicant) – Enter Amount of Fees excluding the CKGS fees
| | |
| --- | --- |
| Amount paid $/E …"???"… | $75 + $2 = $77 |
| by …"???"… Mode of payment | Online Credit/Debit card |
| For delivery by mail $/E …"???"…extra to be paid as postal charges for each passport | $15 or $30 as the case may be (Shipping fees) |
Q3 Permanent address
Permanent address (a) and (b) must be different from each other.
You must provide both India and USA addresses. So, use either Option 1 or Option 2.
| | Option 1 | Option 2 |
| --- | --- | --- |
| (a) To be printed on passport | USA – Current address | India – parents address works. Do not give Hostel address. |
| (b) Other address | India – parents address works. Do not give Hostel address. | USA – Current address |
Period of stay abroad in NRI online form
Q 11: When did applicant first leave India?
There is no hard and fast rule about this question. We have seen passport renewals even when people visited the USA multiple times and just used the most recent entry date here.

So, you can also use the MOST recent entry date to the USA here OR Enter the approximate date when you left India for the first time to go to the USA. Your choice.
Q 12: How long has applicant continuously resided abroad?
Enter the total duration (months/ years) you have lived continuously in USA. If you have visited/resided in India (or any non-US country), then you can exclude that period.

Calculate the time period using the date you chose in Q 11.

Example – If you have stayed in US for 3 years and visited India twice for 1 month each, then enter duration as 2 years 10 months.
Q13 – Is ECR/ECNR check required?
Present Emigration Status ECR or ECNR is written on your current passport.

Check 2nd or 3rd page of the passport.

ECR means Emigration check is required. Select ECR if it says ECR.

ECNR means Emigration check Not required. Select ECNR if it says ECNR.

If you have passed 10th grade in India, your passport will have NO STAMP i.e. neither ECR nor ECNR.

If there is no STAMP, then your status is ENCR automatically and you should choose ECNR.

Documentary evidence for ECR or ECNR is your highest qualification degree copy.
Can I double print NRI passport form?
You should print the NRI form on 1 side of the page only.

Double-sided printouts are not allowed.
Place of Birth should match passport
If your Place of Birth in the NRI Form does not match the place of birth mentioned in the Indian Passport, CKGS will REJECT your application.
If your place of birth has city and state mentioned, then write the same in NRI form without the special characters like '[', ']' etc.
Example:
| | |
| --- | --- |
| Place of birth in the current passport | CHENNAI [TAMIL NADU] |
| WRONG, application will be rejected | CHENNAI |
| CORRECT (special characters such as square brackets are not allowed) | CHENNAI TAMIL NADU |
| Will be PRINTED in new passport | CHENNAI TAMIL NADU |
NRI application form Links
Government form online link – New Form Direct link We recommend you use the link given in Step 6 of the CKGS application.
Government form online link – Edit your form – Re-visiting to complete partially filled form. Temporary Application Id required (This is different than CKGS's own application web reference ID).
Print application form, after 'saved and exit' application – Government site's Web file number (shown to you on the LAST page when you are done filling the form) required.
This is different than 'Temporary application ID' and 'CKGS web application reference' ID.