Uber driver gets Green card faster than Indian High Skilled Doctor
Uber driver gets green card faster than Indian high skilled doctor on H1B visa. US green card system favors low population country with low share of skills.
AM22Tech Team
Updated 6 Nov, 20
The story is dis-heartening but the bitter truth about USA immigration is that a Uber or Lyft driver, not even eligible for a high skilled H1B visa, can get Green card within a year.
An Indian skilled worker may have to wait up to 150 years to even have a chance of seeing the prized Green plastic.
US green card limits based on country of birth make it a highly discriminated system, and that too on a factor that no human can control or change.
People are solely judged on the basis of their country rather than their skills to contribute to the US economy.
Paying taxes, English skills, education levels, and contributing to the growth of the US are not counted. What matters is how populated is your country of birth.
Kids of Doctors, Scientists, and high skilled English speaking workers from India are made to suffer even when there are explicit protections for undocumented DACA kids.
It seems to happen only in the most powerful country in the world where you get more by jumping the border than following the law.
DACA Kids are Dreamers, H4 Kids are Nothing!
Politicians call the undocumented kids a dreamer but have no word to define an H4 kid. Do they really care?
Do they have any dreams? Really?
Certainly, they are. But, who's economic loss is it? They assume that they are educated enough to build their life anywhere in the world.
The general consensus in backlogged employment-based Green card queue countries is that neither Democrats nor Republicans care for their pain.
Democrats try to please family-based immigrants and care for the undocumented population more. They won't hurt legal immigrants but they won't do anything out of the way to help them either.
Republicans do favor legal immigration but they also do not do anything to shorten Indian's everlasting painful green card journey.
Take the example of Democratic party Senator Dick Durbin who has blocked S386 in Senate even when HR 1044 was passed with bipartisan support in the house with Democrat majority.
Republican Senator Mike Lee has pushed S386 a lot but not enough to pass it yet.
As per the twitter poll run by Anil Gupta recently, most people think that it is better to have a Democrat president than a Republican. Democrats can at least let the current status quo go-on as-it-is without adding additional hurdles.
Anil has created another poll intentionally with an added option "none of the above" along with Joe Biden and Donald Trump this time to see if this new option changes the final poll result.
H4 kids have to fight for their right in the US courts to get the same level of playing ground for them as they have for DACA and CSPA family-based immigration laws.
Their H1B and L1 parents fight for their own rights to provide the same level of ground for all and judge them solely on the basis of their merits and country of birth.
Is that an unfair demand?
Uber driver vs Indian Doctor in New York
This is a real story and the names have been hidden as requested by the narrator for privacy.
Recently, I (read Indian software Engineer) called an Uber cab and met the driver. He was nice and warm in his broken English and non-American accent.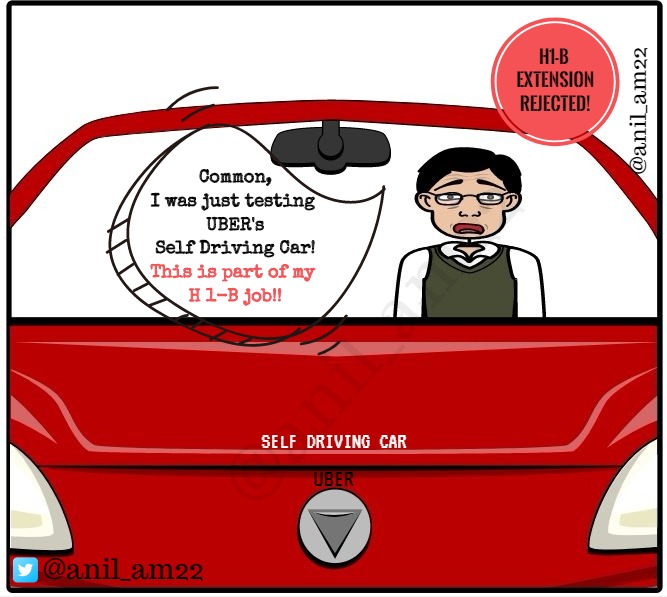 The same Indian engineer may work in Uber or Lyft as a well paid IT engineer but will not be able to get a Green card.
Not that I have problems with any driver or occupation or someone's English, the only grudge that I carry in my heart is that the 'land of dreams' puts my country of birth first.
Diversity Visa
Since he comes from a country with a low population, he got his US green card within a year of applying even though he has only completed high school education. He and his family are enjoying his diversity lottery Green card received 2 years ago from a small country in Europe.
His diversity Green card was filed by a visa consulting company for hefty fees (not the US government fees) and we hear political narration against IT consulting companies exploiting the US H1B system!
The only commonality between diversity lottery and H1B lottery is the chance to win one.
Stress Free Life vs H4 Age Clock
This Green card holder is building his life with 2 kids in the USA who are already on the path to becoming US citizens. My kids are scared as their age clock is tickling and once they turn 21, they will have to self deport themselves.
Every year 50k such Green cards are distributed randomly whereas skilled computer science graduates and doctors from India, China keep looking anxiously at the US government to even have a look at their aging out kid's future.
No prizes for guessing that India and China are not eligible for diversity Lottery!
The only way they can reach Green cards is by using a work-based visa like H1B, L visa, or family-based immigration.
High Skilled H1B is 74% Indian
USCIS data shows that of all high skilled H1B visas issued in 2018, staggering 74% were taken up by Indians.
In 2019, USCIS shared another report which shows that the H-1B authorized-to-work population is approximately 583,420.
This shows that the US imports what they need primarily from India with high education and skills.
They just simply ignore merit-based H1B visa holders when they have to give out Green cards as explained recently by Forbes amidst the Trump's H1B travel ban.