Fact Check: Loophole in Trump Travel Ban (Sheela Murthy)
Sheela Murthy's interview in theHindu's loophole article: travel to US using B1/B2 visa, then file H1B Change of status. Trump's ban allows visitor or study F1 visa.
Anil Gupta
Updated 30 Jun, 20
An article featuring attorney Sheela Murthy's interview on the Indian news website the Hindu is going viral on social media talking about a loophole in Trump's travel ban.
What is the loophole that the article talks about?
The loophole: Travel to the US using a visa that is not on the banned list and then file a Change-of-Status.
This loophole or the process that's legally allowed is mentioned in paragraph 15 on the article page.
It simply says that Trump has not banned travel using other types of non-banned visas and then changing visa (or normally called a 'status') to the banned type in the US.
Example:
B1 to H1B: You have a B1/B2 visa stamped in the passport and you are stuck in India waiting for the H1B visa stamp. You can travel to the USA using your B1 visa and then file a change of status to H1B after 90 days.
B2 to H4: Similarly, if you have a valid B2 visitor visa in your passport, you can enter the USA and then file B2 to H4 COS after 90 days. Similarly, COS to L2 or L1 or J1/J2 can be filed.
No other visa stamp: If you do not have any other visa stamp, then you can apply for ones like B1/B2 or F1 and if approved can travel to the USA. You can then file a COS to H1B or L1 or J1 as applicable within the USA.
We also shared similar advice earlier for our guests last week.
People who are stuck outside the US or are waiting to get H1B visa stamp after lottery approval can try other ways if they are comfortable (usually filing B1/B2 is not recommended if you have work visa plans as the chances of denial are high):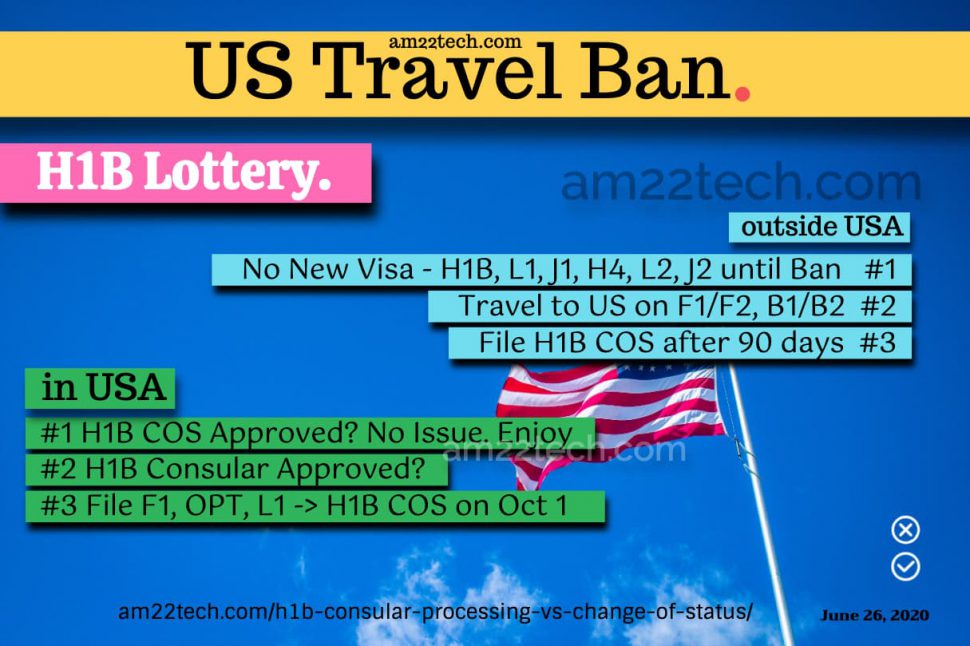 Any other Loophole?
There is no other loophole that the article talks about.
All other parts of the article talk about the background of Trump's policies against the immigrants starting from 2016 and after he came to power as president.
Sheela Murthy has explained her opinion about why the travel ban is not justified and it does not really help the US businesses or the economy as such.
Can I Travel to the USA?
USA H1B Travel Ban Rules App >