USA Currency Coins, Dollar (Bitcoins, Gold?)
US dollars act as global currency - accepted at international airports, duty free shops. CBP rule - 10k cash need to be declared. Exchange at home country for better rate.
Anil Gupta
Updated 20 Aug, 20
The USA dollar is accepted all over the world and is considered a global currency.
The dollar is accepted at almost all airports including the major transit hubs like Dubai, Amsterdam (Netherlands), Singapore, Tokyo (Japan), Heathrow Airport in London, and other major stopovers.
There is no need to worry if you have a dollar in your pocket instead of your home country currency like Indian rupee, UK pound, Australian Dollar, or anything else as all shops including duty-free accept US dollar.
This article will discuss:
Global Currency
US dollar is considered the second global currency after Gold.
Gold is considered the most valuable asset by governments but for you, as an individual, US currency is the most valuable instrument to make purchases anywhere in the whole world.
Penny is the lowest denomination in the US money system. It is equal to 1 Cent.
| | | | |
| --- | --- | --- | --- |
| USA Currency Coins | Indian Rupee (INR) | Mexican Peso (MEX$) | Chinese Yuan (¥) |
| Penny = 1 Cent | ₹0.75 | MEX$0.22 | ¥0.07 |
| Nickel = 5 Cents | ₹3.73 | MEX$1.1 | ¥0.35 |
| Dime = 10 Cents | ₹7.46 | MEX$2.2 | ¥0.7 |
| Quarter = 25 Cents | ₹18.65 | MEX$5.6 | ¥1.74 |
| 1 Dollar = 100 Cents | ₹75 | MEX$22 | ¥7 |
| 5 Dollar | ₹373 | MEX$112 | ¥35 |
| 10 Dollar | ₹746 | MEX$223 | ¥69 |
| 20 Dollar | ₹1,492 | MEX$446 | ¥139 |
| 100 Dollar | ₹7,461 | MEX$2,231 | ¥695 |
The currency exchange rates keep changing every day and you should check the current rate on xe.com.
A nickel is equal to 5 cents, Dime is worth 10 cents and a quarter is equivalent to 25 cents.
Dollar Bills
The lowest dollar bill is $1 and the highest is $100. There are $5, $10, and $20 bills too.
The paper-based US dollar currency is commonly called a 'bill' in the USA. The bill in the USA is the same as a 'note' in India.
All dollar bills have the same size and they can fit in a standard men and women wallet.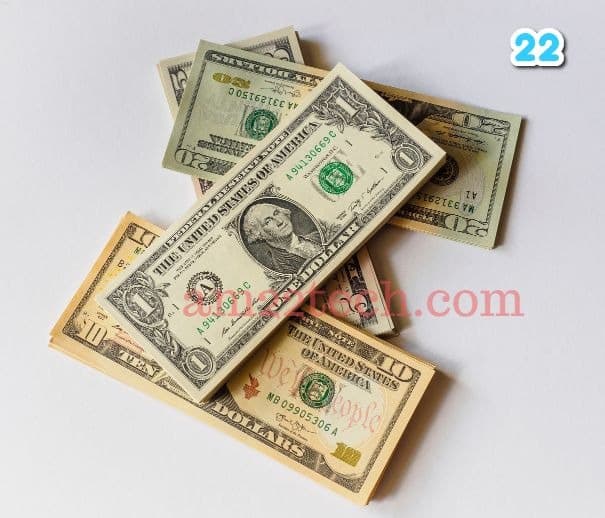 Plastic Money
The credit and debit cards are commonly known as Plastic money.
The usage of cash for purchases in the USA is not common as most of the transactions happen using either a credit card, debit card, ACH (Bank transfer), or a paper check (less common).
Cash Purchases
All-cash purchases higher than USD 10,000 is required to be reported to the IRS by law.
For example, dealers in jewelry, furniture, boats, aircraft or automobiles, pawnbrokers, attorneys, real estate brokers, insurance companies, and travel agencies are among those who typically need to file Form 8300 to report cash purchases over 10k.
Stores like Walmart, Target, Costco, Sams club, etc. also follow the law by reporting high cash purchases.
You will not find people making big-ticket items like a laptop or an iPhone using cash.
All banking transactions are tracked and reported to the IRS by banks.
Bitcoins CryptoCurrency
Bitcoins and Cryptocurrency are not accepted in the USA as a method of payment for purchases in stores or online on Amazon.com.
You can buy bitcoin or trade (stock market trade) legally in the USA though. There are many apps and hardware that help store the bitcoins using a Cryptocurrency digital wallet card or hardware like a bitcoin digital wallet.