DriverLoanUSA Investment Reviews, Risks (15% APY?)
DriverLoanUSA offers 15% APY, has BBB accredition but not FDIC insured. High risk high profit investment scheme. Cash loans to Uber, Doordash drivers and not employees.
AM22Tech Team
Updated 11 Aug, 20
DriverLoanUSA is gaining popularity simply because they offer a whopping 15% APY and that too fixed.
We analyze the risks and benefits of investing in DriverLoanUSA as an investment to earn money passively.
This article will discuss:
Positive Points
#1 BBB Accredited
I was able to find the DriverLoanUSA on Better Business Bureau website with accreditation from 23 June 2020.
The business rating at the time of writing this article was A- which does not really sound great. It should improve over time considering the length of time business has been operating.
#2 Low Investment Starting Point
You can start investing with as low as $50 and then add up any amount.
They do not charge you any fees for maintaining the account, online access, penalty, or money transfers.
The only catch is you need to keep the money invested for at least 90 days to earn anything.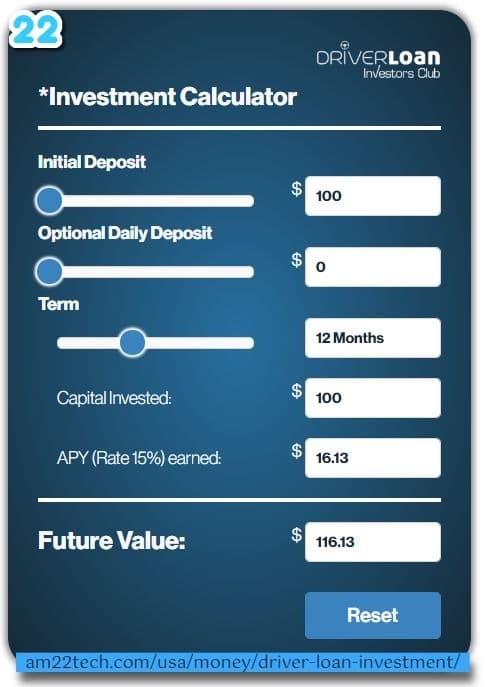 If you cash out before 3 months completion, you will not earn any interest.
Here is an analysis of how much you can earn in one year if you invest $100, $1000, or $10,000.
| | | |
| --- | --- | --- |
| Amount | 12 Month Interest (15% APY) | Your Investment |
| $100 | $16.13 | $116.13 |
| $1,000 | $161.32 | $1,161.32 |
| $10,000 | $613.21 | $10,613.21 |
#3 Fixed 15% APY
Fixed APY means that it will stay 15% irrespective of market fluctuations and you can always expect 15% interest on your investment.
The interest is compounded and hence the annual percentage yield (APY) is 15%.
The APR (Annual Percentage rate) will be different and lower than 15% though.
They publicize the APY rate as that's the final interest rate that you can expect to get if you keep your money invested for 12 months.
#4 Stock Market Risk
They do not re-invest your money in stock markets and hence are not prone to market risks like your 401(k).
They give out cash loans to drivers of the specific delivery and ride-sharing companies. It is not clear if they will expand their portfolio to include more employers at this time.
The fact that more people are now ordering online and apps like Doordash, UberEats have seen exponential growth, the prospects are good.
#5 Cash Out Any Time
They allow you to cash out your money anytime you want.
We have got no real-life reviews from anyone in our groups to give you a reliable review here.
Risks
#1 FDIC Insurance
The DriverLoanUSA is not FDIC insured and hence your investment is at risk of going down the drain if they close the company or go bankrupt in the future.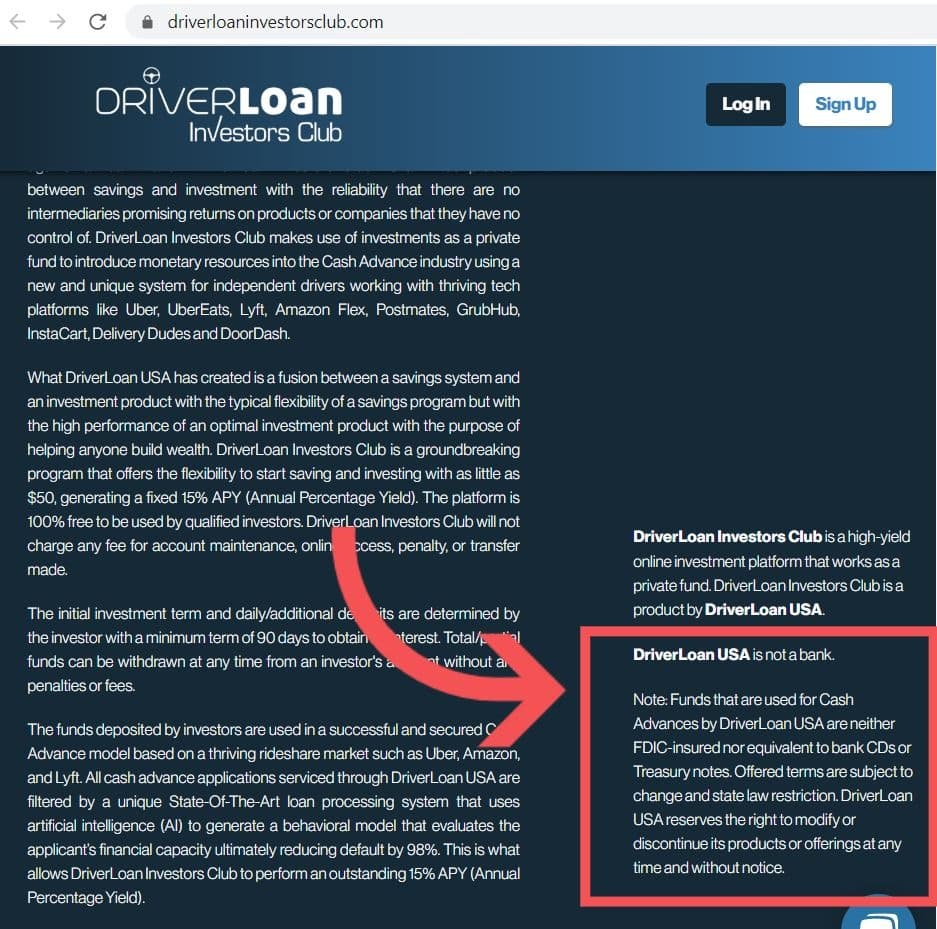 They do give you a certificate of investment but it is not equal to Bank CD (Certificate of deposit) which is usually FDIC insured.
FDIC insurance is a very important factor that you should look at before giving your money to any financial company.
#2 Cash Advance Loans, Payday
The main idea behind DriverLoanUSA is the 'Cash Advance loans' for people who are primarily working as drivers for ride-sharing app companies like Uber, Lyft, and other companies who are in the business of delivery services.
Do not get fooled by the big names involved like Amazon Flex, Instacart, Grubhub, and Doordash as they claim to give cash Advances to the drivers of these companies.
Most of the drivers for these app-based service companies work as an independent consultant and not as an employee.
My only aim here is to make sure you understand where you are investing in and what to expect. You are not investing in the big name companies but rather in the cash loans given to their independent drivers.
#3 Financial Profile of Loan Borrowers
The financial profile of people who borrow using 'cash advances' is bound to be very high risk.
I was expecting that the actual interest charged by DriverLoanUSA from their borrowers would be somewhere around 25% APR.
But, when I checked their site for the borrower APR, I was shocked to see a monstrous 440% APR along with a 5% fee. I fail to understand how someone can pay such a high interest and still be a good borrower.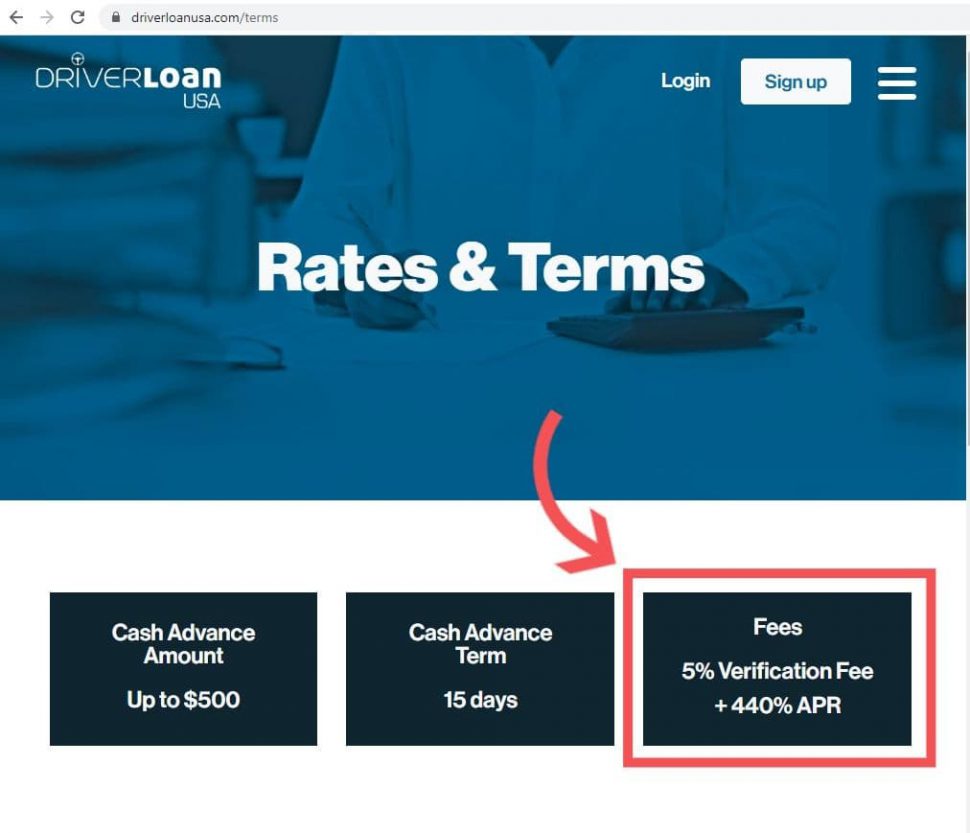 Their tag line explains a lot even though they give out loans only to 18 years and older adults with a verifiable, steady source income along with an active checking account and only for 15 days term.
We say yes, when others say no. No credit? Bad credit? Don't worry!
You can understand that if someone is ready to pay 440% of interest on a loan without any collateral like a car, home, or jewelry, then how desperate they are to get the money.
It points to couple of things about the Loan borrower profile:
has no regular income source
has no savings to support the paying back of the loan
has a very high chance of defaulting
has bad credit history (400 and below)
has been denied loans by regular banks like Bank of America, Chase, etc.
Have you ever considered taking a cash advance on your credit card or Payday Loans? Do you know that they charge high interest in these cashouts?
DriverLoanUSA is the same thing. They are giving out loans without any security deposit and hence are charging high interest in return.
You should understand that it is a very high risk, high-profit investment if you do decide to invest.
#4 Multiple Alias Names
Usually, the companies having their head office in Florida are seen with a little bit of caution like the one offering Green cards.
They have registered their address as:
8350 NW 52nd Ter, Doral, FL 33166-7811
Their use of multiple different names may also interest you as they use these names (available on BBB too):
Other names we found which are not given on BBB for same business address:
Lady Advance – It seems they were operating earlier with this name but have not renewed their Florida state license after changing the name to DriverLoanUSA.
My Suggestions
You should be careful while investing in a non-banking company that offers an extremely high-interest rate which is over and above the usual rate offered by other financial companies.
Is DriverLoanUSA better than High Yield Savings Account?
DriverLoanUSA 15% APY rate certainly looks better than savings bank account which normally pays around 0.5 to 2% APY. One such example is the Axos Bank high yield saving account with a low-risk consistent income and low risk.

But, the biggest catch is in the risk profile. DriverLoanUSA is a very high-risk investment as compared to low risk and FDIC insured high yield savings account.

The difference in APY is staggering and hence you should be extremely careful before jumping to invest.
Should I invest money in DriverLoanUSA? Is it safe?
If you decide to invest in DriverLoanUSA, I suggest to only invest 10% of your total investment in this kind of high-risk debt portfolio company.

Go slow and never invest all your savings in this private loan investment scheme.

At all times, keep your investment below $10,000 so that you can reap the benefit of high interest and if the company does go down, you can still save yourself from drowning completely.

Keep withdrawing the money regularly too.
Reviews
#1 Google Reviews
This Florida based financial institution working primarily in the area of payday loans has a 4+ rating on Google reviews.
I would not rely simply on Google reviews to make an investment decision.
#2 Reddit Thread
A Reddit thread for DriverLoanUSA gives a good insight into where and how this company might be investing.
Some people say that they are investing heavily into StableCoin (a cryptocurrency platform).
#3 Compare with U-Haul Investor and Lending Club
MoneyForTheRestOfUs blog has reviewed DriverLoanUSA with returns from the U-haul investors club and LendingClub with respect to defaulter rates.
DriverLoanUSA does compare their investment APY returns to Prosper, LendingClub, Bank of America and Chase on their home page.