ICE tells F1 Students to Leave US (If School is Online-only)
ICE tells students should leave US if their school or university is conducting online classes in fall 2020. New visa will not be issued. Existing visa holders cannot enter US.
Anil Gupta
Updated 14 Jul, 20
Update July 14, 2020: Trump's government has agreed to take its F1 student online-classes policy order back during the hearing of Harvard and MIT lawsuit in the court.
Earlier, ICE had tightened the rules for F1 and M1 students in the USA amid the coronavirus pandemic.
As per the new rules, ICE says that:
Stay in US: You can stay and study in the US only if your school or university is taking in-person classes or a mix of both.
Leave US: If classes are happening or will happen completely online, then the students should leave the US to avoid unlawful presence.
The Student and Exchange Visitor Program (SEVP) announced modifications on 6 July 2020 to temporary exemptions for nonimmigrant students taking online classes due to the pandemic for the fall 2020 semester.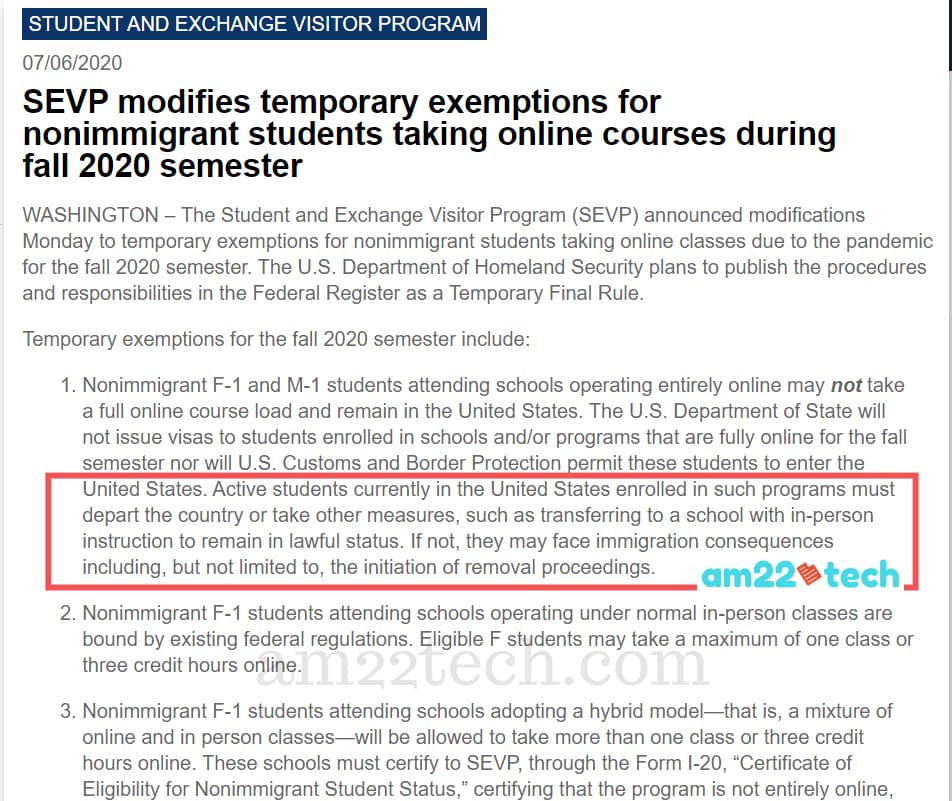 As part of this notification, ICE announced that:
No new Visa: US embassy will not issue any new F1 or M1 study visa if the school is offering only online classes.
Not allowed to travel to US: If you have an existing stamped visa in the passport, you will not be allowed to enter the US.
Students who are currently inside the US should leave the US.
Looks like the US is trying to close all doors for all students as this notification comes immediately after the travel ban on legal workers.
Exceptions – Hybrid Classes
If you can change your school to the one which is offering a mix of online and in-person classes, you can stay in the US.
You can take a maximum of one class or three credit hours online to stay in the USA.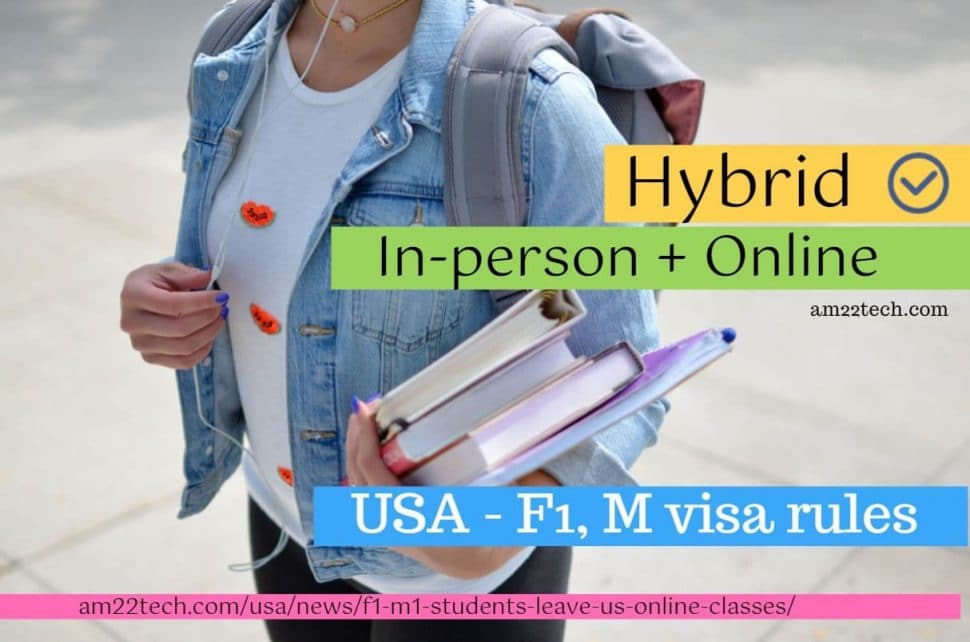 Your school must certify to SEVP using the Form I-20, "Certificate of Eligibility for Nonimmigrant Student Status,"
that the program is not entirely online,
that the student is not taking an entirely online course load this semester, and
that the student is taking the minimum number of online classes required to make normal progress in their degree program.
The above exemptions do not apply to F-1 students in English language training programs or M-1 students pursuing vocational degrees as they are not permitted to enroll in any online courses.
What Can I do to stay in the USA?
ICE says that you can either leave the country or take alternative steps to maintain your nonimmigrant statuses such as a reduced course load or appropriate medical leave.
Students within the United States are not permitted to take a full course of study through online classes.
Attorney Aaron Reichlin-Melnick says that 'reduced course load' option is only available for:
Academic difficulties;
Medical conditions; and
Completion of a course of study.
This simply means that you may not be able to claim it.
Due to COVID-19, SEVP instituted a temporary exemption regarding online courses for the spring and summer semesters. This policy permitted nonimmigrant students to take more online courses than normally permitted by federal regulation to maintain their nonimmigrant status during the COVID-19 emergency.
But now after Trump's announcement that schools should open in fall seems to have changed the direction keeping in mind the elections.
H4 Age Out, Waiting for F1 COS?
The major problem will be faced by H4 kids who have filed their F1 and are about to lose their H4 status as they turn 21.
They will not be able to stay in the US with their H1B parents if the course is completely online.
I have always suggested to go for studies in Canada instead of filing F1 COS in US especially for H1B families who are stuck in long EB2 and EB3 queues.
FAQ – OPT, CPT, F1 COS
What If I do not leave the USA even if my school is only offering online classes?
If you do not leave the USA or change to a school which is offering a mix of in-person and online classes, ICE may initiate deportation proceedings against you.
Are OPT or STEM OPT extension affected?
There is nothing mentioned in the ICE order for OPT or STEM OPT extension cases who are working remotely.

As per our opinion, OPT and STEM should not be affected by this order.
How much time do I have to Update my School?
Schools should update their information in the Student and Exchange Visitor Information System (SEVIS) within 10 days of the change if they begin the fall semester with in-person classes but are later required to switch to only online classes, or a student changes their course selections, and as a result, ends up taking an entirely online course load.

Many schools including Harvard have announced that they are working on changing their schedule to make sure that their students are not affected and can safely stay in the USA.
I am already in the US on study visa? Is this rule applicable to me?
Yes, the new rule is applicable to you.
What If the School Campus is Opening but classes are conducted online within School Campus?
As per the ICE order, as long as the classes not conducted in-person in real classroom, it is considered an online-only session.

It does not matter if your school campus is opening or not, the method of teaching will be counted.
Will My School refund my Fees If I leave the US?
The school may not refund the tuition fee as they are conducting classes online.

You can take those classes from your home country online if you decide to leave the US.

Darren Rovell from Action network reported that Schools like Harvard and Princeton announced that all course instructions will be taught online for the 2020-21 academic year without any reduction in their tuition fee.
Can School Conduct Hybrid Classes?
Yes, your school can start hybrid classes to have a combination of in-person physical classes on some days along with online sessions on other days.

It is expected that many schools will now change their mind and may introduce hybrid classes to help their students stay in the US.
Will there be a lawsuit to Stop this Rule?
It is possible that someone files the lawsuit and you may not be required to leave the US immediately.

If you have time to start your Fall 2020 semester, then it is suggested to wait at this time and watch for nay litigations that may be filed.
Is H4 to F1 Change of Status Affected?
Your H4 to F1 change of status will be affected if your F1 school is conducting only online classes.
What if we have applied for H4 to F1 COS and still waiting for biometrics?
As per the order, your change of status may be denied by USCIS if your school is offering only online classes.

In that case, it is better to keep studying on H4 visa than converting to F1.

You can withdraw your F1 COS application.
I completed masters this year and waiting for approval for OPT, Am I affected?
If your current visa status mentioned on i94 is either F1 or M1, then you might be affected.
Is the Ban coming up for people who are working remotely in USA using H1b or L1 visa?
There is no such news of banning people on H1B or L1 for working from home at this time.

The rules are made and broken in an election year and nothing can be said with 100% confidence.
Does it mean Day 1 CPT / 2nd masters students will get impacted?
CPT is a work permit. So, that should not be affected but study visa holders will be affected.

Unless you have some other kind of visa to stay in the US, you are in trouble.
Day 1 CPT itself is trouble!
Is Cap Gap Cases waiting for H1B lottery approval affected?
Cap gap cases should not be affected as long as you can get your H1B approval.
Problems with Studying Outside USA
Many students are now worried as they may not be able to return to the US if they leave now.
Another issue is internet connection availability in the home country. Indian students might suffer here.
Special mention of students from Australia is required here as their online content is highly regulated by regional licenses and they may or may not be able to access their school's content from within Australia.
Many such questions have been asked on Immigration attorney Aaron Reichlin-Melnick 's twitter account:
F-1 nonimmigrant students pursue academic coursework and M-1 nonimmigrant students pursue vocational coursework while studying in the United States.