DOL Withdraws H1B End Client LCA Rule
End client LCA required from July 14, 2021 for all third party consulting H1B jobs. May reduce H1B approval term. Lawsuit expected. IT consulting affected.
Anil Gupta
Updated 22 Jan, 21
Update Jan 22, 2021: DOL has withdrawn this second LCA rule. So, no need to worry. Enjoy.
Earlier:
US department of labor is changing its policy and will now require the H1B end client to publish and get LCA approval for H1b contractors.
This means that both the H1B employer who runs the payroll as well as the end-client where the contractor works will have to file and comply with the H1B wage rules.
The Office of Foreign Labor Certification (OFLC) has agreed that it is changing its interpretation of the existing law. They argue that it is a necessary change to align with the idea of the H1B program and its economic requirements.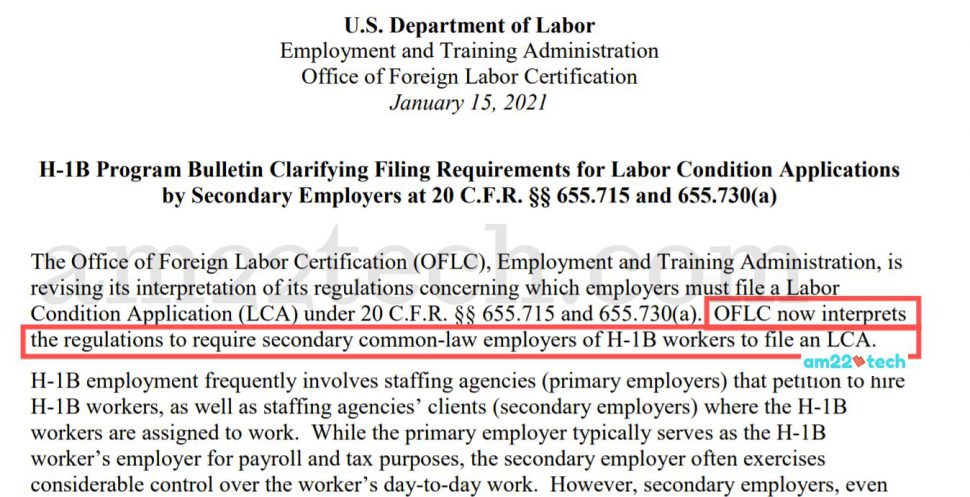 An LCA is required for filing H1B application with USCIS. The labor condition application lists the salary and is required to be published publicly to notify workers at the business office that there are no American workers being displaced due to this job position.
This will be applicable for H1B, H1B1 and E-3 visa workers.
The new interpretation allows the DOL to hold all employers accountable for LCA compliance with H-1B requirements. This will probably prevent and promote better protection for U.S. workers.
This article will discuss:
Start Date to End Client LCA
The end clients will have 180 days from Jan 15, 2021, to start filing the LCA for contractors. The DOL will start enforcing it starting July 14, 2021.
This is not a change in the law but the interpretation of the existing H1B laws.
This seems like an attempt by the Trump administration to change the laws as much as possible before he leaves office as the DOL's final rule clearly cites the Buy American and Hire American executive order.
The small consulting companies will find it really hard to survive along with employers like TCS, Infosys, Cognizant, etc.
This is the second major rule change in one week by DOL after they first announced the new H1B wage levels.
Check my H1B Wage level
H1B Transfer, Amendment
It will not be easy to file an H1B transfer with a consulting company anymore as the end client will also need to get LCA approval separately for the same end job.
It would be interesting to know the details of how one H1B application will be filed if we have multiple vendors between employer and end-client. It is not clear if all mid-vendors will also require an independent LCA or not.
People who work in the EVC or EVCC model will find it hard to get new contracts as the end client projects with short durations of 3-6 months might not be cost-effective.
It does seem that both USCIS and DOL are aiming to reduce the total H1B petition validity time by controlling the LCA approval as they lost the reduced third party H1B approval case in court.
Attorney Reaction
Immigration attorney Emily Neumann reacted by saying that DOL is probably trying to change interpretation based on the USCIS rule that could not stand the court test:
The same sentiment was also echoed by attorney Greg Siskind that DOL is probably overstepping the US court litigation decision:
FAQ
Will DOL's interpretation be Challenged in Court?
A lawsuit is imminent and the chances of winning are also very good since it is a change in the interpretation of the same existing law.

This will certainly affect the IT consulting business and they will all be motivated to file litigation.
When does the end client need to file my LCA?
The DOL will start requiring the end-client to file LCA starting July 14, 2021. Your H1B visa can be denied if your end client does not have an approved LCA.
Will H1B lottery be affected by End Client LCA rule?
The April 2021 lottery should not be affected by the new rule as the start date is in July 2021.
Can Joe Biden Block this DOL rule change?
It is possible that Joe Biden administration halts the DOL rule change.
Source: DOL