Skilled Indians Ideas for S-386 (Hope Senators See)
Indians and their kids rallying around multiple cities requesting Senators to pass S386. H4 kids face self-deportation even after paying taxes & living legally in US.
Anil Gupta
Updated 20 Jul, 20
Indians have been giving their heart and sweat to the S386 bill which is the only hope of seeing the prized US green card for them.
The bill is currently pending in Senate and currently undergoing negotiations with senator Dick Durbin.
The last announced deal in 2019 with Dick Durbin has been modified multiple times now and seems to have diluted the whole purpose of removal of the country of birth limits.
The high skilled category of H1B and L visa workers from India are the most affected people due to the discrimination based on a factor that can be changed or controlled by any human being.
The important point to understand is that the bill aims to remove the inherent discrimination for all countries and not only for Indians.
Over half a million skilled workers are waiting in the US and face an impractical wait of at least 50 years.
They can never get a US green card in their lifetime if the S386 bill does not remove the 7% country limits.
Kids Rally for S386
Indians are organizing rallies to ask for equal treatment by changing the US immigration law system that currently favors low population countries than the skills that can help the US grow economically in the future.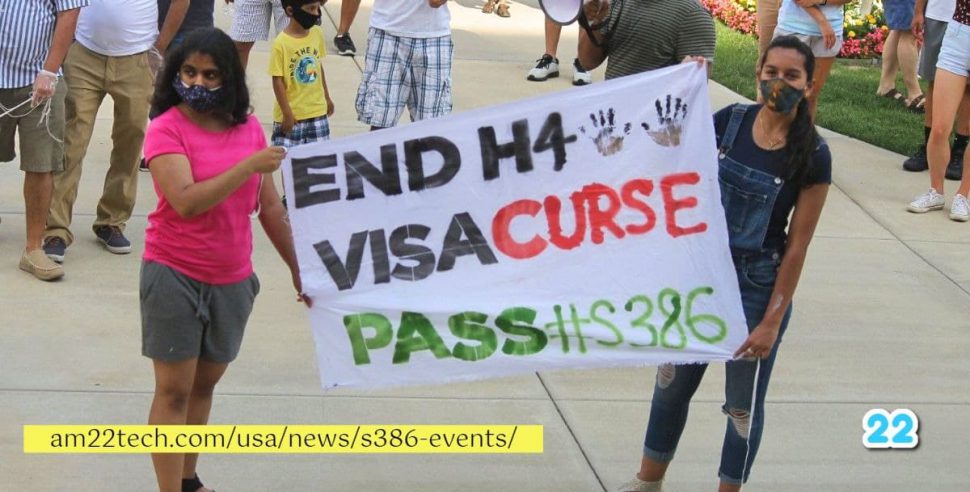 Thousands of their kids face self-deportation as they turn 21. H4 visa cannot be granted to a kid as the US law does not recognize a 21-year kid as a dependent.
This Indian kid has summed up the plight of Indians beautifully in 2 minutes.
All H1B families and their adolescent kids now are half attorneys themselves. Imagine how Indians are explaining the complex US Green card system to their kids.
They need to play but are stressed about their status!
There is an H4 age out lawsuit currently pending which aims to get the same treatment for these dreamers as it is being given for family-based immigrant kids through CSPA rule.
Indians are highly educated and go through various checks before receiving the H1B visa for working in the US.
Most of them are Doctors and Engineers and their story was covered by ABC news recently.
It shows what kind of stress they undergo as they fear for their family's fate in Coronavirus if something happens to them:
Open video in new Window >
Time is running out fast as the current visa bulletin is giving a green card to someone who had filed it in 2009. That's an 11-year wait already and it increases exponentially with each new month.
The state journal-register also wrote about the silent trauma of simply being born in the wrong country.
How to Help Pass S-386
As an American Citizen
As an American, you can ask your senators and congressman to help remove the 'country of birth' based limits for counting US green cards.
This is what you can share with your Senator as they have the power to change this:
They all are law-abiding legal visa workers who do everything right paying their taxes every year.
They all contribute to the USA Social Security and medicare which they themselves may never get to use if they have to leave the US.
Their kids are not eligible to represent the US at state, national and international games like Olympics even if they are qualified to bring a medal.
Their kids have never lived in any other country and will be disastrous if they have to self-deport.
H4 kids are not considered dreamers as per DACA and CSPA bills.
See this heart-wrenching story shared by an Indian mother on how innocent dreams are killed by this invisible discrimination in US law.
Her daughter could not participate in the US national level Taekwondo simply because H4 kids are not eligible to get SSN (Social security number).
The system completely ignores her talent and looks at her country of birth! Is it justified?
Is the US still the 'land of opportunities' where you can become anything you want? Isn't this the reason they left their home country as the US allows them to spread their wings based on their talent?
President Trump has been trying to change the immigration towards merit-based green cards as that's the right way of boosting the US economy and be competitive in the next decade.
As an Indian
You can participate in the rallies that are held or donate to help the cause.
Two voluntary organizations are actively working on spreading positive information about removing Green card country limits.
#1 Immigration Voice
Donation: They are looking for volunteers to contribute monthly to their advertising budget.
#2 Immigration Forum
Public Demonstrations: They do hold open demonstrations to gain public attention and try to show positive aspects of S386 which affects thousands of families.