USCIS EAD Policy Change to Protect American Jobs!
USCIS EAD policy update given discretionary powers to officer. Weigh positive negative factors before approving. No need to worry if you have followed all rules.
Anil Gupta
Updated 15 Jul, 20
USCIS has abruptly changed its EAD approval policy and announced it on July 15.
The new policy gives extra powers and extreme discretion to the USCIS officer for denying an EAD card even if you meet all qualifying criteria.
It is applicable for all types of EADs including H4 EAD, L2, J, M, F visas along with i485 Green card EADs.
What this means for H4 EAD, L2 and others (Snapshot):
Extra discretionary powers to USCIS officers to approve or deny EAD.
The Denial decision cannot be appealed.
USCIS officer will weight positive vs negative factors apart from your basic eligibility for an EAD. This is similar to the public charge rule but deciding factors may be different.
Your EAD can be denied (as per officer's discretion) even if all your eligibility documents are correct.
Immigration lawyer Lily S. Axelford reported that the EAD applicants will have to prove "that the positive factors outweigh any negative factors that may be present, and that a favorable exercise of discretion is warranted"
USCIS has said that these policy changes have been made as per Trump's June 22 travel ban on work visas which aims to protect American jobs.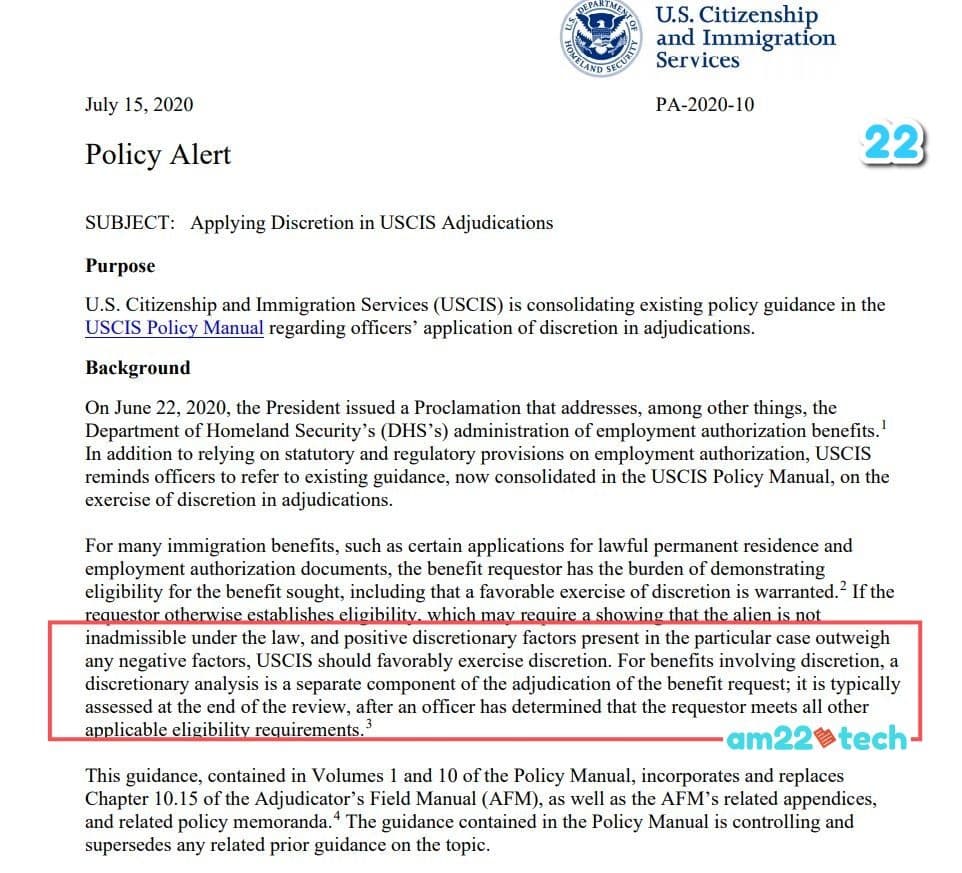 What Are Positive/Negative Factors?
USCIS says that there is no formula to weigh positive and negative factors. It all depends on the individual officer's understanding of the rules and your case history.
The USCIS officer will clearly list these if the EAD is denied:
Clearly say that the decision to deny was made as a matter of discretion
List each positive & negative factor separately that was evaluated
Explain as to why the negative factors overweight the positive factors and the reason behind the denials
USCIS has given the non-exhaustive list of factors here. I have read them and they are too broad and vague. You can go through them yourself.
You cannot pinpoint anything specific that may affect your H4 or L2 EAD decision.
It simply says that do what you are doing the right way and never break the US immigration law and then you might be eligible for an Employment authorization.
FAQ
Does the new USCIS EAD policy affect the pending EAD applications?
The new policy is effective immediately and all pending applications will be evaluated based on the new rules.

The rules are vague as they are not clear about what can be a deciding factor in a specific case.
Can My H4 EAD be denied based on new policy?
Any type of EAD including H4 and L2 EAD can be denied if the USCIS officer thinks that your case's negative factors overweigh the positive factors.
Should I be worried if I have followed all rules all the time?
I personally think that your EAD should be approved if you have always followed all US immigration rules.

This policy change does give extra authority to the USCIS officer but if you have done everything right to the best of your knowledge, you have nothing to worry about.