USCIS – 2 Yr EAD, No Denial without RFE, Job Loss Valid Expedite Reason (Policy Update)
USCIS to issue i485 EADs for 2 year, will not deny applications directly without first issuing RFE or NOID, adds examples of expedite requests.
AM22Tech Team
Updated 9 Jun, 21
USCIS is moving in the right direction with respect to making the immigration benefits easier to achieve for applicants.
They have taken couple of steps today to reduce the processing time by giving additional time on i-485 EADs.
#1 EAD to be valid for 2 year (Only i-485)
i-485 EAD is usually given for 1 year period since the expectation is that you will get your Green card approved within the next 12 months.
USCIS has announced on June 9, 2021, that they will increase the i-485 EAD validity to 2 years to reduce the applications by half. This will certainly free up their officers to work on other types of EADs as they receive about 370,000 AOS EAD applications per year.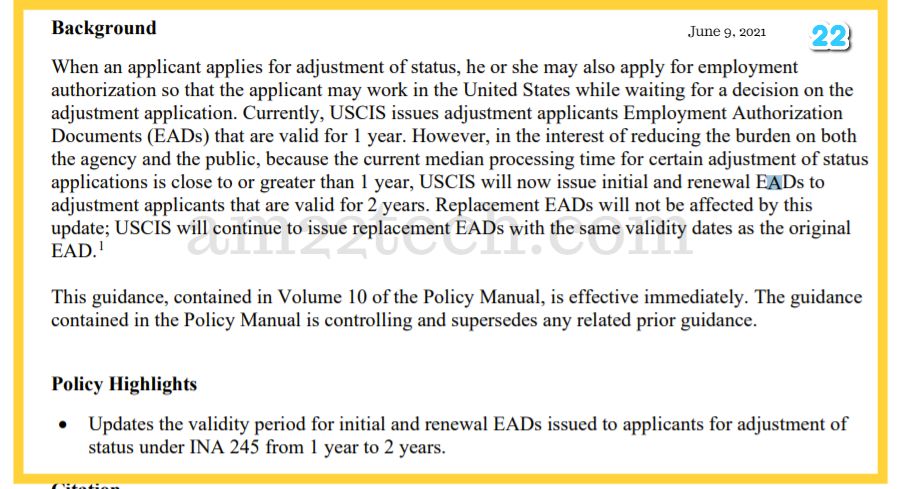 The H4 and L2 EAD will still get their 3 year term without any automatic 6 month extension.
#2 EAD Expedite Request – Job Loss Valid Reason
We do not see any substantial change in the expedite criteria as such on the policy update page here.
Usually, the people file an expedite request for their EADs if they are on verge of losing the job. The USCIS has very strict criteria in those cases as well and has probably just added an example on this page today:

The examples provided by USCIS are for an employer's financial loss. Here they claim that if the employer will have to lay off other medical staff due to the non-timely approval of the Doctor's EAD. This could be L2 or i485 or H4 EAD.
In most cases, these are Doctors working in the USA on H4 EAD as most Indian H1B have a huge backlog in the Green card queues.
USCIS does accept the loss of employment is a compelling factor for EAD expedite requests but then it also makes it arbitrary and gives the power to USCIS officer for making a final decision.
Isn't a job loss itself a big reason to approve the EAD before the current one expires? Only people who face the situation can understand the pain of losing highly earned employment.
Note that there is no expedite request allowed for applications where a premium processing service is available. As an example, for H1B cases, you can request premium processing but for H4 EAD, your only option is to request expedited approval until the USCIS starts premium service.
#3 RFE and NOID
This is a major benefit that USCIS is extending by removing the 2018 Trump admin's policy where they started denying the application without issuing RFE if officers thought that there were missing documents.
Murthy law firm had shared this policy update in 2018 which now stands cancelled.

In real life, we did not see many such cases since 2018 but there were some people who were affected by it when USCIS issued a NOID (and NOIR) without even asking for more documents.
It certainly seems like the agency is working hard to make it process cases faster and change its image to an immigrant-friendly company. These small steps should definitely help reduce their processing times in the near future.
We hope that these steps will automatically help expedite the biometric appointments and reduce the wastage of employment based green cards.