USCIS to Stop H4, L2 Biometric Starting May 17 for 2 years
USCIS aims to remove H4, L2 biometric requirement starting May 17, 2021. Good news as EAD processing time will improve, avoid job losses.
AM22Tech Team
Updated 13 May, 21
Immigration attorneys WasdenBanias have shared the good news for H4 and L2. They have been fighting the lawsuit in US court against the H4 EAD delays for quite some time now.
USCIS has officially announced it on their twitter handle that they are suspending it for 2 years.
The H4 and L2 biometrics was started by USCIS in Mar 2019 and since then, it has been the primary factor in all the H4EAD and L2 EAD delays.
People who are stuck in H4 EAD lawsuits will also get relief as the major roadblock in approving H4 and then H4 EAD will be removed. The biometric process eats about 3-6 months of time at ASC locations in major cities in the California Bay Area where the H4 and L2 populations are highly concentrated.
Details
Biometric suspension is for 24 months and will end on May 17, 2023, unless extended or completely removed by USCIS.
The existing biometric appointments issued will stay valid and H4, L2, E1, and E3 applicants should attend and give them the fingerprints.
USCIS may ask you to attend biometrics even after May 17 if they want. There is no criteria set up yet.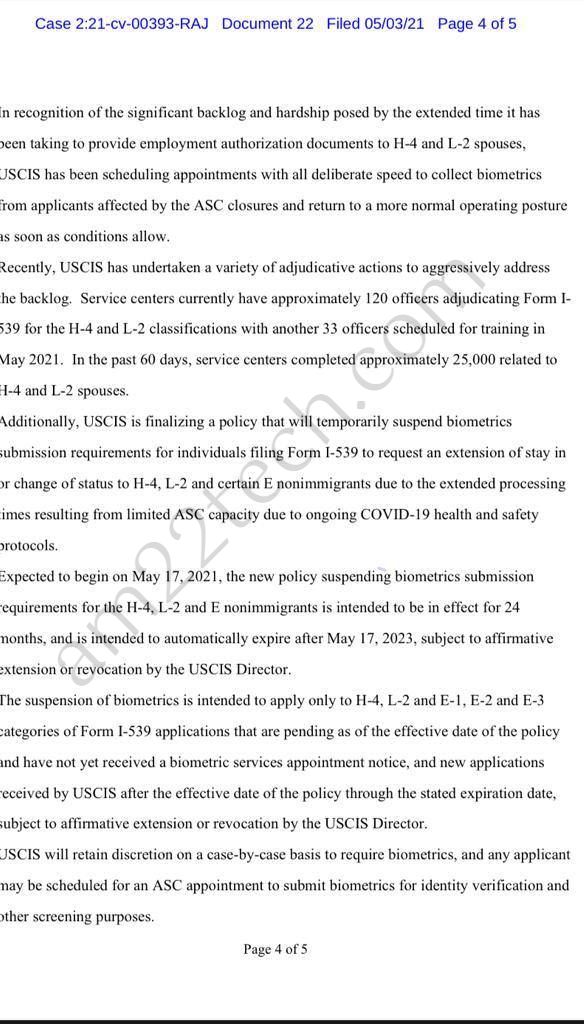 Job Losses, Missed Biometric Notices
Lots of H1B and L1 visa worker families have been struggling since USCIS does not allow filing EAD extension more than 180 days of expiry and their own processing time ranges from 6-12 months.
The biometric delays added salt to injury in the COVID pandemic and made sure that the H4EAD and L2 EAD workers would lose their job or will have to sit at home for at least 3-4 months on average.
Many people had complained that they never received the biometric appointment letter and then USCIS denied their H4 or L2 extension applications. This rendered them 'out of status' in the US and forced them to either file NPT (Nunc Pro Tunc) application or leave the US to get a visa stamp at the US embassy.
This is a welcome move and will revert the long processing delays.
H4 EAD approval with H1B Premium in 15 days
When there was no H4 biometric required, USCIS used to approve H4 and H4 EAD within 15 days of premium processing along with H1B as a courtesy.
USCIS representative from Texas service center was questioned by WasdenBanias law earlier and they had agreed that they used to approve all applications together when there was no fingerprinting involved.
With the removal of biometric, it is expected that old days of faster processing will return soon.
Congress even passed the law in 2020 allowing the H4 EAD and L2 EAD premium processing but USCIS has not yet started its implementation. We believe that this premium processing will not be required if USCIS restarts approving all 3 applications at the same time as they used to in the pre-Trump era.
USCIS also agreed that biometrics are the primary reason behind EAD delays:
EAD in 90 Days
For those who do not know, USCIS had the service level agreement of approving EADs within 90 days of filing before the Trump government changed the rule.
It would be great if USCIS can reinstate the same 90-day window for EADs to give peace of mind and the freedom to plan.
Earlier, one could raise a service request with USCIS if the EAD application was pending for more than 75 days and they used to quickly approve it without requiring the EAD expedite request.
The 90-day commitment gives businesses and workers the confidence to plan projects as they know that the result will be out within 3 months.
FAQ
When will USCIS announce the removal of H4, L2 biometric?
USCIS can announce it anytime between now and May 17, 2021. They have filed it in the court as shared by the attorneys and we hope that they will honor the date.
Will USCIS approve the H1B, H4 and EAD together once biometric is removed?
USCIS used to approve the H4 and EAD along with H1B in premium when there was no biometric requirement. IN the case of regular processing, the approvals used to be almost at the same time but within a close distance of about 1-4 weeks.
Will the EAD processing time improve for all H1B at all Processing centers?
The removal of biometric is a big step and will certainly help speed up all types of pending applications at Nebraska, Vermont, California, and Texas service centers.

The good news is that this will make space for faster i485 biometrics as many people are still waiting for their turn even when they filed adjustment of status in Oct 2020 along with their EB2 to EB3 downgrade.

USCIS ASC centers (fingerprinting office) will open up more slots for i485 as a result of H4 and L2 biometrics going away.

We estimate that this should improve the Green card processing time too.
What will happen to my Biometric appointment if it is already scheduled?
You should attend the biometric as scheduled until USCIS shares the specific rules or allows you to skip biometrics explicitly.

We will update this page once USCIS shares the final rules of revocation.
Will USCIS allow automatic 180 day H4 EAD extension?
There is no indication of automatic 180 day extension for H4 EAD from USCIS at this time. It would be a welcome step if they do but the chances are low since H4 EAD is dependent on H4 and H1B extension approval.
Will USCIS waive biometric for existing pending H4, L2 applications?
It is possible that USCIS will waive the biometric for existing pending applications who have not yet received biometric appointment.

We will know more about it once USCIS shares it publicly.