Free COVID Test Kit – Is it Public Charge for H1B, L1 Visa holders?
USCIS will not count Coronavirus treatment, vaccine, tests, scans, cash benefits, medicaid as public charge for green card. Keep proof of state, employer office closures & cash, food benefits.
AM22Tech Team
Updated 18 Jan, 22
USCIS has announced that free Coronavirus medical treatment will not count as a public charge.
Earlier, the Trump administration introduced a public charge rule to deny your green card if you had ever been dependent on the government for basic needs in the US. This rule was also taken down by DHS recently.
In a nutshell, there is no public charge active at this time for green card eligibility. If they bring it back in the future, we will share an update.
Free COVID test kit
US federal government is sending free 4 COVID test kits per household through USPS, as announced on the Whitehouse website.
You can register for free COVID kit delivery here on the USPS site. This will not be charged to your insurance as it is provided free of cost by US federal government.
The shipping can only be done to a valid US address.
Limit of one order per residential address
One order includes 4 individual rapid antigen COVID-19 tests
Orders will ship free starting in late January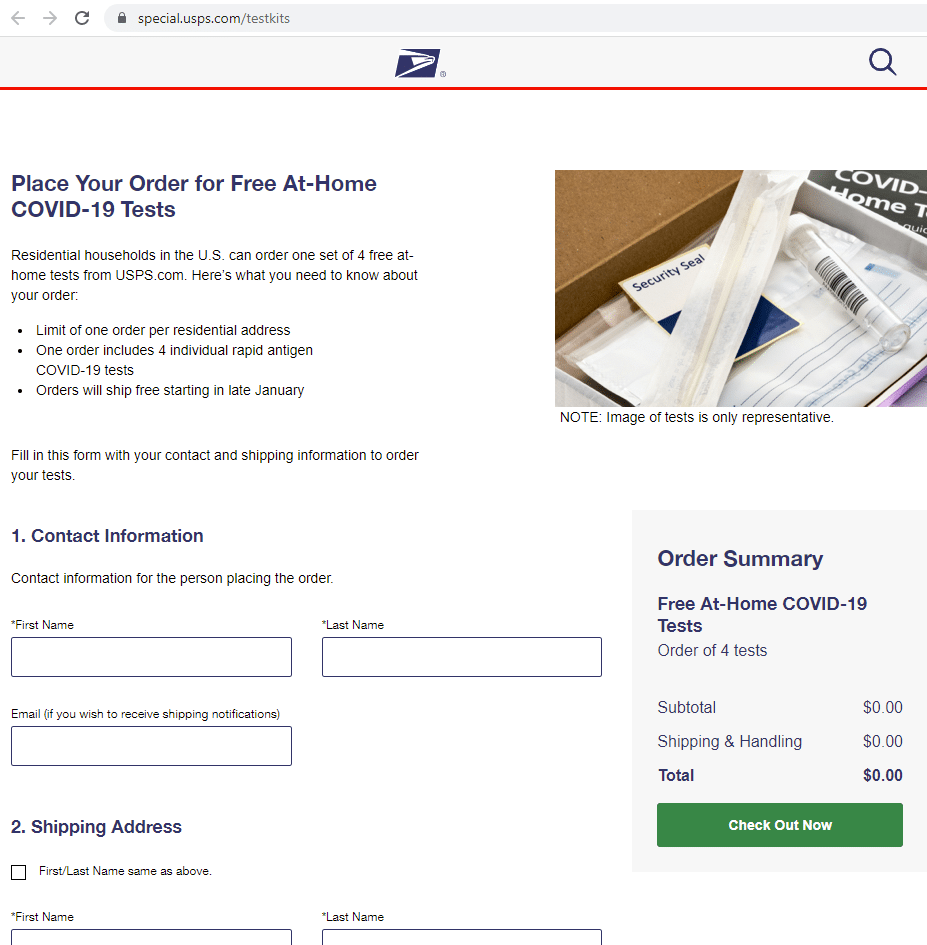 USCIS has posted an official notice that explicitly clears the doubts over the COVID-19 government's subsidized or free tests.
You should not hide your symptoms that resemble Coronavirus Disease 2019 (COVID-19) (fever, cough, shortness of breath) and immediately seek medical treatment or preventive services.
Such treatment or preventive services will not negatively affect any alien as part of a future Public Charge analysis.
USCIS Public Charge for CoronaVirus
The Public Charge rule does not restrict access to testing, screening, or treatment of communicable diseases like COVID-19.
The rule allows you to use vaccines for children or adults to prevent vaccine-preventable diseases like Flu.
USCIS says that public charge is only one part of deciding on your Green card eligibility. There is no doubt that it is just one part but, it is a significant one and does carry the possibility of denial as aimed by the Trump government.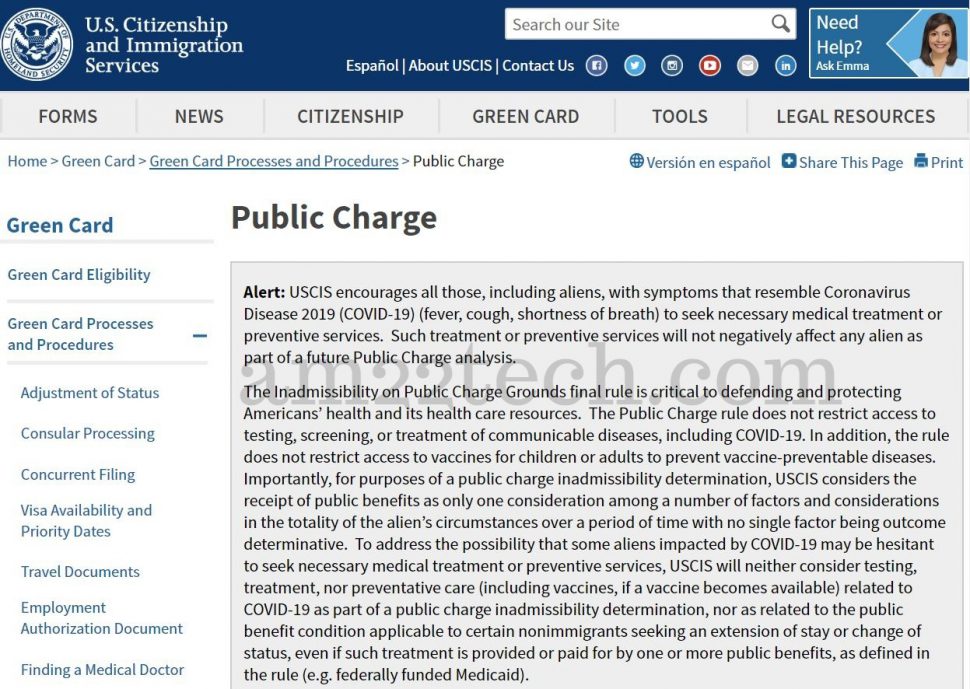 To clear the fear and doubts in the minds of people and prevent this pandemic from increasing in America, USCIS has explicitly clarified that any treatment related to Coronavirus will not be treated as a 'public charge'.
USCIS will neither consider testing, treatment, nor preventative care (including vaccines, if a vaccine becomes available) related to COVID-19 as part of a public charge inadmissibility determination.
What If USCIS brings Public Charge Rule Back – in the future?
If USCIS decides to bring back the public charge rule anytime in the future, the COVID-related tests and treatment provided by the federal government will not be counted as a public charge.
Cash, Food Benefits in CoronaVirus State Shutdown
If you are living and working in an area where Coronavirus prevention methods are enforced by state or city, then USCIS will consider it as a legitimate reason for using that state-sponsored cash or food benefits.
These include:
Social distancing or quarantine enforced by state or city
Employer, school, or university voluntarily shuts down operations to prevent the spread of COVID-19
You should keep proof of such closure or help provided by the state government. You should write a cover letter explaining the situation with your application for adjustment of status (i485) to explain how such methods or policies have affected you with respect to public charge policy. 
Example:
If you could not work or attend school and used public benefits for the duration of the COVID-19 outbreak and recovery phase, you can provide an explanation and relevant supporting documentation. USCIS will take all such evidence into consideration.
Note that genuine proofs would be required.
Where to get COVID-19 test in USA?
Enter your zip code to find out the nearest COVID-19 test site.
Go to clinics instead of crowded large facilities if you feel the symptoms of Coronavirus.
Fees: Testing and Treatments are free and will not be counted as public charge.
If confirmed, you will need to observe home isolation for 14 days.
H1B, L Employer Office Closure – Work from Home
If you have to work from home due to mandatory office closure by the employer due to Coronavirus, you should post an LCA at your home or employer's office.
Keep the proof of office closure to stay on the right side of US immigration law.
Source: USCIS