USCIS Green Card Lawsuit to Avoid Spillover Wastage (Sep 14 Hearing)
Visa Law Greg Siskind to file lawsuit against USCIS for wasting EB Green cards. Judge strongly in favor of USCIS wastage. Says case filed too late.
AM22Tech Team
Updated 14 Sep, 21
Sep 14, 2021 Hearing Update
The judge was asking various questions about how USCIS plans to finish processing the 196 cases that are part of this case by Sep 30.
USCIS says there is no way they can reserve the GC numbers for people who have filed this case ad the law does not allow them to do so. They have already approved 14 of 196 cases but others might have to wait until next fiscal year.
USCIS says they have processed 149k Green cards until Aug 30 out of the total 262k available. They can only process about 180k by Sep 30 end.
Judge asked what happens to the cases which will not be processed by Sep 30 and USCIS replied that they will stay in line and will not have to re-apply or pay the fee again. What a nice way to sugarcoat the problems!!
Jeff Joseph countered USCIS's attorney claims by explaining the real situation without the sugar coating and how people suffer and backlogs keep increasing. USCIS has no plan whatsoever.
Charles Kuck also joined and iterated that USCIS does not process in FIFO (first in first out) fashion as evident from their other cases. Kuck also argues that Judge Mehta has reserved Green card numbers in DV cases and the same can be done here for Employment-based cases.
Judge
Judge said that he will order the cases to be refiled at their applicant's state of residence and he will deny the preliminary injunction by Sep 30.
It is impossible for USCIS to process all cases by Sep 30. Congress made the law this way.
He says that the case was filed too late. There is no time left to force USCIS to do anything.
He seems to be overly inclined in favor of USCIS. What a waste. Did USCIS give any chance when they were issuing receipts until April/May 2021 for applications filed in Oct 2020!
It appears that Judge has already made up his mind and is not ready to even listen and understand the plight of the plaintiffs. This is actually not a good sign at all.
Looks like the only hope is the Congress reconciliation bill now. All prayers are on it to pass now. Call your senators. Do not wait.
All updates are courtesy of Lily S. Axelrod's Twitter thread:
Sep 1, 2021 Hearing Update
Earlier on Sep 1, 2021 hearing, the lawyers objected several times to USCIS sweet talks but the judge did not allow them to speak. There were some heated objections from Jeff Joseph (Greg's team) and other lawyers.
USCIS attorney told the judge that they might be able to use 180k EB green card numbers by end of Sep 30, 2021, which essentially means a whopping wastage of 80k+ out of a total of 262k available.
What a way to treat high skilled people who have paid $1225 per application and have waited for a decade to see this day! We are highly disappointed with their attitude towards the taxpayers.
USCIS tried to explain how they could not hire more people due to money crunch in 2020 and COVID. They did not say 'how much' they actually got as windfall in Oct 2020 though!
USCIS is striclty speaking on the lines of limited processing capabilities and preferences set by USCIS director. For employment based cases, they clearly said the new director UR Jaddou has not even got time to think about EB cases this year!
USCIS says their current primary focus is on Afganistan cases.
USCIS agrees that many employment based cases would be left behind after Sep 30 but their case might get Green card in next year's quota.
USCIS said that they expect 180k extra Green card (in addition to 140k usual) in 2021 if the FB to EB spillover happens. Currently, there is a law being discussed in congress which may block spillover if it becomes law by Sep 30, 2021.
USCIS also tried to play divide and rule game by asking judge to move individual cases to the applicant's state court. Basically, all cases have been currently filed in Maryland but USCIS attorney wants them to go to the plaintiff (applicant's) own residence state court. Lawyers objected to it and finally judge was in favor of keeping the cases consolidated at one court in Maryland.
Lawsuit Filed in Maryland Court
Immigration lawyer Greg Siskind has filed the employment-based green card wastage lawsuit on Aug 2 in the district court of Maryland.
They have 125 plaintiffs (applicants) in this case asking USCIS to issue Green cards to people who filed their i485 between Oct to Dec 2020.
The chances are good for actual case plaintiffs getting direct relief.
Reducing the overall wastage is also requested in the case but is not guaranteed as it's not a class action suit (which helps everyone without being part of the case).
VisaLaw Green Card Lawsuit Details
Based on these projections and a huge fear among Indian families that USCIS may just waste most of the Green card numbers, attorney Greg Siskind has come up with the lawsuit which you can join for a fee.
Joining Fee
The lawsuit fee is $2025 per family who filed i485 together and is non-refundable once the case has been filed.
Time to File
VisaLaw is moving ahead with filing the lawsuit and we can expect to hear from them anytime between June 21, 2021, to 10 July 2021 to make sure they can get some relief on or before the end of Sep 2021.
Open video in new Window >
Greg Siskind reports in the video update that they are currently drafting the case:
He says that It would be interesting to know how USCIS will defend the wastage of 100k Green card numbers in the court.
He believes that there are many USCIS employees who want to see the spillover GCs being used to reduce backlogs in good faith rather than wasted due to current policies.
Greg says that the court case may give their intentions a boost when they cannot openly come out and share their good views.
Chances of Winning
The chances of winning are fair but less than 'good' as per our opinion.
This is because historically, USCIS has unintentionally wasted Green cards every year and nothing has been done to reuse those numbers. Once wasted, they are gone forever.
AM22Tech's Predictions for USCIS visa bulletin based on spillovers for India.
Greg will be arguing in court to preserve or allocate those numbers to people who have already filed the i485 based on the state department's final action date chart on or before Sep 2021.
Since there is an unprecedented influx of GC numbers for the employment category, these numbers may not return again in the future. Courts may take a favorable view for people who have been waiting for a decade.
Greg and his team are planning to convince the judge that USCIS may do the same next year when at least 150k extra Green cards are going to spill over from FB to EB queues if their i-485 processing time is not reduced this year.
Greg's Success for DV Lottery Green Cards
Greg had successfully got the positive result in a similar lawsuit last year for Diversity Green card cases where the court had preserved the Green cards for people who could not attend their immigration interviews just because US embassies were closed in the COVID-19 pandemic.
This is probably what is behind Greg's confidence. He may be able to repeat and achieve the same success for employment-based green cards.
Our opinion:
Ideally, the Green Card numbers should be used or allocated to avoid wastage if there are people waiting in the backlog at the end of Sep 30.
Wasting the GC numbers simply because USCIS or DOS could not process due to their reduced processing or labor power does not seem fair. Their operations are fee-based and they should make every effort to use the available GC numbers in good faith.
People who wait in long employment-based GC lines are mostly from India and China and they bear the brunt of this unfair interpretation of the immigration law.
Should I join the lawsuit?
We have the opinion that you should join the lawsuit if all of these are true for your case:
1. Your PD date is current in the final action chart as of today and you filed i485 in Oct-Dec 2020.
2. Your biometric is pending.
In the end, it is a matter of personal opinion and judgment of current circumstances. Many people will have an adverse opinion too but if you can take the risk of spending $2025, there is nothing to lose here.
If the judge decides in favor of people filing this case, they have good chances of approval on or before Sep 30, 2021. But, note that there is no guarantee that judge will decide the case result quickly.
How to Join Lawsuit?
The lawsuit joining option is not available at this time. It was closed in Aug 2021 end. We will update here if it reopens in the future.
Joining the lawsuit is a 3 step process:
Fill the 'Engagement Letter' form.
Make the payment.
Share your story/declaration of what harms you will face if a Green card is not processed timely. We have a sample for you to use below.
#1 Fill the Engagement Letter Form
You need to fill in information about you and your dependent's i-485 cases. Start here for the engagement letter form.
Step 1: Start by agreeing to fill the form and then fill in your information. Take this screenshot as an example and then click Continue.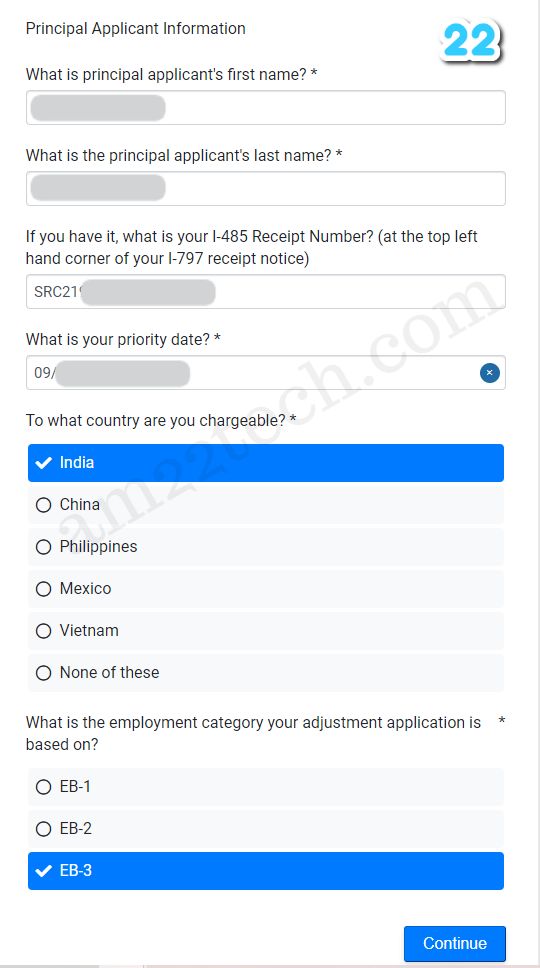 Step 2: Asks about any family dependents who have filed i-485 with you. If you have any, click 'Yes' and click Continue.
Step 3: Add Dependent i-485 information in this format
FULL NAME, Relationship, i-485 receipt number; Repeat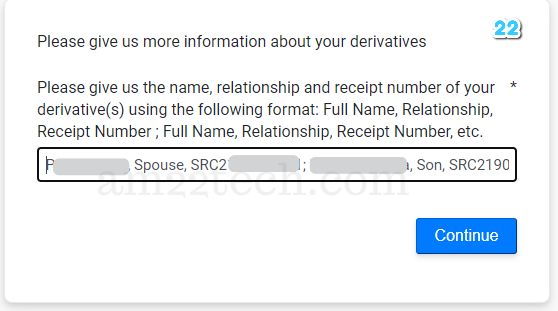 Step 4, 5, and 6: Enter your contact information like US address, phone, and email address.
Step 7: Agree to Terms and Conditions
Step 8: Electronic sign Agreement and submit.
You will now get an email with your signed engagement letter copy:
Done. You can now move to the next step.
#2 Make Lawsuit Payment
The payment for the lawsuit has to be made on a separate website here.
Credit/Debit card – Extra transaction fee of 3.5% + $2 which comes out to be about $72.
ACH/Direct Bank transfer is free.
We suggest paying using an ACH bank transfer to save the credit card transaction fee. For paying by ACH, you need to send an email to litigation@immigrationissues.com
Here is the sample email: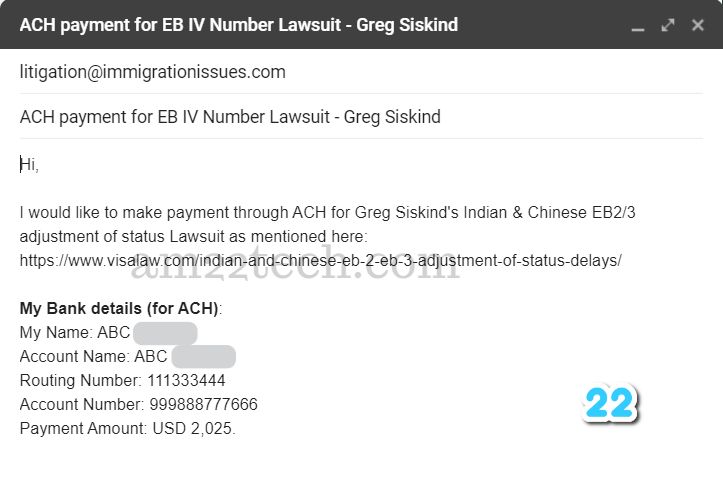 #3 Fill Declaration Form
Filling the declaration form involves sharing your story about how you are impacted if USCIS does not use all the available green cards by Sep 2020.
Start filling declaration form here.
Step 1: Enter your name, address, and email.
Step 2: Enter these details:
Your country of birth
Receipt date of i-485 application – This should be before Dec 31, 2020. Find it on your i-485 receipt notice.
i-485 receipt number – Enter primary applicant's i-485 receipt number here.
i-140 receipt number – Enter the i-140 receipt number. If filed an EB2 to EB3 downgrade, then write the EB3 i-140 number here.
Select EB category – If filed an EB2 to EB3 downgrade, then select EB3 here.
Service Center – Choose the correct service center. For receipts starting with SRC, it is Texas Service Center.
Priority Date – Enter your correct Green card priority date (EB2 or EB3). Ideally both should be same.
Step 3: Efforts to Resolve
Explain what steps have you taken to connect with USCIS for your case. Here is a sample: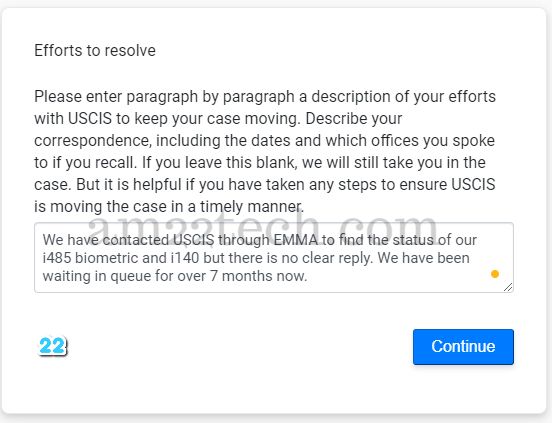 Step 4: Harms Suffered
We strongly recommend writing your own story and concerns to make a real impact. We are sharing a sample here as pure guidance to help you articulate your own response: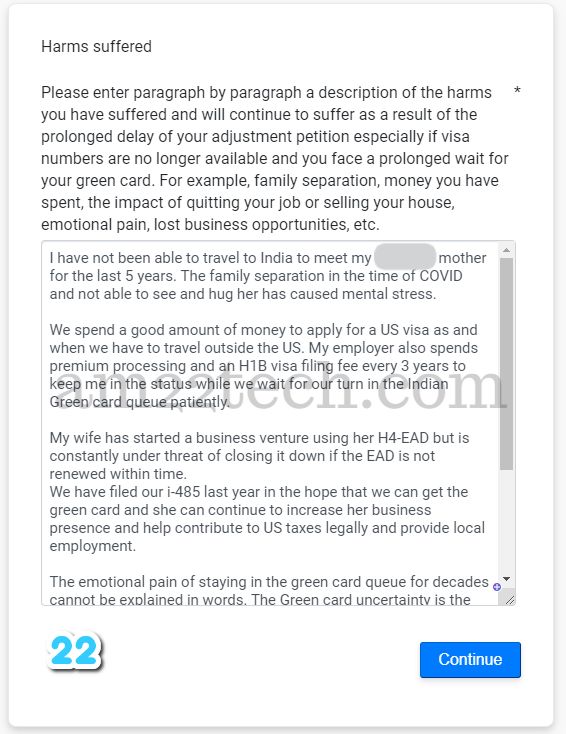 Step 5, 6, 7: Agree to terms and conditions, sign, and submit. On the 'Attachment' page, you can select 'I don't have a document to upload'.
Once done, your application is complete and has been submitted to the attorneys. They will connect with you once they have finalized the case.
There are three law firms who are working on this case:
Joseph and Hall (Joseph & Hall, P.C.),
Kuck and Baxter (Kuck Baxter Immigration LLC), and
Siskind Susser (Siskind Susser, P.C.).
USCIS Wastage Estimate
Many prominent immigration knowledge holders have cited concerns over USCIS's ability to use all of the 262k green card numbers by the end of Sep 2021.
One of them is David Bier from Cato Institute. His projection does not look good for thousands of Indians who have been waiting in the backlog for a decade.
David's analysis is based on the fact that USCIS only approved about 27k GC in the first quarter (Oct 2020-Dec 2020). Going by this speed, the USCIS might not be able to even reach 110k GCs use and will most probably waste about 150k GC numbers.
We estimate that USCIS may waste about 20% GC in the year 2021 if not all from the spillover. This means that about 210k Green cards numbers should be used by end of Sep 2021.
The 52k numbers are still huge and affect Indians disproportionately since each year they only get about 2800 Green cards in each of EB2 and EB3 queues.
This simply means that wastage of 52k GCs will add 10-15 years to EB2 and EB3 India wait time if we use the linear projection.
Other people in the law space believe that USCIS has the tendency to speed up their processing during summertime and usually skyrockets the i485 approvals between June to Sep of the fiscal year.
Attorney Rahul Reddy and Emily Neumann have high hopes that USCIS will be able to use almost 95% of the Green card numbers by end of Sep 2021 to give relief to suffering Indians and Chinese. See this video at 4:20 time:
Open video in new Window >
RN Law firm is also preparing the EB2 to EB3 applications in anticipation of a new spillover in Oct 2021.
As per our estimates, USCIS will need to approve about 78k/quarter or 26k GCs per month until Sep 2020 to avoid wasting the unprecedented family to employment-based spillover.
On the same lines, David Bier's calculations are based on the fact that what USCIS has done in 3 months is what is required to be done in 1 month.
On the other hand, the WasdenBanias law office has shared its opinion about winning such lawsuits. They believe that chances of winning the i485 Green card litigation are slim based on their past experience.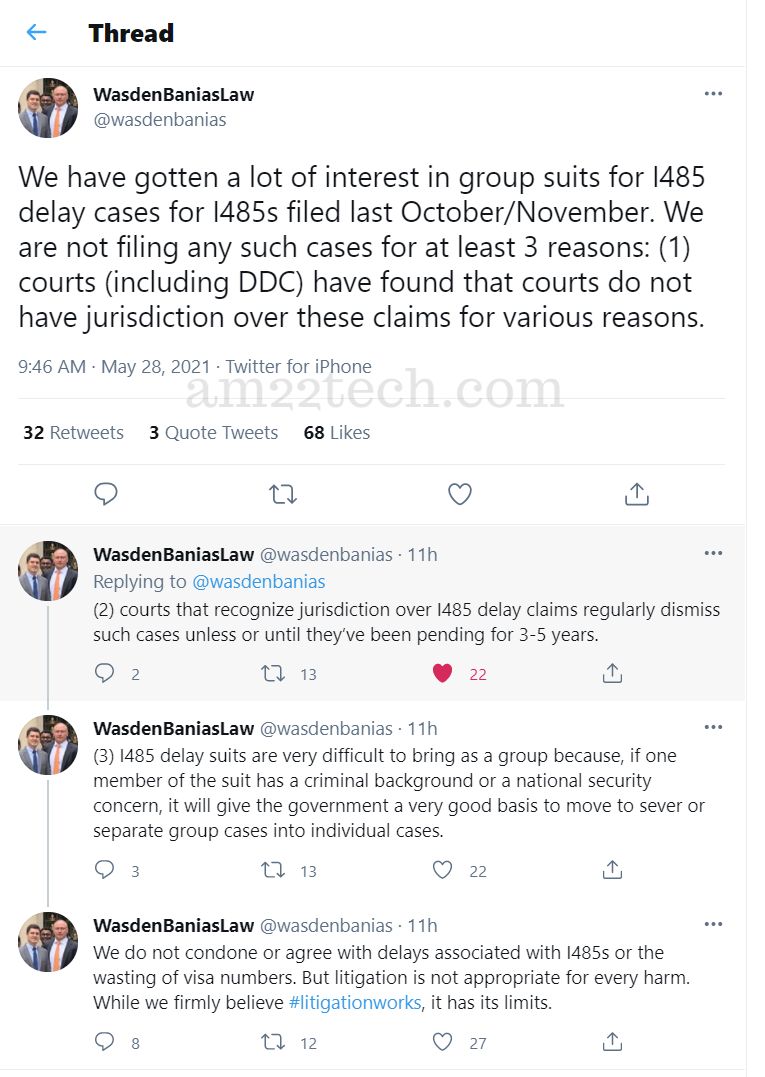 Greg Siskind has acknowledged their opinion but has gracefully said that he does not agree and has high hopes to win in favor of Indian and Chinese high-skilled immigrants.
FAQ
Will Lawsuit Result Help General Public?
We do not know if the lawsuit result will help everyone or just the people who join it as plaintiffs.

In the case of the H1B travel ban lawsuit in 2020, the court had given relief to only plaintiffs and allowed people working in the plaintiff's company as an exception to Trump's H1B ban.

It is possible that in the case of this Green Card lawsuit, the court provides relief to everyone in addition to plaintiffs but it will be known only after the judgment.
Is the lawsuit fee per person or per family?
The lawsuit fee is charged by Visa Law per family.