USCIS Green Card Litigation to Avoid Wastage 2022 (Brad Banias)
Brad Banias to file litigation against USCIS for wasting EB Green cards. Ask for GC approval or process i485 within 21 days once PD gets current.
AM22Tech Team
Updated 26 Jul, 22
Lawyer Brad Banias is re-starting the fight to avoid the employment-based green card wastage this year as USCIS is probably on the same track to waste a high number as they did in 2021.
He was a partner at the award-winning WasdenBanias law firm that specializes in litigation cases and has been recognized by AILA for its work.
He is now acting independently under the new Brad Law LLC and is devoted to filing only litigation cases in federal courts.
You may know him from the recent H4 EAD litigation that forced USCIS to allow auto-EAD extensions up to 180 days and then 540 days.
Thousands of Indian families are on the line and eagerly looking at USCIS to work in good faith this year by not wasting their Green cards.
Goal of i485 litigation
Bradley Banias says "The goal is to get final decisions on your Forms I-485 by September 30, 2022. If we can't make that deadline, the secondary goal is to get a decision from the Court ordering USCIS to decide the Form I-485 within 21 days of the immigrant visa becoming current again."
Brad claims that he has devised a new strategy based on the outcome of the Immpact litigation (Greg Siskind and team) in 2021.
The actual strategy will only be shared with the person who hires the Brad law firm for their AOS delay case.
i485 Delay Case Result From 2021
Greg and Charles Kuck's team has filed a group case in Aug 2021 against USCIS in Maryland.
This case ended with some good news and some bad news:
Maryland judge gave the decision in favor of USCIS saying that the cases should be sent to individual courts in the state where the actual user resides.
Judge did this on the last day of the fiscal year i.e. Sep 30.
Good News: Many cases ended up in courts where there were just a couple of cases and the jurisdiction ended up in a USCIS field office, they all got the i485 (green card) approved on Sep 30 itself.
Bad News: Cases that had more than 5 people and ended up in the courts of Texas and Nebraska were quashed by the court and got no result.
There were many other individuals or small groups of 4-5 people who filed cases using private attorneys challenging the same i485 delay and most of them got their Green cards approved on or before Sep 30.
This probably means that individual cases get better results than group cases. The chance of a USCIS attorney defending the individual case is low than a group case.
Chances of Winning – 2022
As per the discussion with Brad, AM22Tech believes that he has devised a strong strategy that carefully takes into account the result of the 2021 case mentioned above.
He is not going to repeat the same mistakes but is building up new arguments based on the Maryland Judge's opinion.
Brad started filing cases for people whose date was current in EB2/3 as per June 2022 visa bulletin. He has got success and is now taking cases whose PD date got current in July/Aug 2022 bulletin too.
PD date between 1 Sep 2014 – 1 Dec 2014?
People who filed their EB3 I485 in Oct 2022 and then filed EB2 i485 again in 2022 are also eligible.
We did confirm with Brad about the eligibility of people whose PD date falls between 1 Sep 2014 to 1 Dec 2014 and he was positive. He claimed that these people are eligible to file a court case as their i485 has been pending for more than 19 months now while the PD date is current in Aug 2022 EB2 India chart.
Green Card Lawsuit Details – 2022
Each case will be filed as an individual case as Brad thinks that it has a better chance of getting a positive result.
Eligibility
You filed a Form I-485 before February 1, 2021, in EB2 or EB3.
Your Form I-485 is based on an employment-based immigrant visa (but not an EB5 visa).
Your Priority Date is current on the final action date on the June 2022 Visa Bulletin.
You have not had an interview or received an interview notice.
Your application has not been transferred to a USCIS local field office. The local field office is different than the USCIS service centers in Texas, Nebraska, California, and Missouri (National benefits center).
You have no criminal history.
Joining Fee
The lawsuit fee is $8000 per family who filed i485 together and is non-refundable once the case has been filed.
The cost is the same irrespective of 1 person or a family of 4.
Time to File
Brad plans to start filing cases starting June 1 at the earliest.
How to Join?
Joining the litigation is a 3 step process:
You will get the information about the next steps by email.
Make the payment (steps will be shared by the law firm separately).
WasdenBanias Was Against filing i485 Litigation in 2021?
You may question that the WasdenBaniasLaw was against filing the same case in 2021 but are now ready to file it.
How is it possible?
This tweet and opinion were shared by wasdenBanias as a group in 2021: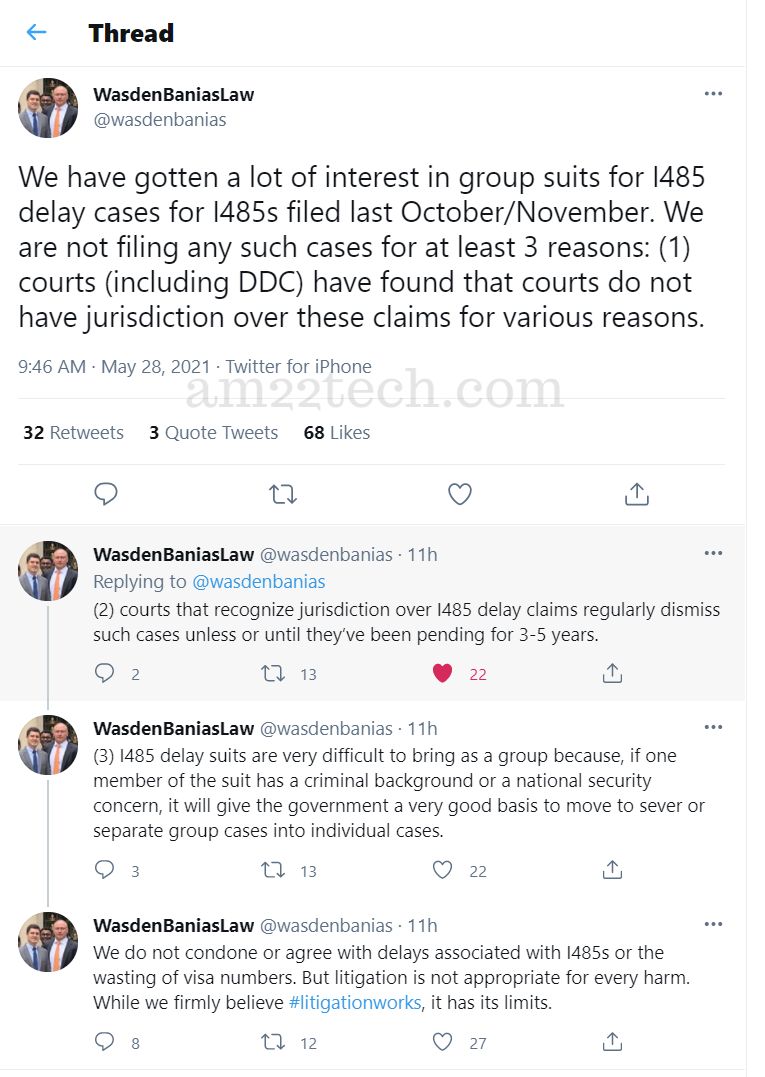 In 2021, Greg Siskind acknowledged their opinion but has gracefully said that he does not agree and has high hopes to win in favor of Indian and Chinese high-skilled immigrants.
Now, in 2022, Brad Banias from the same team has come out with his own opinion that he can make things work.
FAQ
Will Lawsuit Result Help General Public?
The chances are low that in the case of this Green Card lawsuit, the court will provide relief to everyone in addition to the plaintiffs but it will be known only after the judgment.
Is the lawsuit fee per person or per family?
The lawsuit fee is charged per family.