USCIS Issues NOIR for H1B Premium Check Bounce
USCIS can issue notice of intent to revoke if your H1B extension fees check fails to clear. Pay by cashier check or money order to be absolutely safe.
AM22Tech Team
Updated 2 Mar, 20
It is important to note that your H1B fees or the premium processing fee check should not bounce when USCIS tries to en-cash it.
Normally, it is always recommended to send a money order or a cashier's check to avoid any issues.

As reported on one of our WhatsApp group, USCIS issued a NOIR (notice of intent to revoke) an approved H1B petition simply for the reason that the Premium processing check was not honored by bank. The bank had denied the payment sensing a fraud transaction.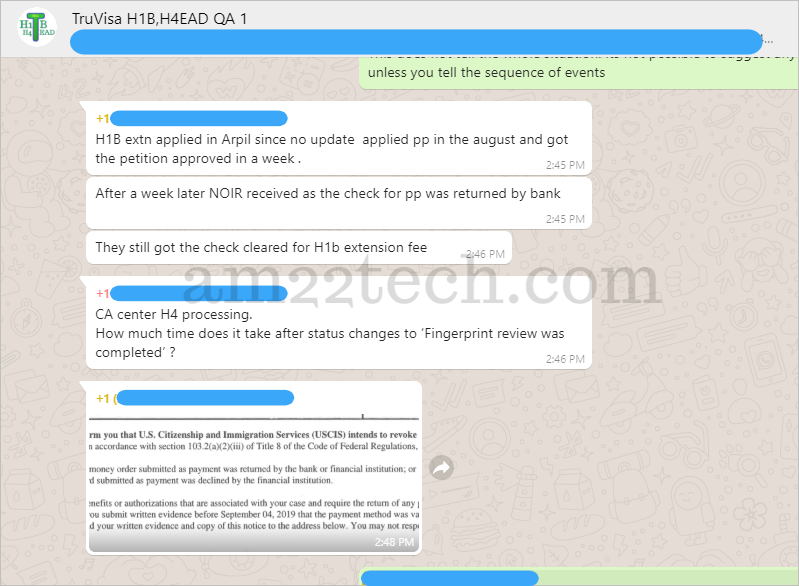 In this case, the person had a pending H1B extension and then filed an upgrade to premium processing. USCIS quickly approved the extension even before the fees payment check was cleared by Bank.
When the check was presented to bank and it was dis-honored, USCIS quickly raised the Notice of intent to revoke unless the payment was sent or a valid proof that payment was indeed made.
We recommend to be always careful in sending payments to USCIS.
How NOIR is Handled
In this case, the person has sent a new fees payment check to USCIS.
A cover letter with the explanation of situation and a letter from the bank explaining the reason for dis-honoring the payment is attached.
We do not see any reason that USCIS will not accept the valid reason and will go ahead with the H1B revocation in this case. They should be able to accept the new payment.
What Payment Modes are Accepted by USCIS?
USCIS normally accepts payment using Bankers check, Cashier's check, Money order, Credit card or personal checks.
The best and safest option is the cashier's check as it is a pre-paid instrument and chances of it being dis-honored are literally zero.
What Can happen If you Get NOIR?
Getting a notice of intent to revoke on your H1B can have serious affect on your current approved H1B. You will not be able to continue working in US if you do not respond to NOIR and USCIS revokes your work authorization.
NOIR is different than RFE and is more serious. You should involve your attorney in framing the correct response to USCIS notice.