Current H1B processing times 2018 – Nebraska, California, Vermont
California H1B Consular Processing 189 days, H1B Change of Status 189 days, H1B Extension / Amendment / Transfer 189 days, Vermont H1B Consular Processing
---
H1B premium processing has been suspended by USCIS until Feb 19, 2019 for H1B extension, transfer and amendments at California and Nebraska service centers. The suspension has increased the regular processing time too.


CALIFORNIA SERVICE CENTEROct 20, 1:31 am CST
H1B Consular Processing

12 Feb, 18

Currently processing applications received on 12 Feb, 18 (Worst case) – 07 Apr, 18 (Best case)
Processing Time Today250 days / 8 months

12 Feb, 18 – 07 Apr, 18

250 days / 8 month

H1B Change of Status

12 Feb, 18

Currently processing applications received on 12 Feb, 18 (Worst case) – 08 Apr, 18 (Best case)
Processing Time Today250 days / 8 months

12 Feb, 18 – 08 Apr, 18

250 days / 8 month

H1B Extension / Amendment / Transfer

12 Feb, 18

Currently processing applications received on 12 Feb, 18 (Worst case) – 07 Apr, 18 (Best case)
Processing Time Today250 days / 8 months

12 Feb, 18 – 07 Apr, 18

250 days / 8 month
VERMONT SERVICE CENTEROct 20, 1:31 am CST
H1B Consular Processing

30 Apr, 18

Currently processing applications received on 30 Apr, 18 (Worst case) – 26 Jun, 18 (Best case)
Processing Time Today173 days / 5 months

30 Apr, 18 – 26 Jun, 18

173 days / 5 month

H1B Change of Status

30 Apr, 18

Currently processing applications received on 30 Apr, 18 (Worst case) – 26 Jun, 18 (Best case)
Processing Time Today173 days / 5 months

30 Apr, 18 – 26 Jun, 18

173 days / 5 month

H1B Extension / Amendment / Transfer

21 May, 18

Currently processing applications received on 21 May, 18 (Worst case) – 19 Jul, 18 (Best case)
Processing Time Today152 days / 5 months

21 May, 18 – 19 Jul, 18

152 days / 5 month
NEBRASKA SERVICE CENTEROct 20, 1:31 am CST
H1B Extension / Amendment / Transfer

22 Jun, 18

Currently processing applications received on 22 Jun, 18 (Worst case) – 19 Aug, 18 (Best case)
Processing Time Today120 days / 4 months

22 Jun, 18 – 19 Aug, 18

120 days / 4 month

Related: H4 Processing Time - California, Vermont These times are updated daily for 2018.H1B Processing time for H1B Extension, Change of Status and Consular processing time numbers are in days.H1B amendment is counted as H1B extension for processing time calculation.
H1B processing times date On or AFTER
Date means that USCIS is currently working on cases filed on or after this date.
Raise USCIS Case Service Request - Outside Normal Processing Time
If your 'case received date' is before the date mentioned above, you should raise a service request with USCIS 8 to check why your case has been delayed.This certainly means that your case is taking longer than other similar cases and may be stuck in administrative processing.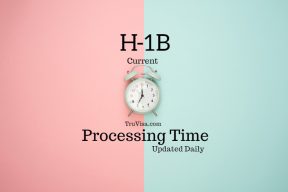 USCIS Case pending and 240 day limit approaching after i94 expiry?
If you case is pending for result with USCIS and your 240 days after i94 expiry are fast approaching, we strongly recommend to upgrade your application to 'Premium Processing' at 200 day mark.This will help you get a result before your 240 day limit and avoid stopping work and leave US.
H1B Premium Processing time
Premium processing is available for H1B extension cases and its processing time is 15 calendar days. Bookmark this page for daily updates.
CSC = California Service Center
VSC = Vermont Service Center
NSC = Nebraska Service Center
COS = Change Of Status in the U.S.
Extension = Extension of stay in the U.S. Consular Proc = Visa to be issued outside USA in a US Embassy. N.A. = Not ApplicableSource: USCIS