Current i130 Processing Time – Green Card for Parents, Kids, Brother, Sister
California Permanent resident filing for a spouse or child under 21 721 days, U.S. citizen filing for an unmarried son or daughter over 21 1179 days
---
Current form i130 processing time 2018 – Green card sponsorship for Family
CALIFORNIA SERVICE CENTER
Raise SR
Best case
Permanent resident filing for a spouse or child under 21
25 Nov, 16
09 May, 17
1 yr 11 month
1 yr 6 month

25 Nov, 16 - 09 May, 17

721 days / 24 month

U.S. citizen filing for an unmarried son or daughter over 21
25 Aug, 15
15 May, 16
3 yr 2 month
2 yr 6 month

25 Aug, 15 - 15 May, 16

1179 days / 39 month

Permanent resident filing for an unmarried son or daughter over 21
15 Sep, 14
09 Jul, 15
4 yr 2 month
3 yr 4 month

15 Sep, 14 - 09 Jul, 15

1523 days / 50 month

U.S. citizen filing for a married son or daughter over 21
13 Aug, 10
12 May, 12
8 yr 3 month
6 yr 6 month

13 Aug, 10 - 12 May, 12

3017 days / 100 month

U.S. citizen filing for a brother or sister
28 May, 09
10 Jun, 11
9 yr 5 month
7 yr 5 month

28 May, 09 - 10 Jun, 11

3459 days / 115 month

Last updated: Nov 16, 3:10 pm CST
VERMONT SERVICE CENTER
Raise SR
Best case
Permanent resident filing for a spouse or child under 21
20 Apr, 18
12 Jun, 18
7 month
5 month 7 days

20 Apr, 18 - 12 Jun, 18

210 days / 7 month

U.S. citizen filing for a spouse, parent, or child under 21
20 Apr, 18
11 Jun, 18
7 month
5 month 8 days

20 Apr, 18 - 11 Jun, 18

210 days / 7 month

U.S. citizen filing for an unmarried son or daughter over 21
16 Jul, 11
09 Feb, 13
7 yr 4 month
5 yr 9 month

16 Jul, 11 - 09 Feb, 13

2680 days / 89 month

Permanent resident filing for an unmarried son or daughter over 21
07 Jul, 11
10 Feb, 13
7 yr 4 month
5 yr 9 month

07 Jul, 11 - 10 Feb, 13

2689 days / 89 month

U.S. citizen filing for a married son or daughter over 21
02 Feb, 11
09 Oct, 12
7 yr 9 month
6 yr 1 month

02 Feb, 11 - 09 Oct, 12

2844 days / 94 month

U.S. citizen filing for a brother or sister
07 Jan, 10
14 Dec, 11
8 yr 10 month
6 yr 11 month

07 Jan, 10 - 14 Dec, 11

3235 days / 107 month

Last updated: Nov 16, 3:10 pm CST
TEXAS SERVICE CENTER
Raise SR
Best case
Permanent resident filing for a spouse or child under 21
20 Apr, 18
09 Jun, 18
7 month
5 month 10 days

20 Apr, 18 - 09 Jun, 18

210 days / 7 month

U.S. citizen filing for a spouse, parent, or child under 21
17 Mar, 18
13 May, 18
8 month 4 days
6 month 7 days

17 Mar, 18 - 13 May, 18

244 days / 8 month

U.S. citizen filing for an unmarried son or daughter over 21
17 Mar, 18
08 May, 18
8 month 4 days
6 month 12 days

17 Mar, 18 - 08 May, 18

244 days / 8 month

Permanent resident filing for an unmarried son or daughter over 21
20 Apr, 18
08 Jun, 18
7 month
5 month 11 days

20 Apr, 18 - 08 Jun, 18

210 days / 7 month

U.S. citizen filing for a married son or daughter over 21
17 Mar, 18
10 May, 18
8 month 4 days
6 month 10 days

17 Mar, 18 - 10 May, 18

244 days / 8 month

U.S. citizen filing for a brother or sister
17 Mar, 18
14 May, 18
8 month 4 days
6 month 6 days

17 Mar, 18 - 14 May, 18

244 days / 8 month

Last updated: Nov 16, 3:10 pm CST
NEBRASKA SERVICE CENTER
Raise SR
Best case
Permanent resident filing for a spouse or child under 21
18 Feb, 18
08 Apr, 18
9 month 1 days
7 month 12 days

18 Feb, 18 - 08 Apr, 18

271 days / 9 month

U.S. citizen filing for a spouse, parent, or child under 21
18 Feb, 18
07 Apr, 18
9 month 1 days
7 month 13 days

18 Feb, 18 - 07 Apr, 18

271 days / 9 month

U.S. citizen filing for an unmarried son or daughter over 21
18 Feb, 18
14 Apr, 18
9 month 1 days
7 month 6 days

18 Feb, 18 - 14 Apr, 18

271 days / 9 month

Permanent resident filing for an unmarried son or daughter over 21
18 Feb, 18
13 Apr, 18
9 month 1 days
7 month 7 days

18 Feb, 18 - 13 Apr, 18

271 days / 9 month

U.S. citizen filing for a married son or daughter over 21
18 Feb, 18
08 Apr, 18
9 month 1 days
7 month 12 days

18 Feb, 18 - 08 Apr, 18

271 days / 9 month

U.S. citizen filing for a brother or sister
18 Feb, 18
14 Apr, 18
9 month 1 days
7 month 6 days

18 Feb, 18 - 14 Apr, 18

271 days / 9 month

Last updated: Nov 16, 3:10 pm CST
I-130 Sponsor Family for a Green Card
USCIS Form I-130 is for relatives of U.S. citizens for US Green Card sponsorship. U.S. citizens can sponsor following family members sing Form I-130:
Natural parents, step-parents and adoptive parents
Unmarried sons and daughters under the age of 21
Husbands and wives
Brothers and sisters, adopted siblings, step-siblings and half siblings
Married children or children over the age of 21
Family Green Processing time – Regular Application
Family Green card form i130 processing times are updated daily for 2018 using the official USCIS processing times and data shared by real applicants in various forums and trackers online.
Raise USCIS Case Service Request – Outside Normal Processing Time
If your 'case received date' is before the date (worst case) mentioned above, you should raise a service request with USCIS to check why your case has been delayed. This could mean your case is taking longer than other similar cases and may be stuck in administrative processing.
Next step after I-130 is filed?
The National Visa Center (NVC) assigns USCIS-approved i-130 petition a "priority date" which is the date of receipt for the application. If there are more applications than the available Green Card quota, a wait list is created with priority date cut-off. USCIS announces current cut-off dates in monthly Visa Bulletin.
family member is inside the U.S.
If your family member is inside the U.S. at the time their priority date becomes current, they need to file Form I-485 Green Card application to change their status to permanent resident (green card).
family member is Outside the U.S.
If your family member is outside of the U.S. at the time of priority date getting current, the NVC will send your petition and their visa number to the family members' local U.S. consulate or embassy, which will contact the family member to come in and complete visa processing.
[caption id="attachment_168408" align="aligncenter" width="288"]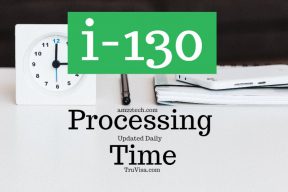 Current i130 green card for-family processing time[/caption]
Glossary
CSC = California Service Center
VSC = Vermont Service Center
NSC = Nebraska Service Center
COS = Change Of Status in the U.S.
Extension = Extension of stay in the U.S.
Consular Proc = Visa (Stamp or visa foil) to be issued outside USA in a US Embassy. Check if you are eligible for DropBox facility in India.
N.A. = Not Applicable