Current i485 Processing Time – Green Card Adjustment of Status
California Employment-based adjustment applications 1246 days, Vermont Based on an approved T Visa 337 days, Based on an approved U Visa 409 days
---
Current i485 Processing Time – Green Card Adjustment of Status
CALIFORNIA SERVICE CENTER
Raise SR
Best case
Employment-based adjustment applications
19 Jun, 15
07 Sep, 17
3 yr 5 month
1 yr 2 month

19 Jun, 15 - 07 Sep, 17

1246 days / 41 month

Last updated: Nov 16, 3:12 pm CST
VERMONT SERVICE CENTER
Raise SR
Best case
Based on an approved T Visa
14 Dec, 17
14 Feb, 18
11 month 7 days
9 month 5 days

14 Dec, 17 - 14 Feb, 18

337 days / 11 month

Based on an approved U Visa
03 Oct, 17
10 Jan, 18
1 yr 1 month
10 month 10 days

03 Oct, 17 - 10 Jan, 18

409 days / 13 month

Last updated: Nov 16, 3:12 pm CST
TEXAS SERVICE CENTER
Raise SR
Best case
Based on grant of asylum more than 1 year ago
16 Feb, 17
11 Sep, 17
1 yr 9 month
1 yr 2 month

16 Feb, 17 - 11 Sep, 17

638 days / 21 month

Employment-based adjustment applications
15 Dec, 16
08 Sep, 17
1 yr 11 month
1 yr 2 month

15 Dec, 16 - 08 Sep, 17

701 days / 23 month

Last updated: Nov 16, 3:12 pm CST
NEBRASKA SERVICE CENTER
Raise SR
Best case
Under HRIFA, Indochinese Adjustment Act, Legal Immigration and Family Equity Act, or NACARA
03 Jun, 15
15 Jun, 17
3 yr 5 month
1 yr 5 month

03 Jun, 15 - 15 Jun, 17

1262 days / 42 month

Based on grant of asylum more than 1 year ago
08 Feb, 17
10 Feb, 18
1 yr 9 month
9 month 9 days

08 Feb, 17 - 10 Feb, 18

646 days / 21 month

Employment-based adjustment applications
26 Jan, 16
12 Sep, 17
2 yr 9 month
1 yr 2 month

26 Jan, 16 - 12 Sep, 17

1025 days / 34 month

Based on refugee admission more than 1 year ago
06 Jan, 18
10 Mar, 18
10 month 14 days
8 month 11 days

06 Jan, 18 - 10 Mar, 18

314 days / 10 month

Last updated: Nov 16, 3:12 pm CST
Form i485 is used to adjust your status to 'Permanent Resident' i.e. Green Card when you are present in USA. i485 filing is also the next step in the family-based green card process after submitting Form I-130 (Petition for Alien Relative). If the sponsored husband or wife is present in the United States, it is possible to file the I-130 and I-485 at together as "concurrent" application.
Adjustment of Status Processing time – Regular Application
Green card adjustment of status form i130 processing times are updated daily for 2018 using the official USCIS processing times and data shared by real applicants in various forums and trackers online.
Raise USCIS Case Service Request – Outside Normal Processing Time
If your 'case received date' is before the date (worst case) mentioned above, you should raise a service request with USCIS to check why your case has been delayed. This could mean your case is taking longer than other similar cases and may be stuck in administrative processing.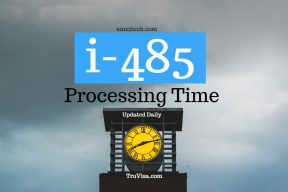 Current i485 processing time
Glossary
CSC = California Service Center
VSC = Vermont Service Center
NSC = Nebraska Service Center
COS = Change Of Status in the U.S.
Extension = Extension of stay in the U.S.
Consular Proc = Visa (Stamp or visa foil) to be issued outside USA in a US Embassy. Check if you are eligible for DropBox facility in India.
N.A. = Not Applicable