Current PERM Processing Time 2023 (Check Case Status)
AM22Tech Team
Updated 23 Sep, 23
---
PERM Processing Time
Today: 23 Sep
Fastest PERM Approval
#Not Available
am22tech.com
8 month 8 days
Time Taken
---
Fastest PWD
6 month 12 days
Receipt: 13 Mar, 23
Fastest PERM Audit
1 year 2 month 12 days
Receipt: 11 Jul, 22
Fastest PERM Reconsider
11 month 16 days
Receipt: 10 Oct, 22
---
Total Max Out Time
Job Ad
+
PWD
+
PERM
+
i140
with i140 in Premium
1 year 5 month 15 days
with i140 in Regular
2 year 15 days
PERM Case Status Check
Enter your PERM case number to estimate approval time. You can also check the PERM approvals that are being tracked.
Use your PERM ETA case number to check your PERM approval status with this app. The PERM case number starts with the letter 'A' to mean the Atlanta service center.
Estimate PERM Approval Time (Tracker & Cases Like Me)
Is PERM the first step in the US green card process?
PERM is the first step in the US green card process.

PWD and PERM approval is required for H1B (EB2, EB3) and L work visas applicants based on their ETA Form 9089 filing with DOL.
Does USCIS process PERM?
USCIS does not process PERM. Permanent labor is processed by DOL.
Can I apply PERM in premium processing?
There is no premium processing available for the PERM application. i140 application has premium and can be used to speed up filing 7th-year H1B extension if you are near your max out time.
How to contact DOL if PERM is delayed?
Your employer can contact DOL Helpdesk for a status on the application at plc.atlanta@dol.gov. An employee cannot call DOL for checking PERM status.
How many cases are selected for PERM Audit?
Permanent Labor Certification auditing is done for 30% of cases by requesting job advertisements and employer documents.

US department of labor (DOL) also conducts supervised recruitment to find fraud.
Can I apply for H1B 7th year extension with Approved PERM?
You can apply for an H1B 7th-year extension if your approved PERM was filed more than 365 days ago on the last day of the H1B 6th year.

As a solution to this problem, attorneys suggest to re-capture vacation time spent outside the USA and extending your 6th year-end date.
Check PERM on DOL Site?
You cannot track your PERM status online on the official DOL FLAG website as it can only be accessed by your employer or attorney.
There are other ways to find the current PERM processing time though:
#1 DOL Disclosure Data
DOL shares the PERM approval data on its disclosure data page quarterly in an excel sheet format. You can download and see past PERM case details. This data is usually delayed by 3 months but is the official source of truth.
You can search through these DOL official data without downloading the excel using AM22Tech's verified PERM cases app here. This app automatically saves the official data as and when it is uploaded by DOL every quarter.
#2 AM22Tech PERM Processing Time
AM22Tech collects PERM approval data shared by users on various online forms and merges it with DOL's official PERM disclosure data to show you the current PERM processing time.
The app also has a feature to give you an estimated PERM approval time based on the cases that have been approved around your own case. The app does the heavy lifting of keeping track of all cases around your PERM and shows the best possible date.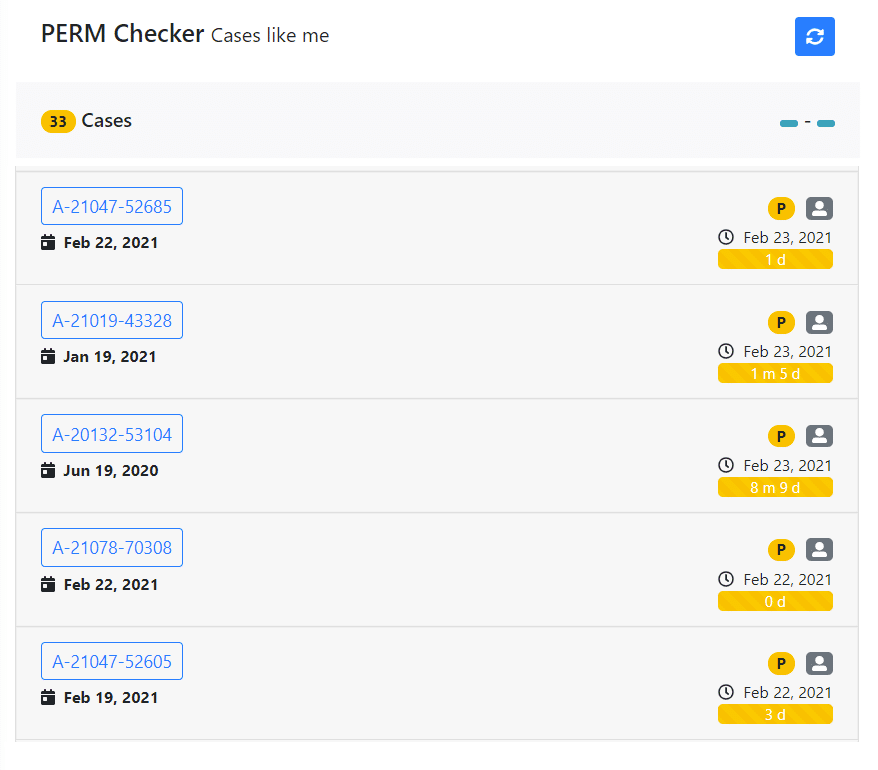 You can also find the estimated H1B max out time if you start your PWD, PERM, and i140 processes today.
#3 Trackkit.com
This Online tracking forum shows the user-contributed PERM case data. The data is crowdsourced too and is popular among Indian employment-based applicants.
PERM Case Number
The number is assigned to your PERM case when your employer or attorney creates the case in the online DOL system for the first time. Your employer may or may not submit the case on the same day to DOl for approval.
PERM Analyst review means that your case is worked on by DOL Analyst.
PERM A number and i140 A number are different and have a different purpose:
PERM ETA Case Number format is A-NNNNN-NNNNN with 10 digits
The Alien number (also called A number) under the beneficiary section on I-140 Approval Notice is A-NNN-NNN-NNN with 9 digits.
PERM Status Meaning
# CERTIFIED
PERM certified status means it has been approved and is valid for 180 days from the date of approval.
# CERTIFIED EXPIRED
PERM certified expired means that PERM was approved but was not used within 6 months to file i140 with USCIS.
This PERM has expired and a new PERM should be filed to get a new Green card priority date.
It is possible to request the same priority date from the old expired PERM but USCIS may or may not port the date. It depends on USCIS discretion.
Many people have also reported that their i140 was approved after PERM but the status still shows as 'Certified Expired' on the DOL website and in the above case status check. There is no need to worry as it is possible that the DOL database is not updated and is showing wrong information.
# WITHDRAWN
PERM application was withdrawn by the employer.
# DENIED
PERM application was denied by DOL.
PERM Green Card Priority Date
Your US Green card priority date is the date when you file your PERM application with DOL and not the date when the case was created online.
#1 Employment-Based
If your GC needs PERM labor certification, the green card priority date is the date on which the DOL receives ETA Form 9089 (PERM application form).
If your GC does not need labor certification like EB1 and NIW cases, the priority date is the date of filing form I-140, I-526, or I-360.
#2 Family-Based Green Cards
The GC priority date is the date U.S. Citizenship and Immigration Services (USCIS) receives the Form I-130 petition.
Experience letter for PERM – Skill Letter
Use a PERM experience letter sample to get skills listed on the old employer's letterhead as employment verification.
This may be needed to prove your skills for the job description that is relevant for your PERM application if your case is selected for PERM Auditing. The letter also explains how to write a job description for PERM.
Normally, 30% of PERM applications are selected randomly for Audit.