Sample USCIS i797C Notice of action – Is it Approval?
Form I-797 C Notice of Action is an official USCIS letter of Receipt of payment, Rejection, transfer, fingerprint, interview appointment sent by USPS mail.
AM22Tech Team
Updated 16 Jul, 21
USCIS I-797C Notice of Action form
The Form I-797 Notice of Action is an official USCIS receipt of payment, Rejection, transfer, fingerprint, interview appointment sent by USPS mail.
If your employer or attorney had filed an application on your behalf, then they will receive this i797C notice of approval.
If you filed the application for H4 EAD, you will receive an i797C notice of action in your mailbox.
i797 Notice of Action Types
The same i797C form is sent for I140, H1B, H4, and other visa approvals too. This notification can have the following Notice Types.
Receipt Notice: USCIS issues a receipt notice with receipt number to use for tracking on USCIS website. An example i797C notice of receipt for i539 (H4) application is given below.
Rejection Notice: USCIS returns your application as it has incomplete information or incorrect payment.
Transfer Notice: USCIS case transfer to other USCIS service center. We see this normally happen with H1B case transfers to other centers to reduce workload at California service center.
Re-open Cases: If you apply for reopening of a denied case, you receive a formal i797C form as a proof.
Appointment Notice: Appointment notices for fingerprint, biometric capture, rescheduled or interview interview appointments like i485 green card containing the appointment date and time.
i797C – No Immigration benefit or Status
i797c Notice does not grant any immigration status or benefit meaning.
This simply means that if you applied for an i485 Green card, H4 extension, H1B transfer, or a similar application, the i797C is only a receipt.
USCIS started issuing i797C on plain paper to save costs after April 12, 2012.
i797 Approval Notice
Here is a sample approval notice for the i140 application. This has also been printed on same i797, notice of Action form.
The important thing to notice here is the 'Notice Type': Approval Notice
This means that this form can be used for non-immigrant benefits like applying for a US visa stamp at the US embassy if required.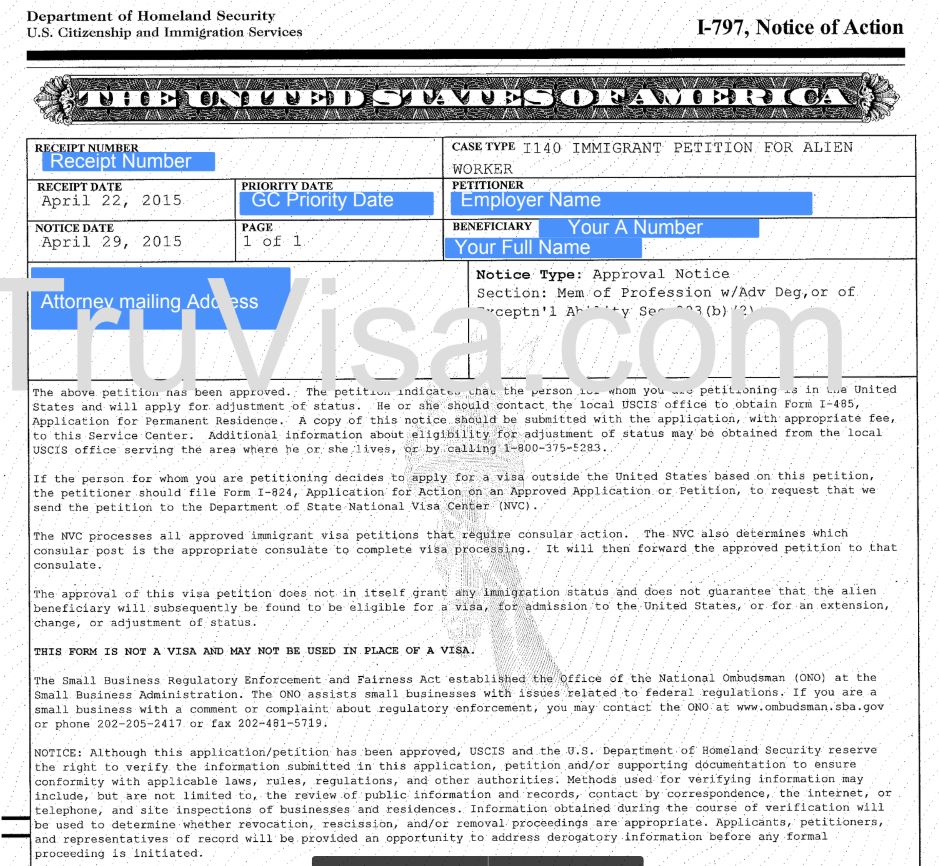 FAQ
Does i797C notice of Action mean Application is Approved?
I-797C is only a USCIS receipt and does not mean your application is approved.

You cannot use it to apply for visa stamping at the US embassy.
What is the difference between i797C and i797A?
USCIS will issue another notice printed on a similar form but will be called either i797A or i797B and will clearly state the 'Approval notice' if your application is approved.

The form number remains the same but the affixed letter changes based on the purpose. i797C is only used to notify the receipt numbers for your application.

In the case of i797, i797A, or i797B, the 'Notice Type' will show as 'Approval Notice'.