How to do a Backdoor Roth IRA at Fidelity?
How to do backdoor Roth IRA with Fidelity. Transfer money from bank account to traditional IRA and then Roth IRA. Deadline is 15 April irrespective of extension filing.
Anil Gupta
Updated 1 Aug, 23
#1 Open a Traditional IRA account
The first step is to open a traditional IRA account and not the Roth account directly.
Visit the Fidelity.com website and click on 'Open an Account'.
Fidelity offers $100 as promotional money if you use coupon code FIDELITY100.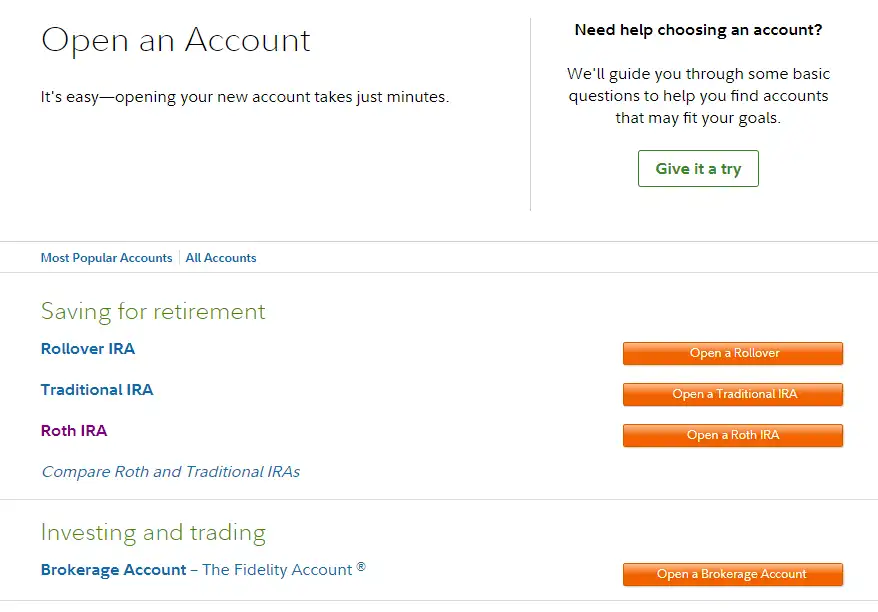 Click on the 'Open a Traditional IRA' button.
Read the terms and conditions and then click the 'Open Account' button.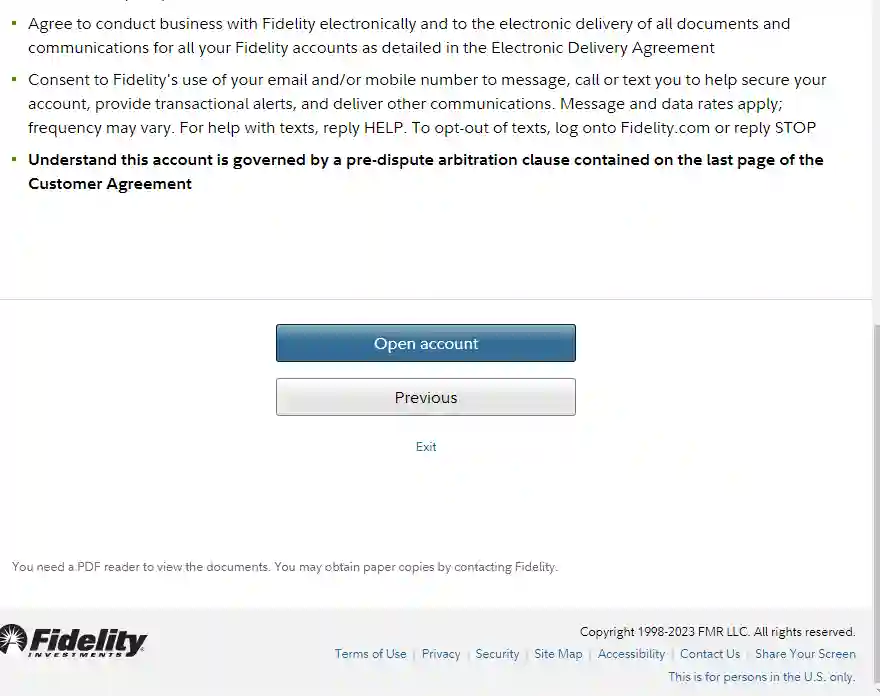 Once your account is open (which takes less than a minute online), you will be presented with the option to fund this account.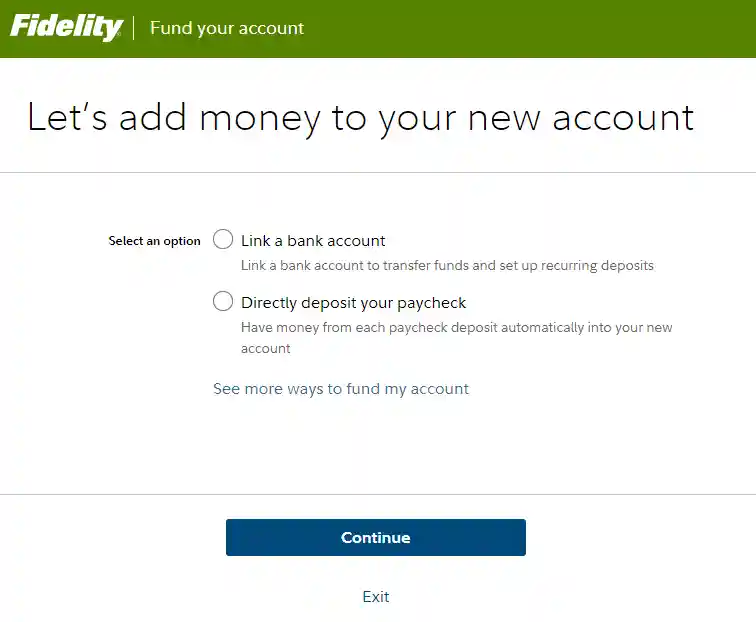 I suggest linking your bank account with this traditional IRA account to easily transfer money. I used the direct login method as shown below (using Plaid).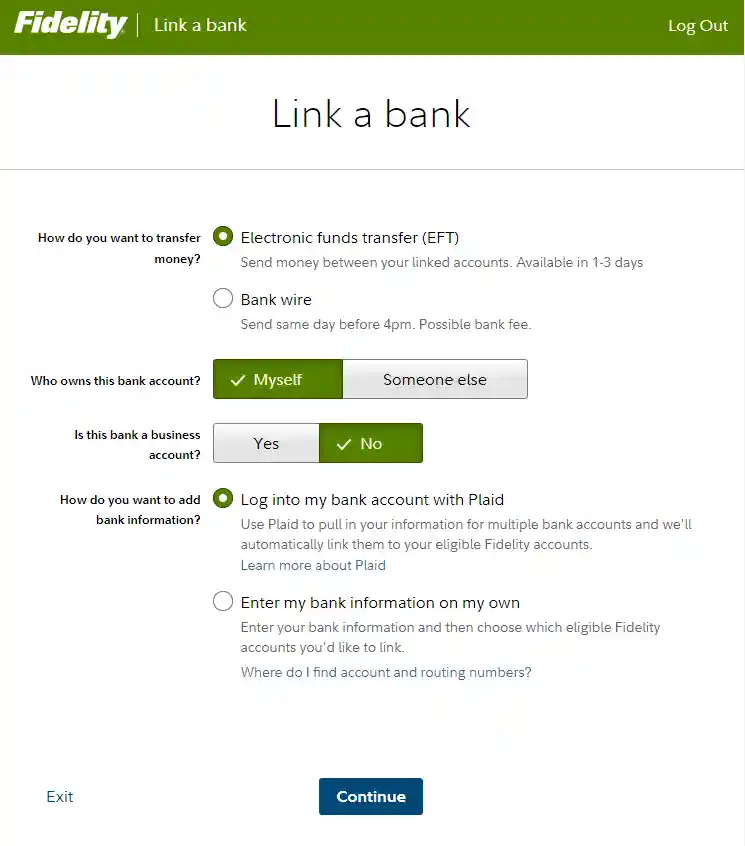 You can start the money transfer immediately after you have connected your bank account. I transferred the full $6000 as that was the maximum limit of Roth IRA contribution for the year 2022. This limit changes every year.
I suggest putting the maximum allowed amount to it to get the most benefit out of Roth IRA's tax-free growth.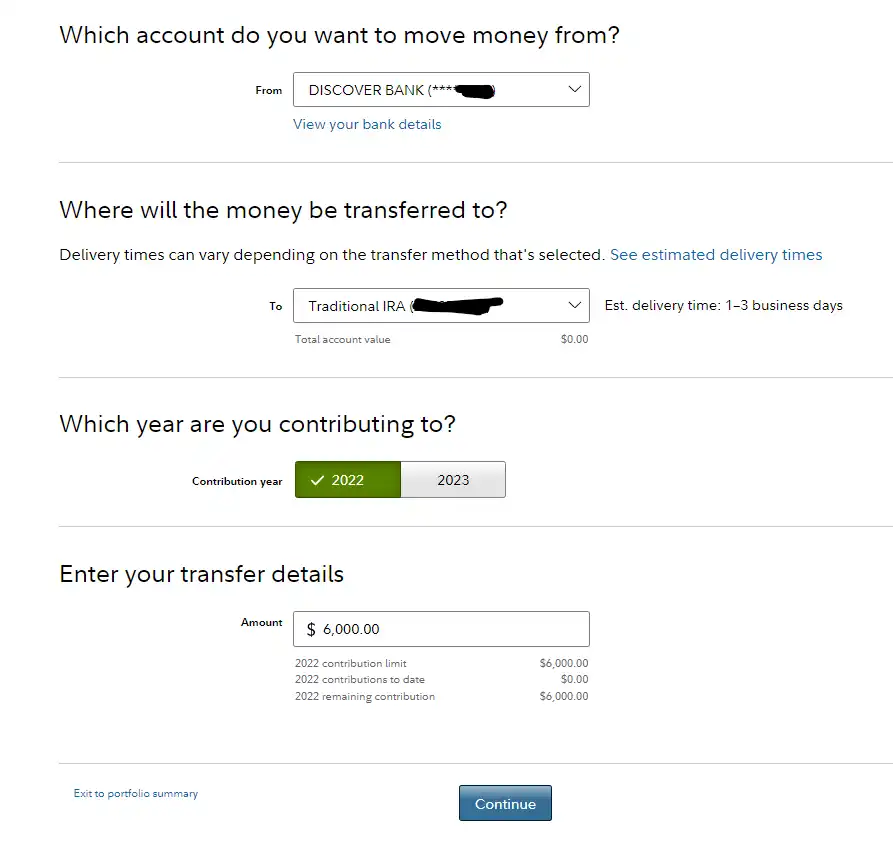 At this point, your traditional IRA account is open and has the money needed to move it to a Roth IRA.
Points to note:
First-time traditional IRA account:

If you have opened this account for the first time with Fidelity, it will take about 5-6 days to actually show this money as 'available' in your traditional account.
The amount may keep showing as transferred from your bank to fidelity, but until it is marked as 'available', you cannot transfer it to Roth IRA.

Already have a traditional IRA account:

The money may be transferred immediately or within 1 day and may show as 'available' the next day.
#2 Open a Roth IRA account
Our next step is to open a ROTH account.
Visit the Fidelity's open account page once again and click on 'Open Roth IRA' account button.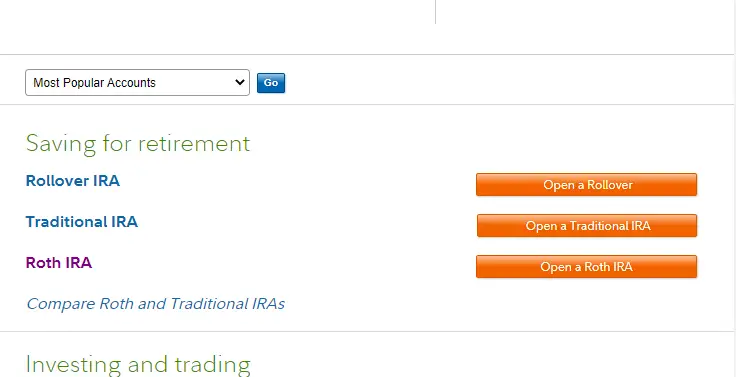 Follow the next steps to open the account.
When you reach the 'fund this account' or transfer money to this account step, just close and do not do anything.
For backdoor Roth, we need to specifically move money from 'bank account' to 'traditional IRA' AND then to 'Roth IRA' and not directly from bank account to 'Roth IRA'.
Bank account -> Traditional IRA -> Roth IRA
#3 Transfer money from Tradition to Roth account
Now, wait for the money to show up as 'Cash available to withdraw' in your traditional IRA account. If it shows zero, then you need to wait.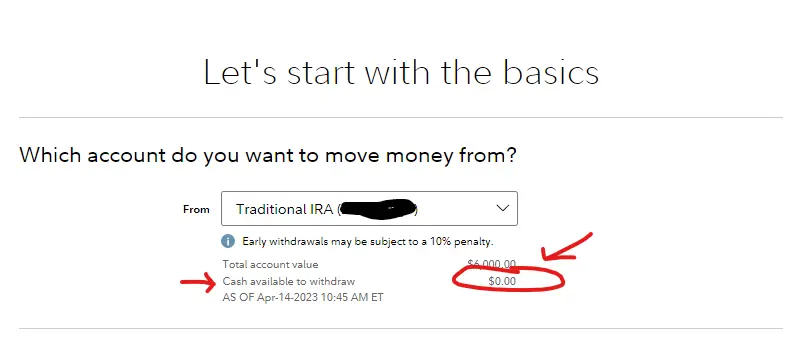 Once it is available, start the transfer process.
Click on the 'Transfer money' button.
Select the 'Traditional IRA' account as the first account.
Select the 'Roth IRA' as the second account where the money needs to go.
Make sure that the amount shows as 'available'.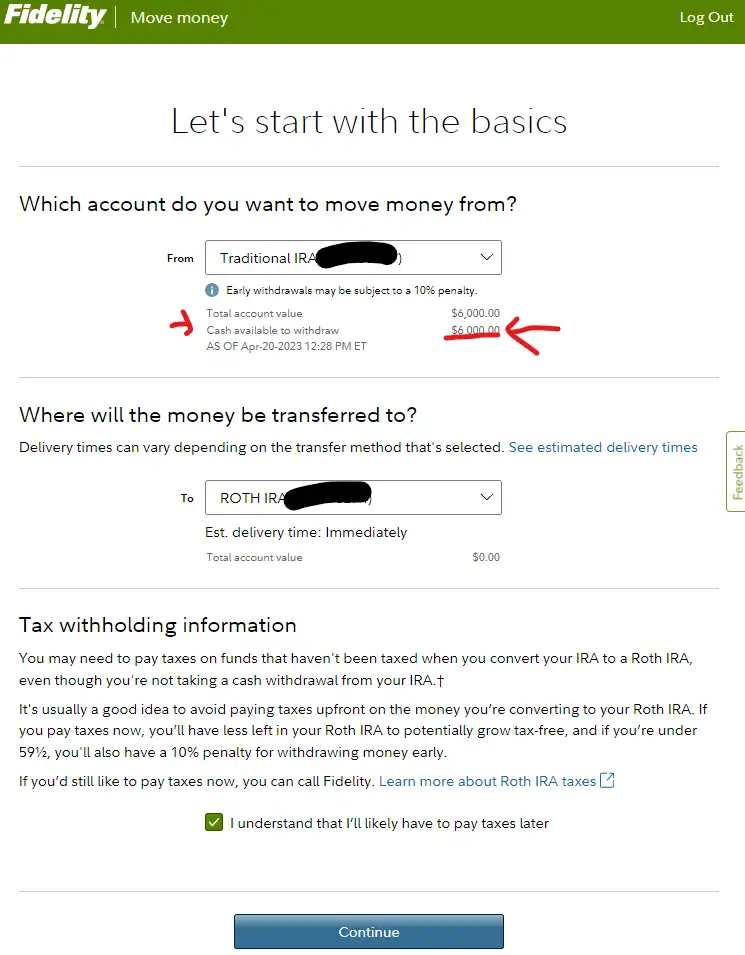 Click the 'Continue' button and you will be asked if you want to keep the 'traditional account' open or close it.
I suggest keeping the account open as you can use it next year for the same backdoor roth process again.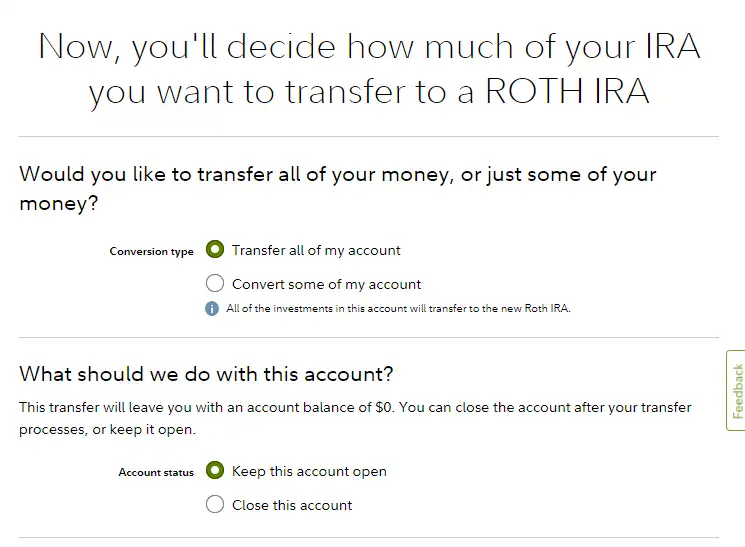 The last step is to review and submit the transfer.
Note that the amount is always shown as SPAXX (Core) Fidelity Government Money Market instead of cash. This is fine as this is treated as cash for transfers from one account to the other.
Once you have the money transferred, you can buy stocks using this Roth account.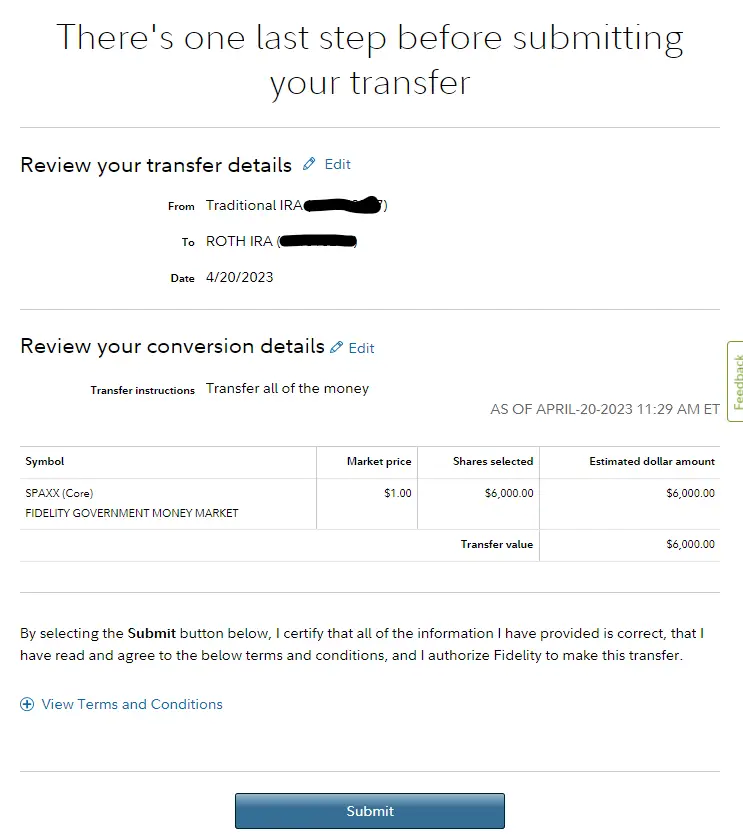 FAQ
Why does my traditional IRA cash show as a SPAXX fund?
Fidelity calls its cash a 'core position'. For a traditional IRA account, whenever you add any cash, it will automatically be moved to a SPAXX balance.

I got the panic too when I was trying to do a backdoor Roth IRA and saw that traditional IRA cash was moved to SPAXX automatically.

I did reach out to Fidelity customer care and they confirmed that we cannot stop or change the SPAXX in traditional IRA. The system automatically moves all cash to SPAXX.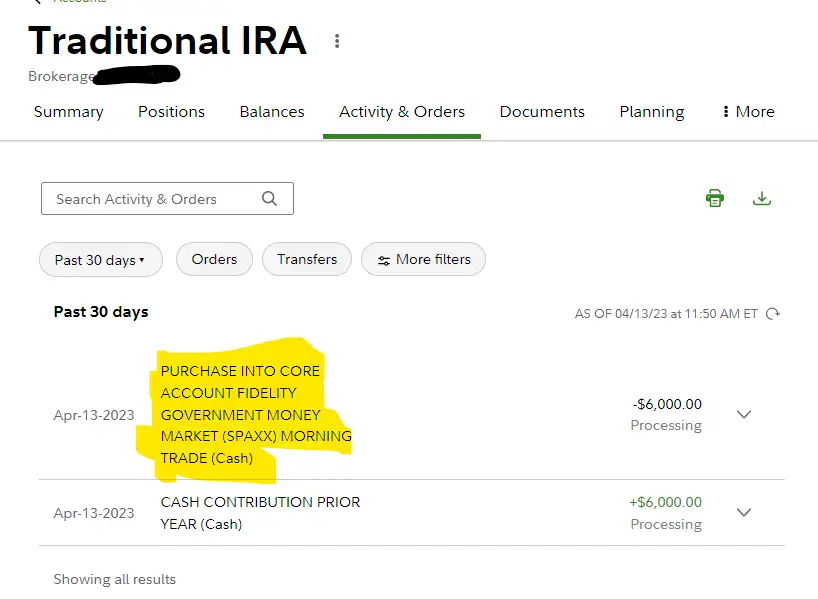 What is the best time to do a backdoor Roth IRA?
The contribution to a traditional IRA can be made between 1 Jan to 15 April of next year. It does not matter if you file an extension for your tax return, the deadline is still 15 April.

Example: For the year 2023, the contribution to a traditional IRA can be done anytime between 1 Jan 2023 to 15 April 2024.

To move this money from a traditional to a Roth IRA account, you can do it anytime. I suggest moving the money from traditional to Roth anytime before 31 Dec.