Benefits of i-485 EAD – SSN gets Child Tax Credit (Up to $2000)
Child's i-485 EAD can get them SSN which can make them eligible for Child Tax Credit worth $2000 on IRS tax return 1040. H4, L2 visa benefits.

By AM22Tech Team
Updated 27 Oct, 20
H1B workers with non-US citizen kids used to receive child tax credit until the 2017 tax year.
With the new tax law (called Tax Cuts and Job Act 2017) passed by the Trump government, the child tax credit was restricted only to kids with SSN.
Most non-US citizen kids on dependent H4 or L2 visa are not eligible to get SSN. They all have ITIN which is not eligible for the child tax credit with the new tax law.
In this new tax law:
The child tax credit was doubled from $1000 to $2000
The child's SSN was made mandatory. Earlier, H4 and L2 kids with ITIN were also eligible for this credit.
This article will discuss:
Child EAD with i-485 Application
If you are eligible to file i-485 even if the PD date is only current in the 'date of filing' chart in the most recent USCIS visa bulletin, we strongly recommend to file an EAD for your child irrespective of his/her age.
A child's EAD helps you get the social security number for your child which in turn makes him/her eligible to claim 'child tax credit' on your next year's 1040 tax return.
This is a sample EAD card for category C33.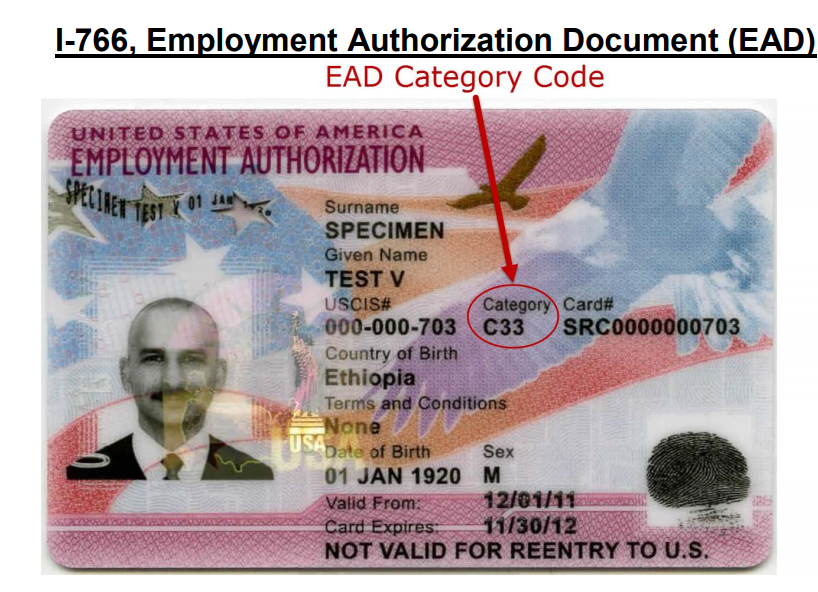 i-485 EAD card has category C09 and is allowed to get an automatic 6 months extension if the current one expires. This is unlike H4 and L2 EADs which do not get any automatic work authorization.
The child tax credit can be as high as $2000 per child based on your family's taxable income. The amount is reduced as your total household income increases.
This can easily set off the attorney's i-485 EAD filing fee if you are thinking of saving money there as your child does not intend to work anyway.
You can also file the i-485 EAD yourself as the i-765 EAD form is simple to fill.
Required SSN
IRS rules make it mandatory for your kid to have a 'required SSN' to claim their child tax credit on the tax return.
IRS publication 972 lists the child tax credit requirements.

The term 'required SSN' means that the SSN should be valid for employment in the USA.
Does my child's SSN pass "Required SSN" requirement?
Look at these cases:
#1 Child is US citizen
If your child was a U.S. citizen when the child received the SSN, the SSN is valid for employment and passes the "required SSN" requirement.
#2 Child SSN card marked "Not Valid for Employment"
If "Not Valid for Employment" is printed on your child's social security card, then your child does not pass the 'required SSN' test.
If your child's immigration status has changed so that your child is now a U.S. citizen or permanent resident, you have to get a new social security card without the legend to be eligible to claim the tax credit.
The social security office can issue you a new card.
#3 Child EAD marked "Valid for Work Only With DHS Authorization"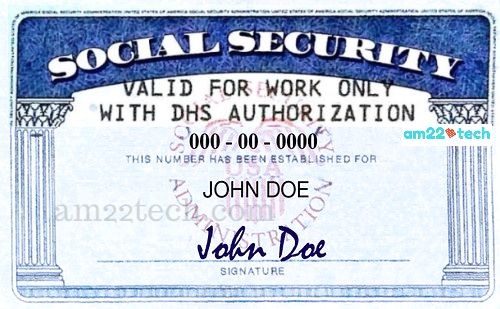 If "Valid for Work Only With DHS Authorization" is printed on your child's social security card, your child has the required SSN for as long as the DHS authorization is valid.
Most H1B, H4, L1, and L2 Social security cards will have the annotation of "VALID FOR WORK ONLY WITH DHS AUTHORIZATION".
This essentially means that child can be claimed for the child tax credit as long as the EAD is valid.
FAQ
Can we use child's EAD for child tax credit even if filed EB2 to EB3 downgrade?
You can apply for your child's SSN and use it for tax filing purposes.

The EB2 to EB3 downgrade is not affected as long the kid uses the i-485 EAD for actual work and making money.