Send New H4 i94 to USCIS for EAD Auto Extension? (Interfile Cover Letter)
Request USCIS to use new H4 i94 by interfiling for pending H4 EAD i765 application. Get auto extension with new i94 at border or after travel.
AM22Tech Team
Updated 27 Jan, 23
H4 EAD is eligible for the auto extension as per new USCIS rules.
Once you have the new H4 i94 in hand, you can send it to the USCIS via interfiling to get extended validity for the pending H4 EAD. USCIS does not ask you to send this new i94 explicitly to get an auto-EAD extension, but, we recommend it.
Interfiling is nothing but an informal process where you send the document to the USCIS service center with a cover letter that explains what you would like to do.
USCIS does not send any receipt or acknowledgment for interfiled documents.
There is no other formal process by USCIS to accept your new i94 unless they explicitly request it via an RFE (Request for Evidence).
Documents Required
You can write a simple cover letter by typing and including all your i765 details or use the app to generate one.
App sends you the generated letter by email. You can then print it on A4 size white (or pink/green to highlight) and then attach the following documents in this order:
i94 Interfile Cover Letter (Keep it on TOP).
H4 most recent i94 copy (paper-based or downloaded from CBP site).
H1B i797 approval copy.
H4 EAD i765 receipt copy.
Current H4 EAD card's front and back side copy (even if expired).
Current Passport Copy (pages with photo and address).
Expired Passport Copy (if this new i94 is attached to this old passport number).
Anyone current address proof (like Driving License, utility bill, etc.)
Use a paper clip or a binder to tie all the documents. Do not use a stapler.
We strongly recommend sending your i94-interfile package either by UPS, FedEx, or USPS with tracking.
You should send it to the USCIS service center where your i765 EAD application is currently pending. This address is available on the i765 receipt notice.
How to Write an i94 Cover Letter
The language in the letter by App is tried and tested and has been devised based on real-life successful cases.
Open App in new Window
The benefit of using the app is that it validates all the data and avoids mistakes thereby increasing the chances of interfiling success.
#Step 1 – Enter i765 EAD Receipt Details
Visit the USCIS i94 interfile letter app.
Click the 'Scan i-765 Receipt (Full Image)' button. You can enter the data manually as well if you do not want to scan your USCIS i765 EAD receipt.
Scanning helps fill the form automatically.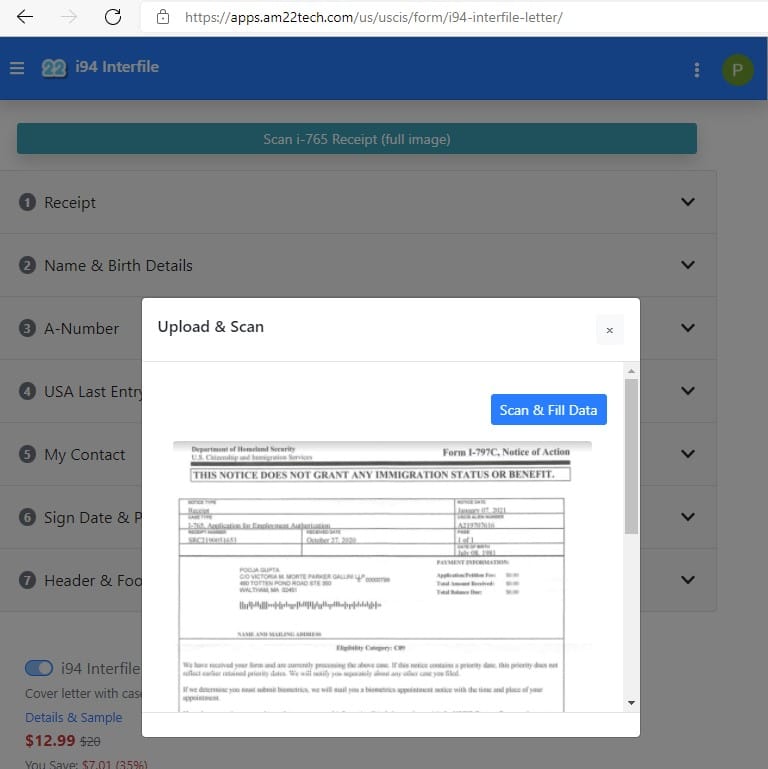 Click the 'Scan & Fill Data' button to start scanning.
The app uses its AI algorithm to read the USCIS receipt you added. It will show what values were read correctly and what others could not be read reliably.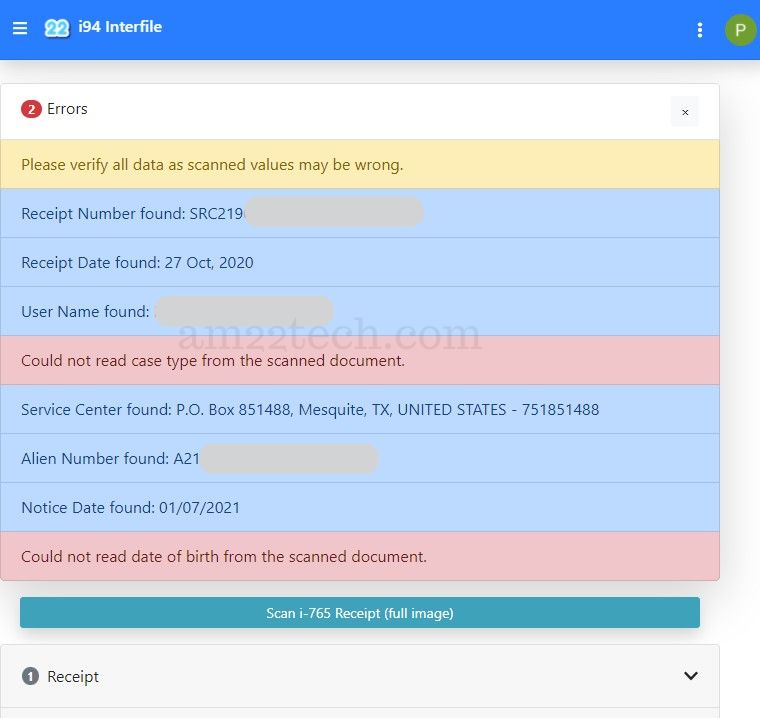 If the scanned values appear to be wrong, you can edit them manually in the form.
At this time, the app has automatically filled the form with the values it was able to read from the scanned document.
#Step 2 – Enter H4 Name & Birth Details
Your name and birth date would be pre-filled if it was found in the scanned USCIS receipt. If not, then you can enter or edit manually.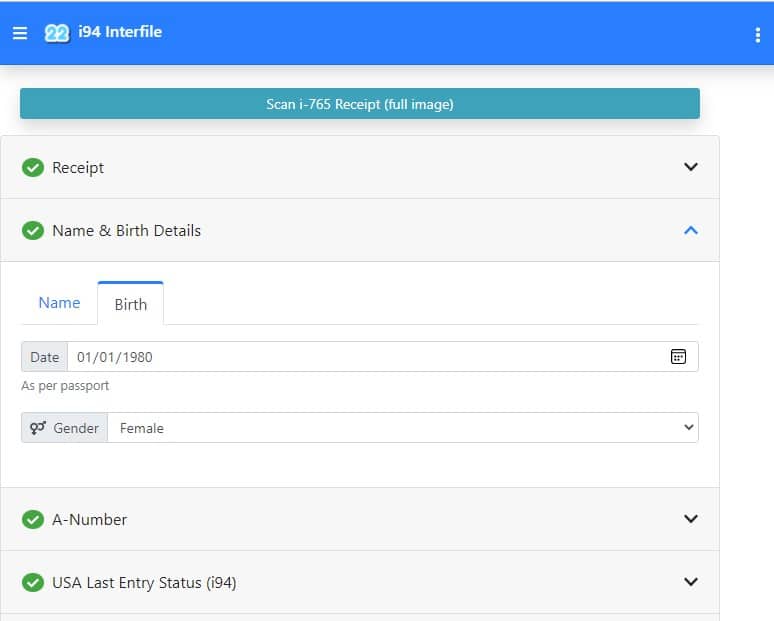 #Step 3 – Enter your A number
Again, if the A-number was read from your i765 receipt, it will appear here.
If you do not know your 'A-number', then you can leave it blank here.
#Step 4 – USA Last Entry Status (i94)
This is the most important step where you provide your most recent i94 information.
If you visited any of the US land borders, then you will have a paper i94 issued by CBP. This i94 will also be available online on the CBP website.

Both online and paper i94 details should match if it's the most recent i94.
If paper i94 does not match the online CBP i94 but it is the most recent, then use paper i94 details here.

If you traveled by air or sea outside the USA and then got the new i94, then download it from the CBP website.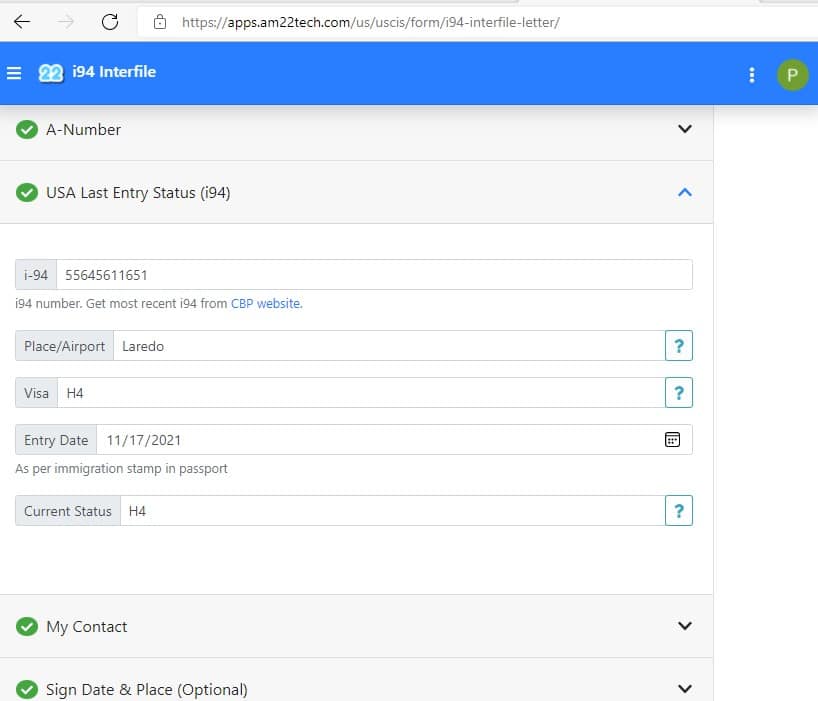 #Step 5 – My Contact
We suggest entering the same address as you wrote on your EAD i765 application form.
If you have changed your address after filing the i765 application and then filled the AR-11 form to inform the USCIS, then use the new address here.
This should be a US mailing address.
#Step 6 – Sign & Place (Optional)
You can enter the signing date and place to be printed on the letter. If you do not fill it in the form, then you will need to write it by hand before sending it to the USCIS.
Sign Date: Date today or any date in the future when you want to use this document.
Sign Place: City or state name where you are present at the time of signing this interfile letter.
#Step 7 – Header & Footer (Optional)
This section is optional for individual users. If you are sending this letter by yourself, then we suggest leaving it blank.
It can be used by companies and/or Attorneys to print custom text on the letter header and footer.
Add Barcodes & Generate a Letter
The app also gives you the option of adding your i765 case number barcode and A number barcode to help USCIS easily scan your application.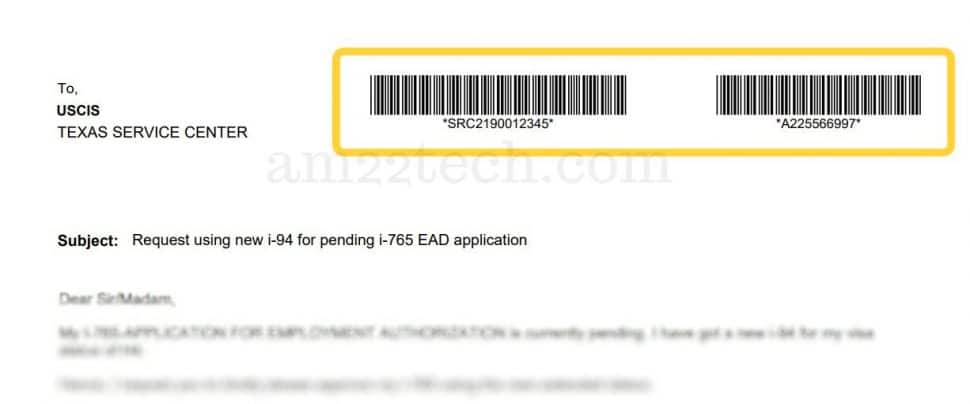 The barcodes are printed in USCIS-acceptable format automatically by the app if you select the options.
Barcodes are printed on top of the letter to help USCIS mailroom personnel quickly locate your pending EAD file.
ReApply H4 EAD after Getting a New H4 i94?
A common question is that "Do I need to Re-Apply for H4 EAD once we have got the new I94 at the border?"
The answer depends on the way H4 has been filed:
#1 H4 Extension & H4 EAD are pending
There is no need to re-apply for H4 EAD once you have got a new H4 i94 at the US land border or by way of traveling outside the US.
#2 H4 COS & H4 EAD are pending
If you filed an H4 change-of-status and H4 EAD, then we strongly recommend reapplying for H4 EAD and sending the i94 interfile letter.
Why send an i94 if reapplying for H4 EAD with a new H4 i94?
Sending the new i94 to be attached to your currently pending H4 EAD may help you save USCIS processing time.
If the USCIS officer actually uses it or may then ignore the H4 COS application denial. Note that H4 COS will be denied since getting a new i94 automatically abandons your pending Change of status application.
FAQ
My i94 is attached to my old expired passport. Does it affect my EAD application?
The old expired passport number attached to the most recent i94 does not affect anything.

Do not worry.
Will USCIS send a receipt for i94 Interfile?
USCIS will not send any receipt for your interfiled i94.

If they accept it, you will straightaway get EAD approval.
Will USCIS send an RFE to request a new H4 i94 if I visit the US border?
It is possible that the USCIS officer working on your EAD case will request the new i94 if you travel or visit the land border to get a new i94.

USCIS automatically gets this new travel information too through CBP. But, in some cases, they do request a new i94 by way of RFE.
When Should I send the new H4 i94 to USCIS to get an automatic EAD extension?
You should ideally send the new H4 i94 before your current EAD card expires to be on the absolute safe side.

This way, you have the proof and can use the automatic EAD extension.
Is it Mandatory to send the new H4 i94 to USCIS?
It is not mandatory to send the new H4 i94 to the USCIS.

Many people had gotten their H4 EAD approved even when they did not send the new H4 i94 to USCIS but some others have gotten an RFE or their EAD was denied. So, there is no one rule here.

It is your choice.