B1/B2 Visitor Visa Documents, Sponsor Parents (H1B, L Workers)
Document required for B1/B2 visitor visa. Sample Employment, Consulate and sponsorship letters. Multiple entry tourist visa for parents. Stay in USA for up-to 6 months in one stretch.
Anil Gupta
Updated 13 Jan, 23
If you are working on an H1B or L1 visa in the USA and want to invite your parents to the USA for a temporary visit, you need these documents for their B1/B2 business/ visitor visa sponsorship.
If you want to visit the US for business meetings using a business B1 visa, your employer (US or non-US) should provide you with the sponsorship letter.
Sponsor Documents
#1 Passport copy
The first page is with your photo and the last page is with your address.
#2 I-797A approval copy
For example: if you are working in the USA on an H1B visa, you can send a copy of your most recent h1B approval i797A.
#3 Your i-94 copy
The most recent i94 is attached to your i797A approval form if the extension was applied recently. You can also download the i94 from the CBP website.
#4 W2 form
I recommend sending the last 3 years' W2 form copy. If you do not have any, just because you have recently come to the USA, you do not need to send them.
#5 Stamped Visa copy
You should have a valid legal status in the USA. The most recent valid visa that you used to enter the USA.
#6 Most recent 3 pay stubs
#7 B1/B2 Consulate Letter (or Invitation Letter)
You can use this sample consulate letter for your B1/B2 visa application. It's not required but recommended to carry it with you at the visa interview.
Create the support letter with tried and tested language. This letter can be given to the US embassy with your B1/B2 application.
Create B1/B2 Consulate Invitation Letter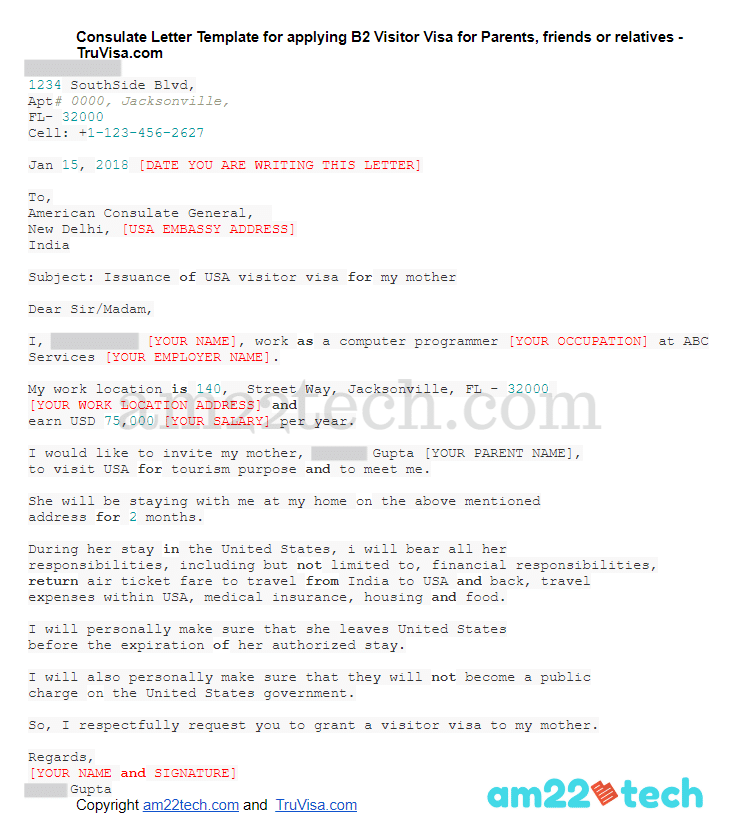 #8 US bank account verification letter
You can request your bank to provide an account balance verification letter. They normally charge $10 for this service. This letter should have this information:
Date account opened;
Total amount deposited for the past year; and
Current balance.
If you cannot obtain a bank letter for any reason, then you can use the last 12 months' bank statement (your salary account). You can print it yourself by downloading it from your bank account's online system.
#9 Employment verification letter
Get an employment verification letter from your US employer.
If self-employed, then, use these documents to prove Employment or legitimate work
Copy of last income tax return filed; OR
Report of commercial rating concern.
#10 Sponsorship letter
This is optional but strongly recommended if your parents, relatives, or friend whom you are calling to the US do not have enough funds in their home country to support their stay in the US.
In the case of parents or siblings, we strongly recommend including this letter to make your application stronger.
Form I-134 – Affidavit for Support – Download this form and fill it up.
The visa officer will judge the ability to support yourself in the US and this affidavit helps place the financial responsibility on the person who is sponsoring this trip.
B2 Visa Interview Documents
All these documents are parents, relatives, or friends' own documents that are required to be submitted or carried to the US embassy.
Passport photocopy – Front, last page
Address Proof – Any utility bill (landline Telephone Bill, water, or electricity)
Homeownership Papers (Optional, good to carry) – If they own any property, it is good to carry them with you to the US consulate interview.
PAN card (Optional, good to carry)
Photographs (Optional, good to have) – Good to carry pictures with the person currently in the USA as proof of some relationship.
Income Tax returns (Optional, good to carry) – If the applicant files income tax in India, you should carry originals at the time of the interview.
Original Birth Certificate (Optional, good to carry)
DS-160 form – Applicant can print it or you can send them by mail after printing it with all other sponsorship documents.
Collect all sponsorship documents and own B1 or B2 visa applicant papers and carry them to the visa interview.
The documents required at the OFC location (for fingerprinting and Visa photo are mentioned here).
FAQ
Who should fill DS160 form for a parent's visitor visa interview?
Anybody can fill out the DS160 form for a US visitor visa interview.

You can fill up the DS-160 form for your parents/relatives or friends for applying for the B1/B2 Visitor visa and fill in your information in the 'preparer' section.

You can either fill it up online and ask your parent to print themselves or fill and print yourself and send it to them along with other documents that you are sending by post.
Is this an official document list for B1/B2 documents?
There is no official supporting document list for applying for the B1/B2 visitor visa given by the US government, the US embassy, or VFS/CGI.

The above document list is extensive and is based on the experiences of other users.

Sponsorship documents help to prove the legitimacy of the sponsor's valid legal status in the USA and the ability to pay for a visitor's stay.
Should I apply B1 or B2 visa for my parent's visit to the USA?
B1/B2 is a single visa for both business and Visitors, and tourist purposes.

The B1 visa is for travel to the US for a strictly business-related project while B2 is for leisure or family travel.

The actual visa will have "B1/B2" printed on it.

B1, B2, or B1/B2 visas are non-immigrant visas.
Is it really required to carry all the documents to the interview?
It is not required but recommended to carry the sponsor's documents, if any, to the US embassy visa interview as it may or may not be asked by the Visa officer.

In 90% of cases, the visa officer does not ask for even a single document as they are trained to find genuine cases by judging human behavioral aspects.

In other cases, the interviewing officer may issue form 221g which would require you to submit the documents on another window.
Are sponsorship documents required for B2 visa renewal through Dropbox?
The sponsorship documents are not required if you are renewing your visitor visa using dropbox.
Can I extend my stay in the US on B1/B2 visa?
You can extend your stay in the US by applying for a B1/B2 extension by filing form i-539 with USCIS before your i94 expiry.

You will need to pay biometric fees for visitor visa extension in the US too as your fingerprints from the US embassy cannot be reused by USCIS in the USA.