Attestation of Power of Attorney at Indian Consulate – USA
Attestation of Power of Attorney at Indian Embassy. Original passport, address proof, US legal status, 2 photo. US citizen need Apostile. Notary vs Attest.
By Anil Gupta
Updated 11 Mar, 20
Attestation of Power of Attorney at Indian Embassy in USA can be done by post or in-person.
SFO embassy (San Francisco) requires Apostile by US state before attestation while New York, Washington DC, Houston, Atlanta, Chicago may or may not require Apostile.
Attestation of power of attorney is NOT same as registration of power of attorney. Attestation is a pre-requisite to registration, if you are outside India – NRI (non-resident Indian).
Documents for Attestation of Power of Attorney
Miscellaneous services form. Each Indian embassy their own Misc Services form format – New York, Washington DC, Houston, San Francisco, Atlanta, Chicago.
Original Passport + Copies of all non-blank pages including first and last page.
Copy of Address proof in USA – 1 address proof is required – US bank statement, driving license, utility bill, Home lease agreement etc.
Valid Visa copy – Valid H1B, H4, L1 etc. Remember that B1/B2 is not considered valid for creating POA.
Original Visa petition – approval notice i797 or USCIS issues receipt number for extension filing.
Original i94 + Copies – In case of electronic i94, just take the print-out with you.
2 passport size photograph to be affixed against your name on POA.
NOTE: It is advised to carry the original version of the documents with you for verification, in case consulate asks for it.
The process of registering the POA does NOT require 'attestation' if you are still in India and planning to leave soon. i.e. you are about to leave and want to give power of attorney to someone in your family or a friend.
#1 Notarize Power of Attorney
2 witness signatures are required for attestation of Power of attorney. Witness can be anyone holding a valid US ID proof with an address and photo.
Witness should preferably be other than immediate family members.
Witnesses CAN go to Indian Consulate with you?
There is NO need to get the notarization.
Witnesses CANNOT go to Indian Consulate with you?
Take signatures of 2 witnesses on this POA in the presence of Notary.
Free notary is available in most town's library, banks like Bank of America (Free if you have an account with them) and your own office would have one.
Paid notaries are available at USPS offices/shops too.
You should NOT sign the POA yet. It is to be done in front of Indian consulate. If the notary insists on your sign, then you can sign.
You will be required to sign once again in Indian Embassy.
#2 Apostile PoA
You may or may not need Apostile based on your current Passport and the Indian Embassy you are applying at.
If you need Apostile, check US secretary of state office website for Apostile process. Supporting documents do not need Apostile.

#3 Attestation of PoA at Indian Embassy – In Person
You should either have 2 witness travel with you to embassy or have the notarized POA.
Each embassy office has time window normally between 9 AM to 11 AM to accept in person attestation requests.
If both you and your spouse have been named as executant in POA, then both of you need to be present in Embassy physically with your original passports.
Your original POA, a photocopy and original passport would be taken up by the consulate officer after making you sign in front of him.
Deposit the fees and you will most probably be asked to come back after 12 PM (afternoon) to collect the attested PoA.
Show the receipt and collect the attested POA and your passport. You are all set.
#4 Attestation of PoA at Indian Embassy – By Mail
You need to get all the signatures (2 witness + your own) notarized.
Get the fees cashier check or money order. The return shipping check has to be made separately. The amount differs by each embassy. No need to send the return shipping envelope. They take care of it with the return shipping fees that you send.
Send the documentary proof (only photocopies) with an exception of original passport to the Indian consulate. The consulate will attest and return the documents back to you within a week.
Registration of 'Attested Power of Attorney' in India
Registration of 'attested POA' can only be done in India. Send PoA to India and then follow steps to register this POA.
Attestation fees Per Page
The attestation fees is charged per page or per document varies by each Indian Embassy. Call and check before making any money orders
New York Indian Embassy charged us fees per document instead of per page (2 executants with 1 page of POA): fees $23.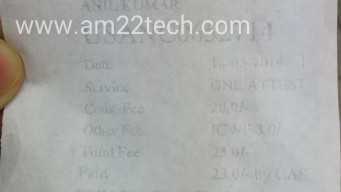 People have reported that Indian Embassy at Washington charges the fees per signature and per page attestation.
Leave Blank Space
We do not think any blank space on top of the POA page is required.
General vs Special PoA Buying Flat
The builder will require a special power of attorney for the property purchase in India.
You can confirm from the developer before-hand or to be on a safer side, create a special power of attorney.
Embossing Power of Attorney
Embossing is part of Notarization process in USA creating raised relief images and designs in the paper to make the original copy tamper proof.
Embossing is not required for power of attorney.
Sample embossing:
Use only notarized POA in India
It depends on the third party like a bank or builder who needs this POA to make a decision on what level of attestation is needed.
Indian banks like SBI, ICICI, HDFC accept notarized POA in USA to get home loan without Indian Embassy attestation.
So, the best option is to ask the end user of the POA about the requirements.