List of Attorney for Free Advice on Call, Email – H1B, H4, L, F visa
Ask H1B questions free of cost with attorney in USA live on video, chat sessions. Local Indian radio station host immigration programs twice weekly.
AM22Tech Team
Updated 5 Sep, 21
Reddy n Neumann Free Call, Email, Video Chat
Reddy n Neumann are most accessible employment based immigration attorney today. They answer your H1B, H4, i140, L visa, F1 visa, and other business and study related questions free of cost.
#1 Youtube, Facebook Live Video Call – Weekly
They conduct a LIVE video chat every Tuesday from 5 PM to 6 PM central time on YouTube and Facebook.
You can write your question in video comments live chat and either Rahul Reddy or Emily Neumann will pick you question and answer right there.
You only get one shot at asking the question as there is no way to ask a follow up question in this video call. So, be specific and to-the-point. Do not ask repeated questions either as they won't pick it up for answering.
#2 Free Phone Call – Mon to Fri
Rahul reddy also holds a completely free conference call everyday from Monday to Friday for 1/2 hour.
You can directly call and ask your question. The good thing is that you are speaking directly to the attorney and can ask follow up question too.
Monday – 3:30 pm CST
Tuesday- 11:30 am CST
Wednesday – 4:30 pm CST
Thursday – 11:30 am CST
Friday – 3:30 pm CST
You should dial: +1 720 820 1476
Once you are connected, you will need to wait until the conference starts and then dial *6 and then 1 to be queued for asking a question.
Since the time is limited, it is better to queue yourself as early as possible in the call right at the start by pressing *6.
They shut the call promptly within 30 minutes even if more people are still waiting in queue to ask their question.
#3 Email Question
You can also email (info@rnlawgroup.com) your question to RN Law group and they reply within 24 hours as per our experience.
#4 Ask Question On Emily Neumann's blog
Emily writes a blog by the name of immigration girl. You can ask your questions in the comment section and she might reply as per her availability.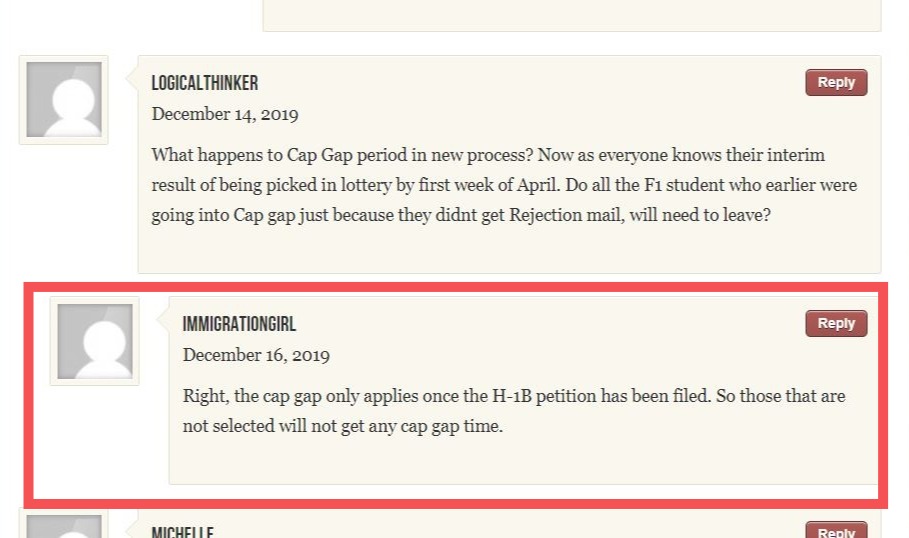 Most repeated and illogical questions are not not replied. So, please ask to the point question to get a meaningful answer.
They may or may not answer the question on your email.
Free Consultation By Rajiv Khanna – Immigration.com
Rajiv S. Khanna, US Immigration Attorney, hosts Free Conference Call every other Thursday at 12:30 PM Eastern Standard Time to answer US immigration related questions.
You should call at (202)-800-8394.
You should ask your question on their immigration.com forum first. They create a specific page for each conference call on their forum where you can queue up your question before the call.
Once the call starts, attorney answers the question in the sequence in which they have been asked on their forum page.
Once they have exhausted the forum page questions, they do take questions from people on the call. But, my suggestion is to not rely on the call and queue up your question on forum.
You can ask questions or just listen live or listen to the recording for the call. They post their conference call recording their YouTube Channel and forums.
Most of the questions hover around H1B and H4 EAD issues but you can ask your green card and advance parole queries too.
Call Local Indian Radio Channel
Most cities who have an Indian radio channel host the live 'ask an attorney' shows. You are allowed to call the radio and then ask questions live.
Dallas has two radio stations called fun asia and radio caravan that host the immigration question session with real attorneys. You can call live and ask your question.
The only thing is that you will probably just get about a minute or two to discuss. Your query should be precise and to the point.
Boston does not have any Indian radio channel.
New Jersey, New York, Pennsylvania and Connecticut are served by 8K Radio EBC.
San Francisco/San Jose area has Radio Zindagi. Bay area people can call on Desi 1170 AM radio channel.
Peerally Law runs an immigration show on KLOK 1170 AM Radio Thursday from 10 am to 11 am (PST) in San Jose, California.
Ask Immigration Question on AVVO
Avvo.com is a popular question and answer platform where your query is answered by a real attorney.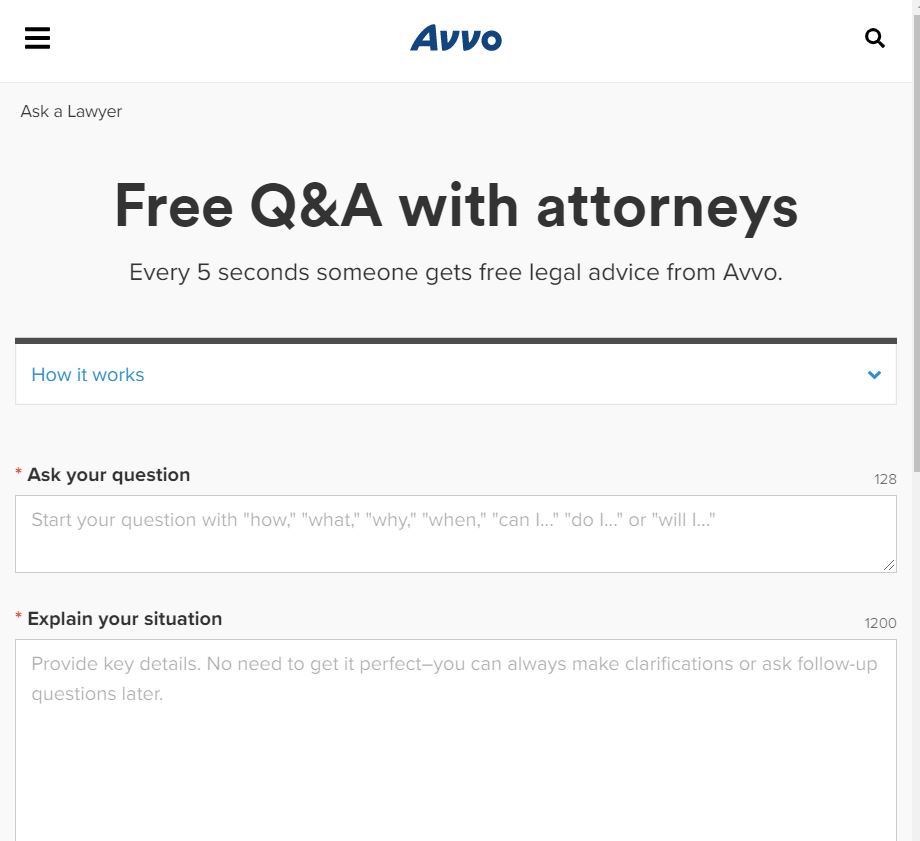 You can expect a short and crisp answer from well known and credible attorneys but only if you ask to-the-point question.
Although Avvo is pretty good, the drawback is that Many attorneys would simply just ask you to talk to your employer's attorney for your L1 or H1B work visa query instead of giving an answer. Not sure why do they even reply on your post if they don't want to answer!
The platform works both ways in the sense that attorneys get to find some of their prospective clients on avvo.
If you know about more options to ask an Immigration question for free, do let us know in the comments and we will update the article.
Peerally Shah Law Firm Free Consultation
Peerally Law firm has been suggested by several guests of our blog as the one who provide free consultation over phone call.
You can schedule a free consultation on their website or simply call on their contact number (510) -742-5887 directly. You can also email (info@peerallylaw.com) for setting up consultation.
We have not been independently verified this claim though. We suggest to call the shah peerally and then ask if their consultation is free or not before going ahead with your question.
They also run a radio show on KLOK 1170 AM Radio Thursday from 10 am to 11 am (PST) in San Jose, California.
TruVisa.com
Truvisa.com is a platform for immigrants and aims to answer your queries based on real people's real experiences.
It is not an attorney affiliated platform at this time but answers are pretty reliable.
I am also a member on TruVisa and try to answer questions to the best of my knowledge.
Murthy Law Firm LIVE Chat
Murthy law firm also answers your H1B and green card questions their LIVE chat.
Although the Murthy's official page has announced that they have stopped having chat sessions, but i have seen it happening on their Facebook page in Aug 2019.
I think they have stopped doing it but I am not sure. Can anyone confirm if they have used their chat recently?
They also run a free teleconference that's restricted to employers and their questions.
The next best option to find an answer to your non-immigrant question from murthy is to search their FAQs page. I have gone through them and its quite extensive and they have touched quite a number of commonly asked situations over the years.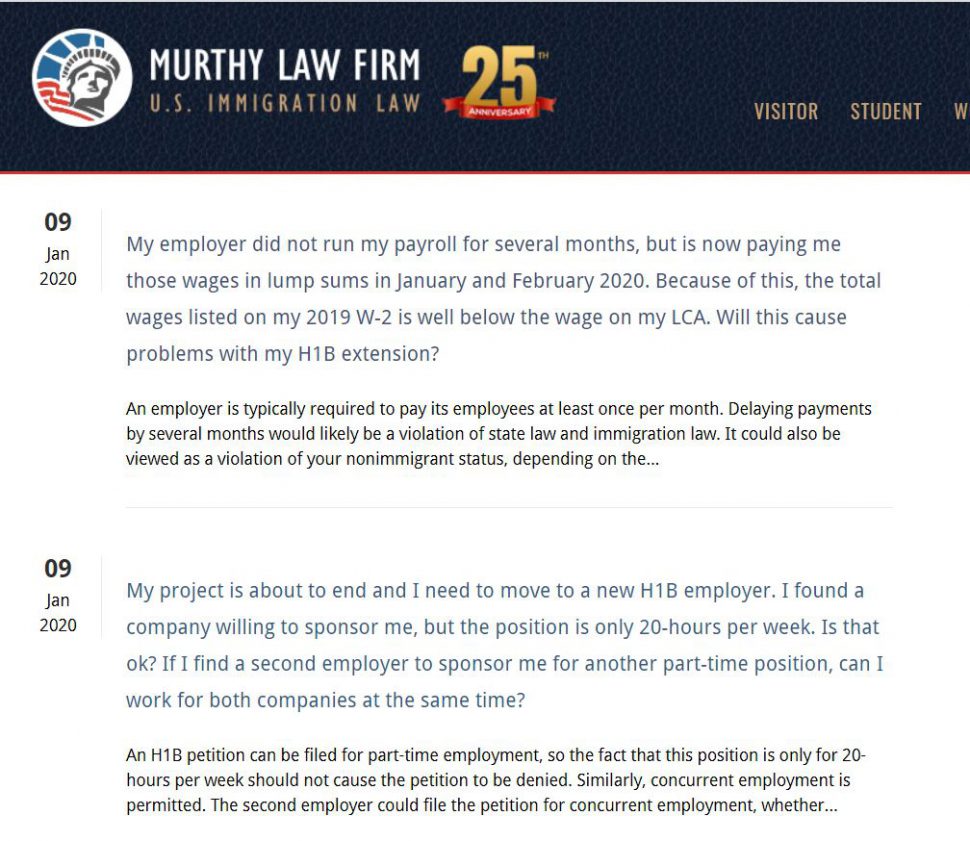 We also link their answer at many places in our articles to add a reliability factor.