Coronavirus – USCIS H1B, B2, F1 Extension Special Situation?
USCIS should allow B2, H1B, H4, L extensions in Coronavirus even after i94 expiry under special situation rule. Sample B2 cover letter to go with form i539.
0
&nbsp&nbsp&nbsp&nbsp&nbsp
Update Mar 25, 2020: A picture citing USCIS has allowed to file extensions in Coronavirus is being shared on social media widely.
We try to clear the doubts on this page and here is the picture with explanation (my comments in red):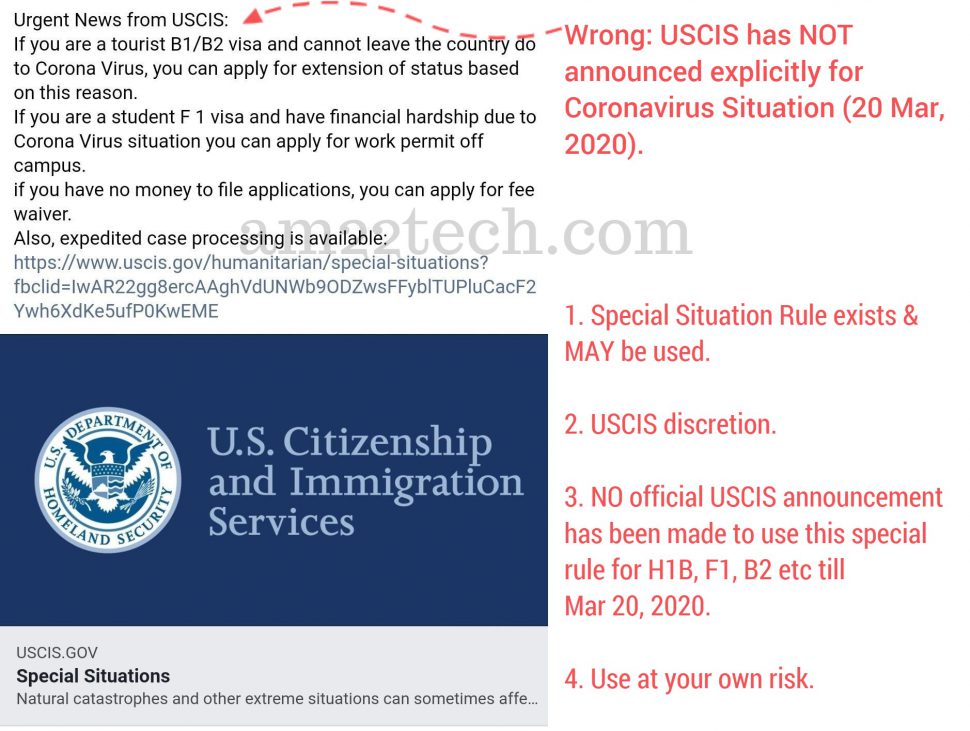 USCIS has a special situation page which categorically says that they can allow filing extensions and change of status applications in natural disasters and other extreme situations.
Examples of Special Situations
Some of the recent cases that have been discussed on our forums:
Attorney Advice – H1B Denied, i94 Expired

Coronavirus has created an unprecedented situation where you are not allowed to travel to home country if they have completely blocked travel like in case of India.

If your H1B has been denied after i94 expiry and you cannot leave US, R & N law immigration attorneys recommends that you file H1B to B2 visitor visa change of status with option Nunc Pro Tunc.

Listen from time 1:53 to 3:30.


Open link in new window.



Can I apply for a B2 Visa extension for My elderly Father During Coronavirus?

You can file B2 visitor visa extension before or after current i94 expiry in Coronavirus situation.

USCIS recommends that you send documents to prove your situation and a cover letter explaining why you are applying for an extension.

Has USCIS declared Coronavirus a special situation officially?

There is no explicit announcement from USCIS with respect to visa extensions due to Coronavirus at this time.

But, going by the list of previous natural calamities and USCIS announcement of keeping Coronavirus medical treatment out of public charge rule, COVID-19 spread should make it to the list in good faith.

USCIS has allowed Hurricanes and California Wildfires among others as special situations.

Coronavirus has already been declared a national emergency by president Trump.

Can H1B apply Extension after i94 expiry In special Situation?

There is no specific visa type mentioned by USCIS in their special situations list.

Any visa type applicant should be able to apply as long as they can prove on paper that they were not able to exit the US due to an extreme circumstance.

Can F1 Students Get EAD for working outside University?

You can request an EAD permit to work outside University.

You will need to fill form i765 and attach all proofs of your extreme situation.

Will H4 EAD will get auto extension if delayed approval due to Coronavirus?

There is no such announcement made by USCIS to automatically extend H4 EAD and L2 EAD during Coronavirus.

We will share if USCIS makes any such decision.
Sample Letter for Extension of B2 visa
As an example, I am using this situation to write this sample B2 extension letter. You can change the visa name as per your requirement.
Situation:
COVER LETTER START
---
To,
USCIS
Subject: Extension of B2 visitor status due to Coronavirus travel ban
Kindly please allow extension of our B2 visa status under the special circumstances as listed here on USCIS page:
uscis.gov/humanitarian/special-situations
India has declared a Coronavirus emergency and Indian ministry of health has recommended not to travel. Here is the official letter (You should print and send it with your application to USCIS):
mohfw.gov.in/pdf/Traveladvisory.pdf

Open link in new window.



Keeping in view our age and the risks of contracting COVID-19, we have decided to extend our stay in the USA until Indian government has announced safe travel for its citizens.

Kindly please extend our stay.
---
Attorneys Request USCIS to Allow Automatic 6 Month Extension
Many well known lawyers and attorneys have requested USCIS to allow automatic 6 months extensions of all visa types.
Leon Frisco has appreciated the announcement made by ICE. USCIS has maintained an absolute silence though on automatic legal visa extensions.
Do you have more situations or questions to ask? Ask them in forums and we will help answer them to the best of our knowledge.