Australia Visa 189 / 190 Visa Medical Test in USA
Written by Anil Gupta - Updated on 23 Apr, 19
Medical tests required for Adult, Child – 189 / 190 Visa
Basic medical tests required for everyone applying for Australian PR using 189 / 190 visa:
Medical Examination (Adult, Child) –
Simple Urine test, height – weight check, eyesight check, simple ear check by looking, simple throat check by looking.
Chest X-ray Examination (Adult Only)
HIV test (Adult Only)
Simple Blood-based test
TB test

Adult – If you answered YES to any TB ques.
Child – If age is 5-10 years
The test names are based on what you answer to the medical questionnaire before generating HAP ID:
| Question | Y/N |
| --- | --- |
| Have you ever got Tuberculosis (TB), treatment for tuberculosis? | No |
| Any close household contact with Tuberculosis (TB) | No |
| Prolonged medical treatment and/or repeated hospital admissions for any reason, including a major operation or psychiatric illness | No |
| Psychological/Psychiatric Disorder (including major depression, bipolar disorder or schizophrenia) | No |
| An abnormal or reactive HIV blood test | No |
| An abnormal or reactive Hepatitis B or Hepatitis C blood test? | No |
| Any Hepatitis B / Hepatitis C / Cancer or Malignancy in the last 5 years | No |
| Diabetes | No |
| Heart condition including coronary disease, hypertension, valve or congenital disease | No |
| Blood condition (including thalassemia) | No |
| Kidney or Bladder Disease | No |
| An ongoing physical or intellectual disability affecting your current or future ability to function independently or be able to work full-time (including autism or developmental delay) | No |
| An addiction to drugs or alcohol | No |
| Are you taking any prescribed pills or medication (excluding oral contraceptives, over-the counter medication and natural supplements)? Please list | No |
| Are you pregnant? (Only for Female) | No |
For Medical test, girl/lady should not be on her menstrual period. A clear urine result is required to pass the medical exam.
You can Generate HAP ID and get medical done even before getting invitation or submitting your final visa application.
Australia Visa 189 / 190 Visa Medical Test in USA Cost
Average $350 for Adult Australian Immigration Physical. $60 for Child. A kid may need a TB test too. Doctor's clinic will decide.
Is Australia Visa 189 / 190 Visa Medical Test in USA Covered by Insurance?
Your Health Insurance does not cover immigration purposes due to it not being a medical necessity so it can only be paid in Cash, debit or Credit.
Can Australia Visa Medical Test in USA be paid by HSA?
An HSA Card cannot be used as a form of payment due to it being through insurance as well.
How much time does Medical test take?
The Medical test process takes about an hour but please keep in mind that the hour does not include the time you come-in and fill out your paperwork and wait to be called.
In USA, most of the time, the wait is average of an hour for a doctor visit depending on the clinic schedule.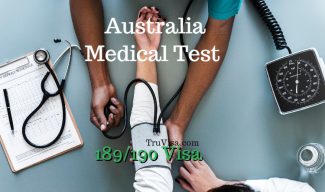 Australia Visa Skilled PR Medical Test
Australia Visa Skilled PR Medical Test in India Cost
INR 6,000 for Adult. INR 4,000 for child.