Documents for ACS Assessment (2 Financial Proof?)
ACS Assessment for Australia PR. Fees = AUD $500. Processing time 7-10 weeks. Color Copy of Passport, Degree, Mark sheets, Work experience letter required.

By Anil Gupta
Updated 7 Jun, 20
You need ACS assessment to claim points for education and work experience in Australia PR system.
You do not need English test result for filing ACS. PTE and IELTS can be done in parallel with ACS evaluation.
ACS assessment fees is AUD $500. ACS assessment processing time is 4 weeks. Officially ACS says that it takes about 10-12 weeks to get the ACS assessment report though.
Documents required for ACS Australia Assessment
#1 Birth Certificate or Passport
Only Applicant details page required from passport. No need to submit all passport pages.
Example: In case of Indian Passport, submit only first and last page showing your photo and address.
#2 Education Degree or Award Certificate
You need to submit degree for your education above Senior secondary i.e. above 12th standard. In Australian language, the degree is called tertiary education.
Title of Degree or Award – Example: Masters of Computer applications.
Name of University or College – Example: Delhi University
Date the Degree was completed should be mentioned.
Note that the education will not be counted as relevant if there is no degree.
If the date printed on your degree does not match your education completion, you can choose to either write the last examination date or the date printed on degree.
#3 Mark Sheets or Mark sheet Transcript
Education mark sheets should have Unit or Subject Names in addition to grades or marks Achieved.
There is no need to get sealed transcripts for degree or mark sheets.
#4 Work Experience Letters
ACS Work Experience letter format requires you to have all your roles and responsibilities mentioned clearly.
Use Sample skill letter for Australia PR to provide information about your day to day job responsibilities to ACS for your Australia ANZSCO job code.
The start date and end date for the job has to be clearly mentioned.
If you just mention the MONTH like JUNE 2018 to MAR 2019, ACS will assume it to be the LAST day of that month for calculating your total work experience.
Official employer Letter head is mandatory. If you cannot get an employer letter, you can get your roles and responsibilities letter from colleague or co-worker.
#5 Resume
Uploading resume to ACS assessment is optional even though official ACS guidelines do ask for CV.
Do you know How ACS calculates your work experience years?
ACS Assessment Fees
| Application Type | Fee (AUD) |
| --- | --- |
| Temporary Graduate – 485 Skills Assessment | $475 |
| Post Australian Study Skills Assessment | $500 |
| Skills (general application) | $500 |
| Recognition of Prior Learning (RPL) | $550 |
| Review Application | $395 |
| Appeal Application | $395 |
Is Notary required for ACS Assessment?
Notary is not required for ACS assessment.

ACS changed the notary requirement in Sep 2019. The only exception is co-worker reference letter for your work experience. This letter needs notary.
Are Salary payment proof required for ACS Assessment?
Salary payment proofs are required for ACS assessment.
I am not able to delete wrong file uploaded on ACS?
ACS system NOT allow to delete the files in case you wrongly uploaded them even though they have a 'Delete' button available. As per official ACS response, you can ignore the wrong files and just upload the correct files.

Some people suggest to create a new ACS online account and then re-start the process. ACS does not allow creating a new account with new email as they match your passport number with existing application in their system.

Is English Test Result Required for ACS Assessment?
English test result are not required for ACS assessment.
Evidence of Paid Employment
You can submit any two documents as evidence of paid employment:
#1 Official Government Tax Records
documents that may include payment summaries, group certificates or notices of assessment (citing company and applicant name) –
Example:
Form 16 (India),
Income tax returns – ITR (India), W2 (USA)
Provident fund deduction,
401k (USA),
Social Security Deductions (USA)
Group Health Insurance Card where premium was paid by employer
Superannuation Payments
#2 Payslips
You should submit one payslip from start of each year of employment one from end of that year. The salary statement of pay stub should have the employer and employee name clearly mentioned.
#3 Bank Statements
Bank statements showing salary payments from employer with employee and employer name.
ACS will not accept bank statements without the employer name clearly visible.
PDF File Scan, Size for ACS
ACS allows uploading up-to 8 PDF files. Use free ADOBE Scan mobile apps to easily scan your documents. This app also reduces the total PDF file size for easy upload to ACS.
Only color copies are accepted. Black and white scans will be rejected.
A separate PDF file should be created for each qualification type and for each Employment reference.
Example,
You will have 1 PDF for your passport.
Then, second one for your Master's/Bachelor's degree + Mark sheets (all years)
Then, third one for your Employment 1 reference letter along with payment evidence.
Then, fourth one for your Employment 2 reference letter and so on.
Max 8 documents can be evaluated for 1 application fees.
This essentially means 8 PDF files excluding the passport PDF.
Each PDF can be max of 3 MB in size.
PDF File name should clearly state the content of file.
Example,
PDF 1 can be named 'Passport.pdf'.
PDF 2 with Masters degree and mark sheet can be named 'Education 1 – Master of Computer Application.pdf'
PDF 3 with Employment 1 can be named as 'Employment 1 – ABC technologies ltd'.
ACS Assessment Awaiting Documents Email
If ACS needs any more documents from you, they will send you an email and move the application status to 'Awaiting Documents'.
If you have not received an email from them and still the status shows 'Awaiting documents', try these options to upload the documents to ACS.
ACS Revalidation
The ACS re-validation fees is AUD $300.
You can apply for re validation but I would not recommend it until you are sure of ACS mistake as they just re-do the same process that they did earlier.
You can communicate with ACS over email or call them to understand how they evaluated your education and work experience before opting for re-validation.
ACS Current Employment End Date
Employment End date has to be mentioned for all employment. ACS will consider the date printed on your current and active employment as the end date for counting the work experience.
Do not worry, you can keep the end date BLANK for current and active employment while filling Australia EOI to increase your work experience points automatically.
Once you are past the education and employment entry page, you will receive an email to create your PASSWORD. Follow that link. It will ask you to enter your email and send send you a new link to reset your password.
Once you create a new password, you are logged in to ACS for completing your application.
ACS Application "In Progress" or "with Assessor"
Once you submit your application, it is normal for it to stay at "In Progress" step for about 10-15 days.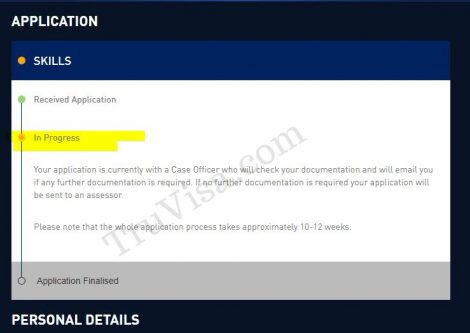 Once the preliminary verification of your documents are done, the next status would show up as "with Assessor".
Assessor is the person who will judge your educational and work experience and give the results.
Sample ACS Assessment Report for 261312
ACS may send the documents to the employer for verification if they feel something has been tampered with. This will delay your ACS report.
Open file in New Window