Birth Certificate for Green Card, NABC Affidavit for i-485 in USA
Birth certificate for USA green card is mandatory. Get affidavit, NABC from home country if not available. Registration of birth within 1 yr.
AM22Tech Team
Updated 16 Jul, 21
You will need an Original birth certificate for filing the USA green card apart from other documents for i-485 filing.
A birth certificate should have this information:
Full Name
Date of birth (dd/MM/yyyy format is acceptable)
Place of birth (Village, City or state name acceptable)
Mother and Father's Full Name
The issuing agency's official seal
Registration date – must be within one year of your birth (365 days).
Birth certificate Issue date – This can be anytime after your birth including the current date.
Birth Certificate From Home Country
We will take the example of India for the purpose of getting a birth certificate. The process might be similar in most Asian countries like Pakistan, Sri Lanka, Bangladesh, and China.
Even if the process of agency that issues birth certificate in your country is different, the content is same.
Birth Certificate from India
Every Indian state has its own process but most of them follow the same process. Your local municipality is responsible for issuing the birth certificate.
These days, most of them have digitalized their records from the past and they should be able to find your birth record from the 1980s. Some of them have also created an online service to request a birth certificate.
Here is a sample birth certificate issued by the Municipality of Delhi in India.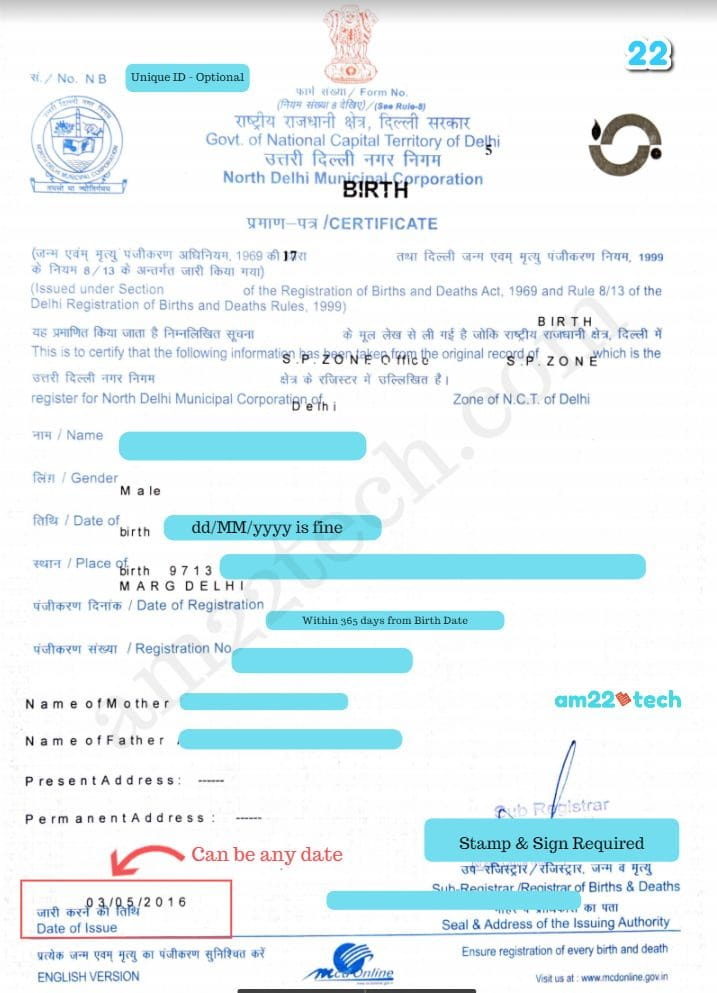 Your birth certificate is acceptable for the USA green card with the form i-485 or I-130 family green card application as long as it has the text written in English.
Translation
If the birth certificate is written in any native language like Hindi, Tamil, Gujrati, Telugu, Chinese, Urdu, etc., then you should get it translated preferably by professional translators.
Professional translators in the USA usually charge about $20 a page.
Any of your friends who knows both your native and English language can also translate it for you. USCIS allows non-professional translators too.
Sample Translation Cover Letter
No Birth Certificate Available
If you do not have a birth certificate, then you would need to provide two secondary documents:
#1 Letter of no Birth record available (NABC)
The best option is to get a letter from your home country authority like the municipality in India that they have no record and cannot issue a birth certificate for you.
This letter should be issued by the municipal authority from your birthplace. If you need help, we can help you get this NABC certificate from India for a small fee with a money-back guarantee.
Use coupon code DWHF5RQ6 to get a $29.99 discount on the am22tech's NABC certificate service.
This NABC can be used for USA Green Card (i485), Australia PR, Canada PR, New Zealand immigration and UK residency or work visa.
Sample letter of no birth certificate availability
This letter should be printed on the official authority's letterhead.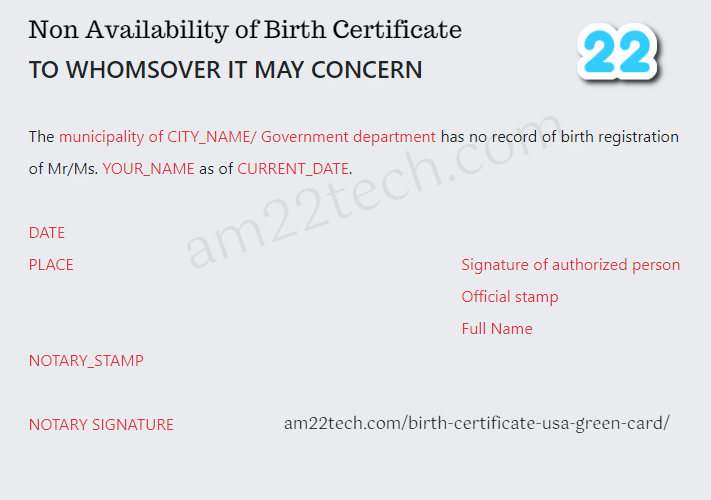 #2 Notarized Affidavits from Parent/Neighbors/Relatives
The affidavit should mention the details of your birth as recalled by this person.
Your mom and dad can write these affidavits for you. If they are not alive, you can ask any of your close relatives who is older than you to write these.
Two separate persons should write this and describe the place, date, and method of your birth as known to them.
These affidavits should have the details of the person who is writing it:
Full name, address, date, and place of birth
Their relationship with you
How do they know you
Date and place of your birth
Names of your father and mother
Sample Birth Certificate Affidavit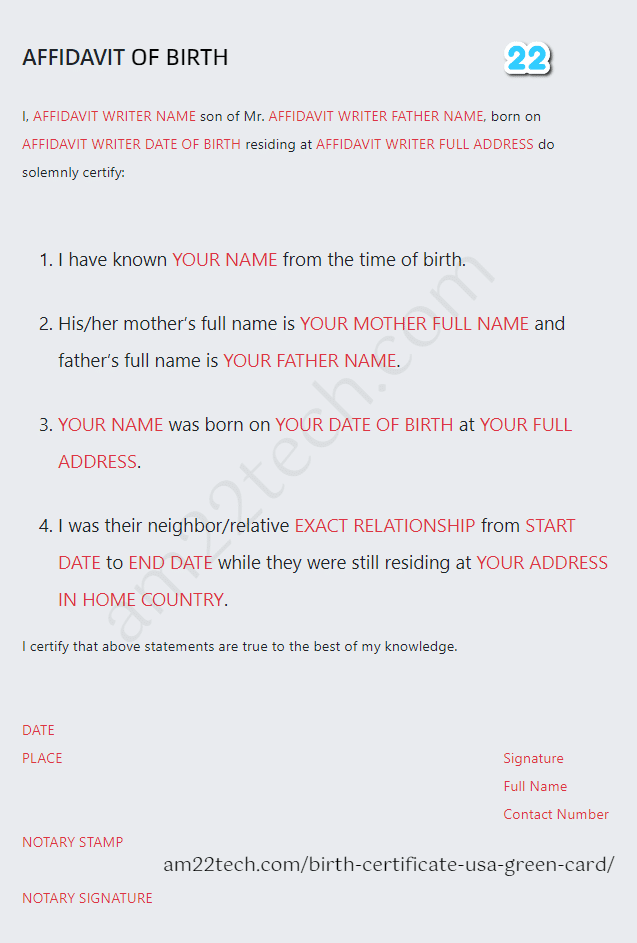 How to create Birth Certificate Affidavit Online?
You can use AM22Tech's Birth certificate app to create affidavits online.
Log in to apps.am22tech.com here.
Enter your details: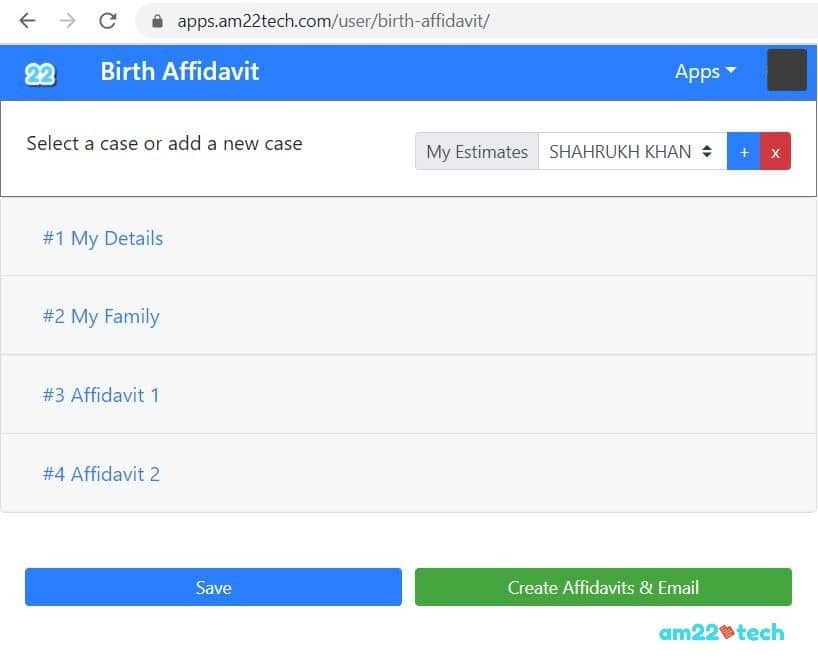 My Details: Step one is to enter your own details as per your passport, gender, country of birth, date, and place of birth.
My Family: Enter your family details including your Father and Mother. Spouse information is optional if you are single or divorced.
Affidavit 1 and 2: This should be the information about the person who is writing this affidavit for you. Enter their full name, date of birth, full current address, and relationship with you.
Click the 'Save' button to save your data.
Click the 'Create Affidavits & Email' button to create and email your affidavits to your email address.
Affidavits cannot be viewed online for security reasons. They can only be sent to your own email address that you used while registration on am22tech.com.
Print each affidavit separately on an A4 white paper.
Each affidavit writer should sign the affidavit.
Enter the date of sign and then get the notary signature and stamp.
Use a scanner to scan and save it for your records.
FAQ
Can I use Birth Certificate issued by Indian Embassy in USA?
You cannot use a birth certificate issued by the Indian embassy for a Green card application in the USA.

As a matter of fact, nobody can use their Embassy issued birth certificate to file their i-485 or i-130 green card applications.
Should Name on Passport match the Birth Certificate?
The same name on the passport and birth certificate is good to have.

If the name has changed after birth, then you should have all the proofs of the name change.

For example, if your name has changed after marriage, you can show the name change using the passport and marriage certificate.
My birth certificate only has the first Name. Is it allowed?
The birth certificate is required to have your full name.

If you have just one first name printed, you can get this fixed at your birthplace and get a new certificate with your full name.

This is highly recommended.
Can I use my class 10th certificate in place of Birth Certificate?
You cannot use the class 10th certificate in place of a birth certificate for the purpose of the USA green card.
My Birth certificate's registration date is after one year of my birth? Is it acceptable?
Your birth certificate registered one year after your birth may or may not be accepted by USCIS.

We suggest submitting the affidavits from neighbors or relatives for your birth too along with the birth certificate that was registered after 375 days of birth.
Is professional translator required for translating birth certificate to English?
It is not mandatory to use a professional translator for a birth certificate.

You can avoid professional paid translation service as long as someone who knows both your native language and English can translate your birth certificate without errors.

You can ask your friend who can do it for you. Your friend would need to write a cover letter on plain paper with all his contact details like Name, Phone Number, and contact address with the translation.
Can I get Birth Affidavit from My Mom and Dad?
you can get a birth certificate affidavit from your mom and dad but we suggest getting it from relatives or close neighbors.

You can choose these combinations to add more weight to your affidavits:
1. Affidavit 1 from either parent.
2. Affidavit 2 from a close relative or neighbor who is older than you in age preferably by about 4-5 years. This can be your father's or mother's brother/sister or anyone who witnessed your birth.
My birth certificate does not have my name, parent's name spelling is wrong or the last name is missing. Can I use it?
You can use the birth certificate even if your own name is missing from the birth certificate. You can write it by hand.

It is okay if your last name is missing from the birth certificate.

A birth certificate with a missing parent's last name or misspellings is also acceptable.

If you want to be on the absolutely safe side, you can get the two affidavits mentioned above, and submit them.
Can i get Affidavits made in the USA?
You can get the affidavits made in the USA as long as the person who is writing the birth certificate affidavit knows you from your home country and can vouch for your birth.