Chance of Canadian PR Invite (with 450 points in 2020?)
Chances of Canada PR are good with CRS score 450+. Look for PNP state sponsorship options with 400-450 points. Study Masters, get Job in Canada for better chance.
Sandeep Mishra
Updated 19 Jun, 20
Your chances of Canada PR are based on your CRS score and this is the current situation:
If your score is above 450, then it may be worth waiting for a couple of months in the hope that the scores come down so you can get a direct ITA (Invitation to Apply).
If your score is between 400-450, start considering PNP options (state-sponsored Canada PR) at the earliest.
Less than 400, PNP is your best chance. Or try improving your CRS score by taking up a Masters's degree.
How to Find My Canada PR Points?
Canada's immigration system is points-based and the CRS calculator can help you find your points.
Applicants receive points for their age, work experience, education, language ability, Canadian relatives, and provincial nomination.
So let's break that down:
You need to know how much score you can get, including the highest and lowest possible score
You want to know whether your score is good enough for direct PR or other immigration routes
CRS calculator is an online tool published by the Government of Canada that calculates your exact score based on your input criteria.
The score generated on this tool is the same score you will officially get whenever you create your Express Entry application. More transparency is always good, right?
How does the CRS Calculator work?
CRS calculator is available on Canadian government website.

It asks you questions and at the end when you submit the questionnaire, you get your score as well as a breakdown of how you earned it.
Are there any pre-requisites to using CRS calculator tool?
There are no pre-requisites to use the CRS calculator. Some of your answers are going to be hypothetical.

For e.g., your IELTS scores, and the result of your WES evaluation. You can perhaps take a free IELTS test to see where you are likely to land.
Do I need any documents in hand to use CRS calculator?
There are no documents required to use CRS calculator online. You can enter your IELTS score as you may feel you can achieve.
Does the CRS result get recorded and will CIC use these details for my application?
No information is recorded from the CRS calculator.

This is just a free tool you can use to check for yourself. Details are not recorded or referred to on your application. You can use the tool as many times as you want.
What Affects My CRS Score the Most?
The CRS score is most affected by English language points. IELTS score of 8-7-7-7 or above (8 in listening) can dramatically affect the total CRS points.

The second factor is Education – Your Master's degree has to be recognized by WES as an equivalent Master's in Canada to get points.

Third is Spouse Factor – If your spouse decides to take the IELTS and WES evaluation, you can get additional CRS points.

Last but not the least, the younger and more qualified partners should be the primary applicant to get the highest CRS score.
How Do I know if I will Get an Invite with My CRS Score?
Canada Immigration department (CIC) runs a draw and announces a points cut-off every 2 to 3 weeks. The points to get Canada PR invite changes with each draw.

Example: As of December 11, 2019: the cut-off was 472. If your score is equal to or higher than 472, AND your application is already in the express entry pool, then you will receive an Invitation to Apply (ITA).
CRS Score Cut Off Meaning
As you can see from the chart below, at the time of cut-off there were 134,635 applicants in the Express Entry pool. Among these, 3200 applicants above the score of 472 were invited.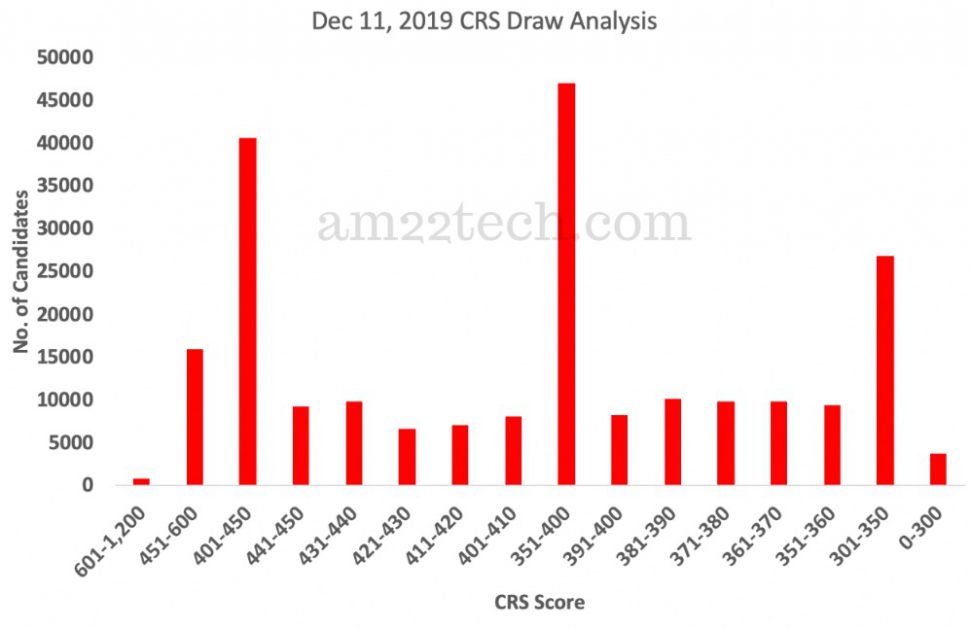 On average, CIC is known to typically hand out invitations to 3600 applicants in each draw. So what does this mean?
It means that CIC is more focused on inviting a fixed number of applicants in each draw. The cut-off score is decided by the number of applicants in the pool with the highest scores.
CRS Score Trends
Is the score likely to come down, go up further or stay the same?
Since 2017, the CRS scores have been steadily rising. There are some reasons behind this such as Canadian PR becoming more popular and increased awareness among prospective immigrants.
The greater entry of highly educated immigrants in the pool, due to whom the average cut-off score is increasing. Or it could also be due to an increased number of Canadian work experience applicants with higher scores in the pool.
So is there a trend?
Yes, that of the CRS score increasing. Since this is a demand-driven system, the cut-off is decided entirely by the average score of the applicants in the pool.
How to Increase CRS Score?
If you are not able to increase your points by other means, we recommend these options:
Apply for a study permit, and look to complete your masters in Canada.
Apply for a work permit through your current employer and gain work experience in Canada.
Will the CRS scores ever come down to 440?
We'll be honest here and say that it is impossible to predict CRS scores. There have to be frequent draws, spaced close to each other for the top of the pool to empty out, enough for the scores to drop.
As you can see from the image above, in the last two years the scores are steadily going up, despite there being sharp falls in between.
The lowest CRS cut off score to date was 413 sometime in 2017. Since then the trend suggests the cut-offs are going to increase.