Police Clearance Certificate in India (Passport Office)
Indian police clearance certificate from passport seva kendra. Pay fees online Rs 500. Processing time 1 to 30 days. Police verification may be required.
Anil Gupta
Updated 7 Jun, 20
How to get Indian Police Clearance in India?
If you are currently living in India, the Indian PCC should be obtained from Indian Passport services.

If you are currently living outside India i.e. you are an NRI, then you should get Indian police clearance from Indian Embassy.
How much is Indian PCC fees in India?
The Indian Police clearance fees is INR 500 per person in India. Fees is non-refundable.
What is Indian PCC processing Time in India?
Indian police clearance certificate is issued the same day (1 day)  on your visit to Indian passport office if there is no need for police verification.

If police verification is required, then it may take up-to 1 month. Indian PCC is issued after physical police visit to your address and a positive report.
Can i apply Indian PCC Online?
You can apply Indian PCC online but you will need to visit nearest regional passport office to get the physical copy of clearance certificate.

The RPO verifies your address proof too.
Can I apply PCC in India if I am living in Australia, USA or Canada?
You can apply PCC in India even if you are living outside India as an NRI.

Note that passport office will verify your current address proof and if you are not living in India, you will need to get police verification done at Indian address too.

My suggestion is to get Indian PCC from Indian embassy if your an NRI.
Police Verification in India
Police verification is required if your current residence address is different than what is written in your current valid passport.
Examples
#1 If your first passport was issued after 1 Jan 2005 and you apply for a certificate in 2012.
You are currently residing at the same address as in the current passport, then you are issued the PCC on the same day of appointment in the passport office, without any new police verification.
#2 If your first passport was issued after 1 Jan 2005 and was renewed on 1 Jan 2015 with the same Indian address, then applying PCC any time until 31 Dec 2017 will not trigger any new Police verification.
If you apply for PCC anytime after 1 Jan 2018, there will be a physical police verification required, even if you have been staying at the same address.
Police verification is valid for a period of 13 years, after which, a new one is required.
Documents
#1 Application Receipt – or SMS on mobile from Passport services.
#2 Passport (Original) with self-attested photocopy of first two and last two pages including ECR/Non-ECR page and page of observation (if any).
#3 Current address proof
You are required to submit the proof of address of the present address only, irrespective of the date from which you are residing at the current address.
Water Bill
Telephone (Indian landline or postpaid mobile bill)
Electricity bill
Income Tax Assessment Order
Election Commission Photo ID card
Proof of Gas Connection
Certificate from Employer of reputed companies on letterhead
Spouse's passport copy (First and last page including family details mentioning applicant's name as the spouse of the passport holder), (provided the applicant's present address matches the address mentioned in the spouse's passport)
Parent's passport copy, in case of minors (First and last page)
Aadhaar Card
Rent Agreement – The Rent Agreement duly registered under Section 17 of the Registration Act, 1908 and executed in favor of the tenant by the landlord for a period of more than one year, will be accepted as a valid proof of address
Photo Passbook of running Bank Account (Scheduled Public Sector Banks, Scheduled Private Sector Indian Banks, and Regional Rural Banks only)
How to Apply – Passport Seva
The application process for PCC in India starts with taking an appointment online at the closest regional passport office.
#1 Register (create an account) on the Passport Seva Online Portal. Click on the "Register Now" link on the Home Page.

If you have already registered earlier like when you applied for Passport, you can directly log in to your account.
#2 Login on the Passport Seva Online Portal.
#3 Click "Apply for Police Clearance Certificate". You can either apply online or download and fill the form offline.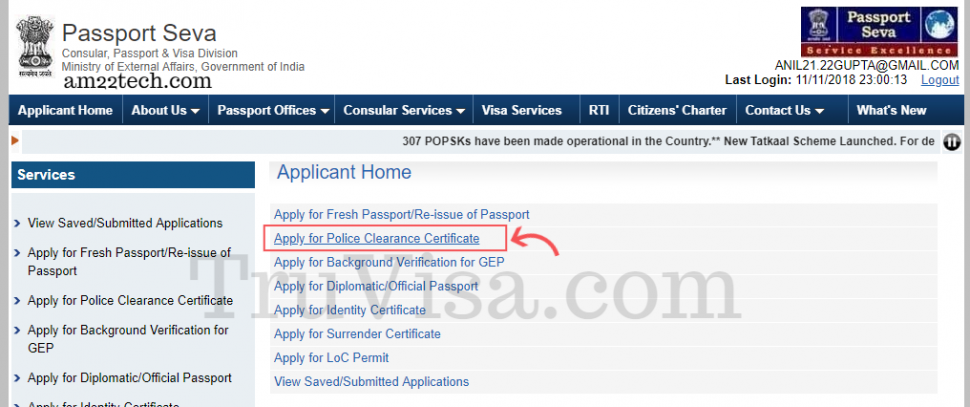 #4 Enter Passport Details: Fill your current valid passport details.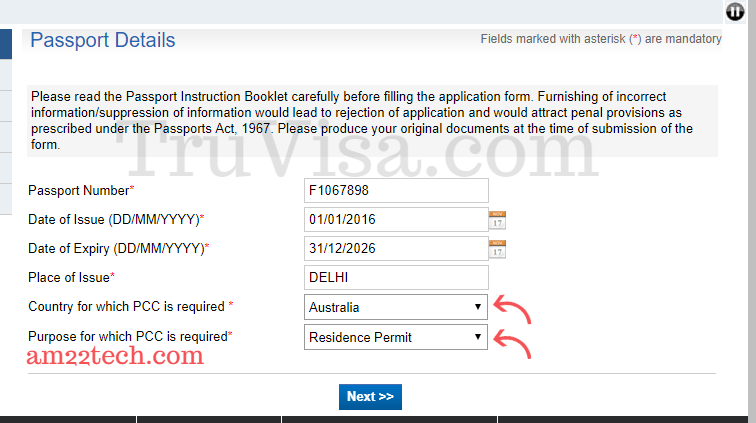 #5 Country for which PCC is required: Select the country like Canada, Australia, UK, or the country you are applying for.
#6 Purpose for which PCC is required
Select the purpose:
For Australia 189/190/489 PR, choose 'Residence Permit'.
For Canada PR, choose 'Residence Permit'.
For USA Green Card, Choose 'Immigration Purpose Other than Citizenship'
Options for selecting purpose:
Citizenship/Nationality Application
Education/Research
Employment Visa/Work Permit
Immigration Purposes other than Citizenship
Long Term Visa Stay
Residence Permit
Tourist Visa
Others
#7 Applicant Details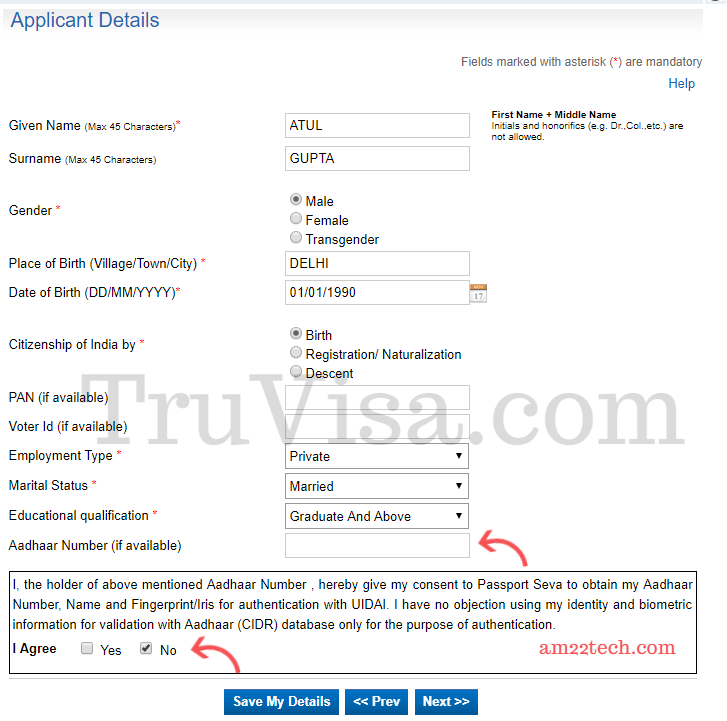 If you do not have Aadhar card, then choose 'No' on the 'Agree' check box.
If you choose 'yes' check box, you will have to provide 'Aadhar number'.
#8 Fill Family Details – Father Name, Mother Name, and Spouse name (if married).
#9 Fill your current address. Choose Regional passport office (RPO) that you want to visit and then pay fees online.
You cannot change the RPO after saving the application form details.
#10 Click the "Pay and Schedule Appointment" link on the "View Saved/Submitted Applications" screen to schedule an appointment.
Online Payment is mandatory to book appointment.
You can pay by Credit/Debit Card (MasterCard and Visa), Internet Banking (State Bank of India (SBI) and Associate Banks and Other Banks) or SBI Bank Challan.
#11 Click the "Print Application Receipt" link to print the application receipt containing Application Reference Number (ARN)/Appointment Number.
#12 Upload self-attested scanned copy (only pdf) of supporting documents.
You can scan using mobile Camscanner app.
#13 Visit the Passport Seva Kendra (PSK)/Regional Passport Office (RPO) where appointment has been booked within 90 days along with original documents.