NRI
NRI's life made easier with real experience about passport renewal, visas, power of attorney and other topics.
4 Jan, 18
Best remit rate to India is offered by Indus Ind bank over 3-5 days USD to INR money exchange service. Service tax is deducted from your remittance.
0
Finance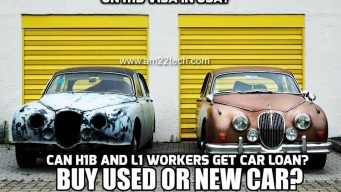 20 Nov, 17
Can you buy a new Car while on H1B or L1 work visas in USA? Should you buy an old car or a new car? Can you get car loan for new car? Yes, you can.
10
Finance
20 Nov, 17
Green card process has 3 main steps: PERM, I140 and I485. Minimum processing time is about 2 years and max is defined by your country's queue.
8
NRI