Check LCA Status Online, H1B Salary (Processing Time)
Check H1B LCA status online. Processing time is 5-7 days. SOC code, Employer email, Salary publicly available Labor Condition Application. PERM is not same as LCA.
AM22Tech Team
Updated 19 Jan, 21
How to Check LCA Status?
You can check your H1B LCA case status on Department of Labor (DOL)'s FLAG website here. Enter your CA case number and you will be able to see its current status without employer's help.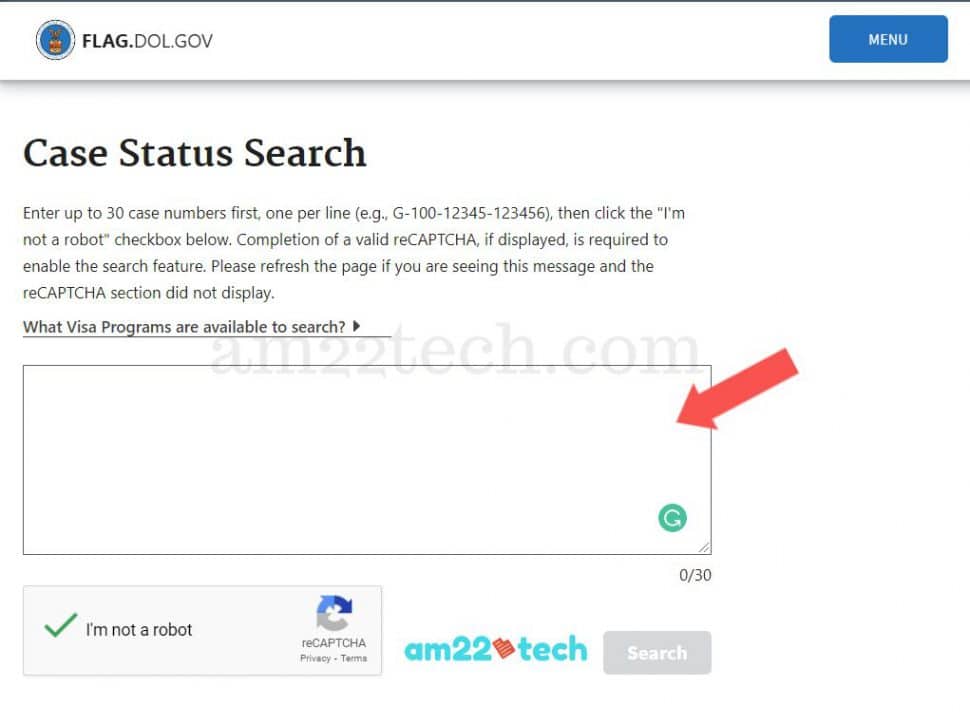 The other option to check LCA status is using the quarterly data shared by DOL on its Data Disclosure page.
Download the excel file given under the LCA programs panel.
Open and check data.
Note that this is historic data and will probably not show your LCA details if you have just filed it a couple of days ago. DOL uploads new data in April, July, Oct, and Jan. So, you can expect it to be 1-month old data based on when you are checking.
Normally, an LCA is certified within 15 days of filing and hence you will never be able to get its status online on the DOL website under the new website known as the flag system.
H1B SOC-CODE on LCA
See the highlighted point 2 on your LCA for your H1B SOC-code.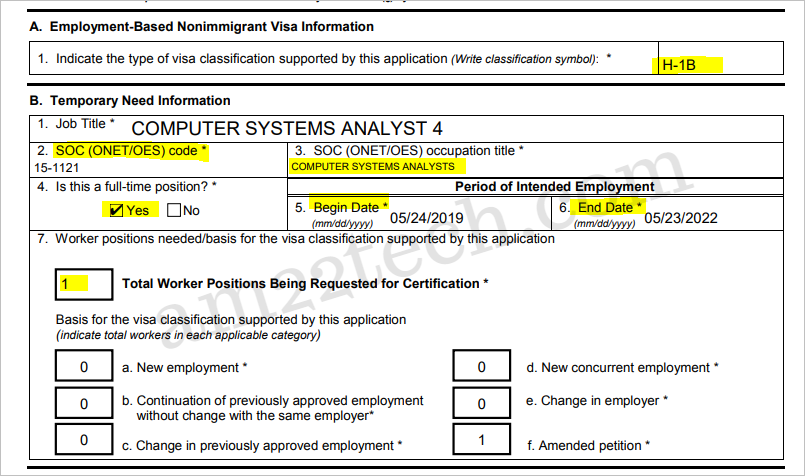 What is LCA?
LCA is a Labor Condition Application. LCA is required for filing the H1B work visa application.
Form 9035 is used to fill up an LCA application.
H1B1 and E3 visa applications also need LCA to inform American workers and protect their rights.
LCA includes information about a full-time job along with start and end date. Your SOC code and job title is a very important part of H1B specialty occupation criteria.
You should choose it very carefully as USCIS denies the application if your job does not require special skills.
H1B LCA Salary
All H1B, H1B1 and E-3 LCAs are uploaded by DOL on their website in an excel sheet format for public viewing.
You can search your H1B salary and compare it with your co-worker's pay using am22tech's H1B salary search app here:
Search H1B Salaries & Employers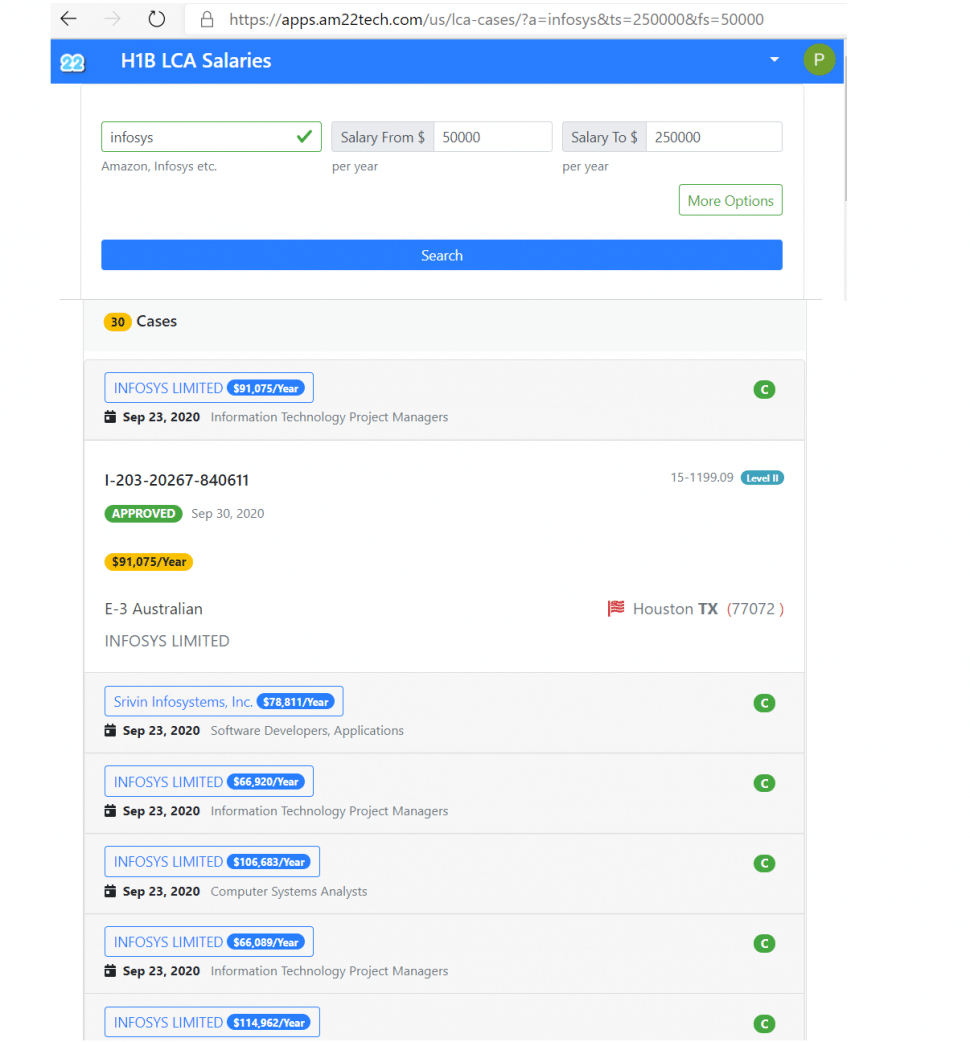 PERM LCA Status Online
You cannot check your PERM case status online on the DOL Flag site yourself. Only your employer or attorney has access to the DOL website to monitor your case status while it is pending.
Instead, you can use this PERM processing time estimator that tries to find an estimated date for your PERM approval based on similar case data:
Estimate PERM Approval Time (Tracker & Cases Like Me)
Your green card sponsor employer will also receive the PERM audit notice if your application is part of about 30% of cases that are normally audited.
You will be able to see the status as 'Certified' when your Permanent labor application is finally approved though.
LCA Processing Time
LCA processing time is 5 to 10 days when filed online on ICERT website.
PERM is a permanent LCA for your US green card application. PERM processing takes about 4-6 months.
H1B1 from Singapore, Chile, and E3 from Australia applicants can directly apply for their work visa in the US embassy with approved LCA.
Is LCA data publicly available?
LCA is available for the public online on the ICERT website. You can see your co-worker salary, job title, and employer data online easily.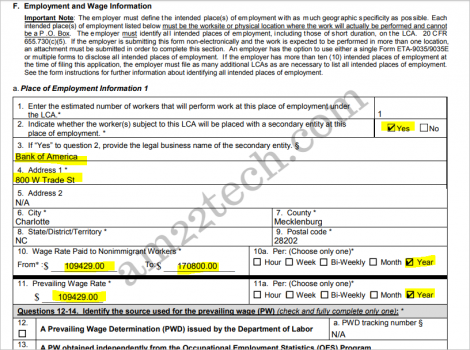 If you are working in the USA on an H1B visa, your LCA will also be available online.
You can find your H1B employer's US office address and email from LCA section D – employer point of contact information: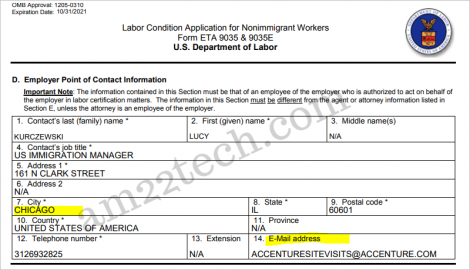 iCERT Case Number
iCERT case numbers are generated by the Office of Foreign Labor Certification (OFLC) Department of Labor for each application you submit for processing.
OFLC case numbers format:
[Visa Program Designation]-[3-digit Visa ID]-[5-digit Julian Date]-[6-digit Number Assignment]
Example: G-100-12345-123456
Visa Program designation includes the following values:
G, A = PERM Application
I = Labor Condition Application
H = H-2A and H-2B Applications
3-Digit Visa ID (000) values are hard coded and include the following values:
100 = Basic PERM Application
101 = PERM Application for Professional Athletes
200 = H-1B
201 = H-1B1 Chile
202 = H-1B1 Singapore
203 = E-3 Australian
300 = H-2A
400 = H-2B
The next 5 digits indicate the Julian Date on which the case was submitted for processing.
The next 6 digits indicate a random number assigned to the case by the iCERT System.
DOL FLAG system
The Foreign Labor Application Gateway (FLAG) is a cloud-based portal designed to replace OFLC's current iCERT System and will serve as the new application filing and case management solution for all foreign labor certification programs
FAQ
Difference between USCIS Case Number and LCA Case Number?
USCIS receipt number is different than the LCA number.

You cannot get the USCIS Case number from LCA or ETA Case Number.

LCA is filed by your employer with DOL (Department of labor) whereas the H1B or L visa petition is filed with USCIS. Both are different organizations within the US government.
Can Multiple employees have same LCA Case Number?
It is possible that your employer files a common LCA for multiple employees and hence multiple employees have the same LCA case number.

See box 7 in LCA section B in the image below. This box can be used to specify if this LCA is only for one employee or multiple employees with the same SOC code.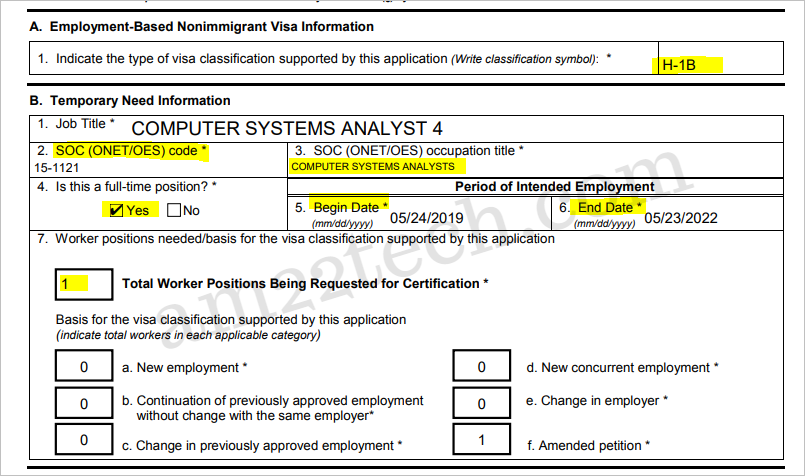 What is LCA Validity?
LCA is usually requested for 3 years. Your H1B application can be approved only for the term as per LCA validity.

You can reuse approved LCA for filing another H1B application but the end date on H1B cannot be greater than the LCA end date.
What's the difference between LCA posting and LCA certification?
LCA posting means that your employer posts LCA on publicly visible areas in your office.

LCA certification is applying for LCA approval with the Department of Labor (DOL).

In cases of the H1B Amendment, you need a certified LCA whereas, in case of changing working location within the same MSA where no amendment is required, you can only do LCA posting.

LCA can be posted at either your home or at the employer headquarters building if you are working from home on a work visa.

Recently, DOL made it mandatory to mention your end client name on LCA to avoid denials.