USA
NRI's life made easier with real experience about passport renewal, visas, power of attorney and other topics.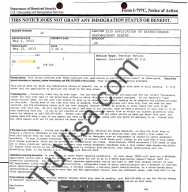 Form I-797 C Notice of Action is an official USCIS letter of Receipt of payment, Rejection, transfer, fingerprint, interview appointment sent by USPS mail.
0
Forms
USA
Change in Appearance Form required if you have beard, moutache, wear glasses, turban, gained / lost weight and aged. CKGS may reject application if change found.
0
USA
Don't worry if you forgot to upload photo on NRI online passport as it's optional. Send NRI form with glued paper photo.
0
USA