Visitor Visa – B1/B2
US Visitor Visa B1/B2 can be used for business travel or tourism.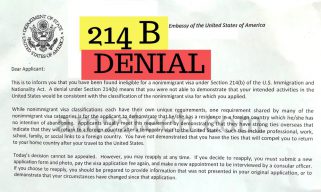 5 Apr, 19
214B visa refusal means that US visa officer was not convinced in interview about your return to home country. Re-apply B1/B2, F1 anytime again with new proof.
0
Study Visa - F1
USA
Visitor Visa - B1/B2
28 Mar, 19
Document required for B1/B2 visitor visa. Sample Employment, Consulate and sponsorship letters. Multiple entry tourist visa for parents. Stay in USA for up-to 6 months in one stretch.
61
USA
Visitor Visa - B1/B2
12 Feb, 19
Sample Form i134 Affidavit of Support (Financial responsibility) for sponsoring parents, relatives or friend for US visa like B1/B2 or Green card.
0
Forms
USA
Visitor Visa - B1/B2