Is Disaster Recovery FEMA Help a Public Charge? (Is H1B Eligible?)
Non immigrant visa workers, students, visitors are not eligible for FEMA help. USCIS does not count disaster relief as public charge. US citizen kid eligible.
AM22Tech Team
Updated 5 Sep, 21
The disaster recovery FEMA is a US federal government program that aims to help people with financial help if the natural calamity has been declared a national disaster.
FEMA helps with:
Direct Cash Financial Help
Low Interest Subsidized Loans
Other ways.
The primary question that nonimmigrants in the US on a work, study, or other visa have is the applicability of FEMA assistance as a public charge during the Green card (i-485 or immigrant visa) process.
#1 H1B, L1, F1 non-immigrants
You are not eligible for FEMA assistance if you are on a nonimmigrant visa in the USA. Green card holders are eligible.
If you have a US citizen kid including minor below 18 years of age, you can apply for FEMA assistance using his/her name, SSN, and age on the disaster assistance website. Many L1 – L2, H1B, H4, F1, B1, and B2 visa holders affected by natural disasters have US citizen members in the family and this can help you.
The only exception is the T visa.
#2 Insurance
The FEMA program is considered a secondary help and for bridging the gap between your insurance and the actual loss.
Example:
Texas Winter Storm 2021 – You should claim your home insurance for damages caused by the burst pipes or the loss of electricity. If the repair cost is falling short in the insurance coverage, then you can opt for taking a subsidized home repair loan using the FEMA program. You will need to work with your electricity provider if you got a higher than normal bill because your plan was tied to wholesale electricity rates rather than fixed per KiloWatt rates.
California Wildfire – You should be able to claim FEMA help if you are not on a non-immigrant visa in the USA.
USCIS Public Charge
As per official USCIS public charge guidelines, the Disaster relief will not be considered a public charge for granting Green cards.
So, the primary concern is the eligibility of the visa holders for FEMA rather than public charge rule.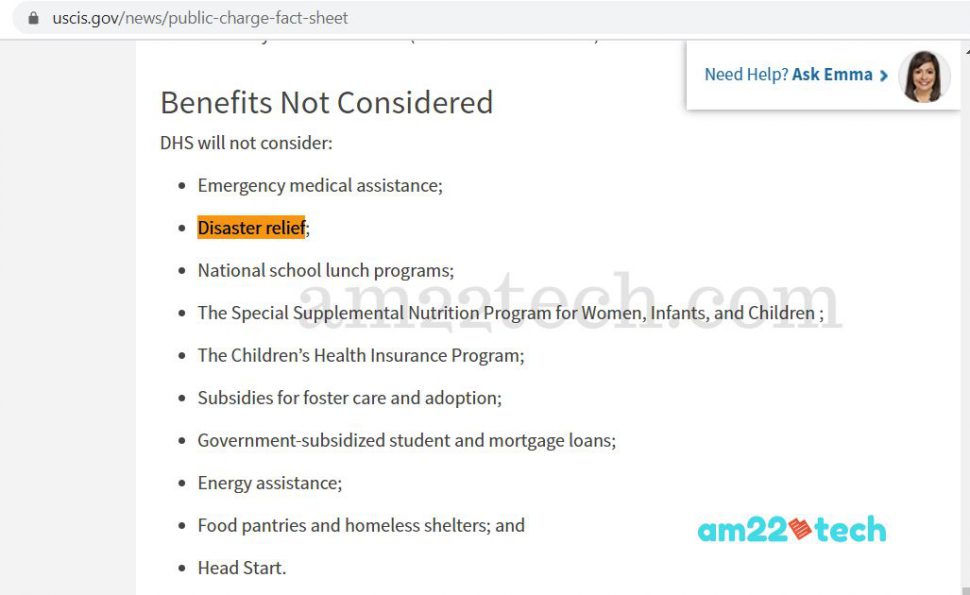 How to Apply FEMA?
You can apply for FEMA help on DisasterAssistance.gov official website.
You will need to enter your zip code to know if your specific county has been declared as affected by the natural disaster. If it is, then you will be able to apply for help online by clicking the button 'Apply Online'.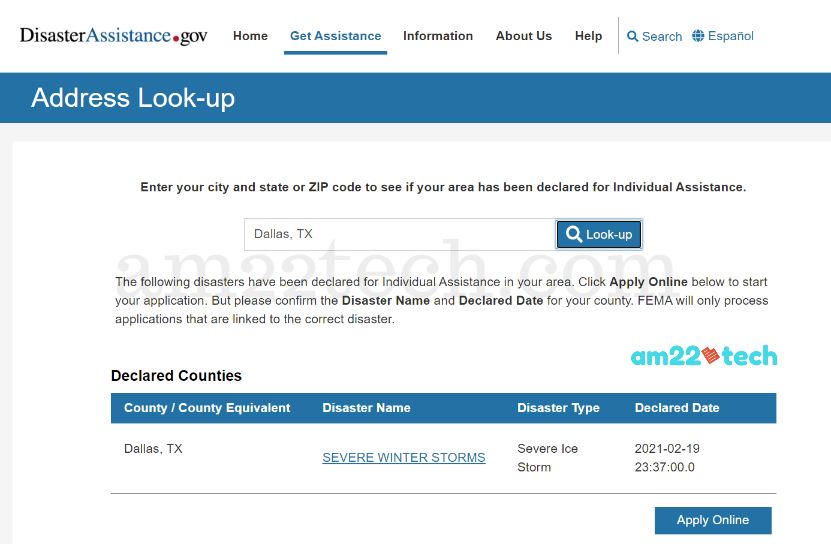 Are H1B Visa Holders Eligible for Cash Assistance from FEMA?
Nonimmigrant Visa holders like H1B, L1, F1 are not eligible for FEMA assistance. if you have any US citizen in the family like a US-born including a minor kid less than 18 years, then your whole family will be considered eligible.

In the US, the Green card is also called a visa but it is actually an immigrant visa and is eligible for FEMA help.
Who all are eligible for Disaster Relief?
A green card holder, refugee or asylee, person granted withholding of deportation, withholding of removal, or humanitarian parole into the U.S. (if the parole is expected to last at least one year), a Cuban or Haitian entrant under the Refugee Education Assistance Act of 1980, a survivor of domestic violence (spouse or child/children) with a pending or approved petition for relief; or a trafficking survivor is eligible for FEMA disaster relief.
Can Undocumented Parent Apply FEMA help with US citizen Minor Child Name?
An Undocumented parent can apply for FEMA help using the US citizen child's name and SSN. FEMA will only verify the child's immigration status and not the parent in this case.
Can h1B apply Disaster recovery help using US citizen Kid's name?
An H1B visa holder can apply for disaster recovery help using his kid's US citizen's name. Note that parent's H1B status will also be verified by FEMA and will not be an issue as long as the child is a US citizen.