USA Green Card Process – PWD, PERM, i140 Portability
US Green card process H1B PERM, I140 & I485. Minimum processing time = 2 yrs. Max = Country of birth queue. Longest waiting time for India & china EB2, EB3.
40
&nbsp&nbsp&nbsp&nbsp&nbsp
Apply for Green card while you are in USA working on H1B or L1 work visas. Employer sponsored GC process has 3 main steps:
#1 US Green Card PERM
PERM labor certification processing can take up-to 15 months (1.2 years) in total with No premium processing available.
PERM process has multiple sub-steps and all have to be completed by your sponsoring employer, usually the H1B or L1 sponsor.
The U.S. Department of Labor (DOL) issues PERM to certify that there are no qualified Americans available or qualified to perform the job, and that hiring a foreign national will not harm the wages and working conditions of American workers.
#A PERM Publish job advertisements 2-3 months
PERM meaning: The employer has to show recruitment efforts, including publishing two Sunday newspaper ads, over a period of 2 to 3 months before the PERM application can be filed.
The employer's financial documents are required to prove their ability to pay the wage offered at the time of PERM filing.
You can start PERM when an H-1B transfer is under process.
All the paper work for the job applications received, interviews taken (if any) and interview rejections (if any) have to be maintained by HR.
DOL (Department of Labor) can ask for all these if your case comes under Audit later.
PERM can be filed even if you are outside US or have not joined the employer in US yet.
#B PERM Prevailing Wage Determination 1-3 months
Prevailing Wage Determination identifies the minimum salary that an employee should get at the work location (city) that your employer wants you to work.
Check current prevailing wage determination time here.
#C File PERM with DOL
Your employer might ask you to get the 'Skill letter for Green card' and 'Experience letters' from your past 5 working years. Note that Skill letter is different than Experience letter.
These letters are not required immediately, but would be required if your PERM application is selected for audit.
The PERM application is generally filed electronically; and the DOL (Department of labor) reviews the application and requests an audit, or issues the certification.
There is no filing fee for PERM. You can file 7th year H1B extension if your PERM is pending for 365+ days including Audit.
#2 Form I-140 Immigrant Visa Petition
i140 processing time is 6-8 months in regular application. i140 premium processing gets approval in 15 days.
I-140 application is filed by sponsoring employer and locks your Green card priority date. You can apply H1B transfer using pending I-140 at the time of job change.
The i-140 approval notice shows GC priority date, immigrant visa category, and country of charge-ability. The I-140 must application has to be supported by the approved PERM application.
Sample i797 approval for I140: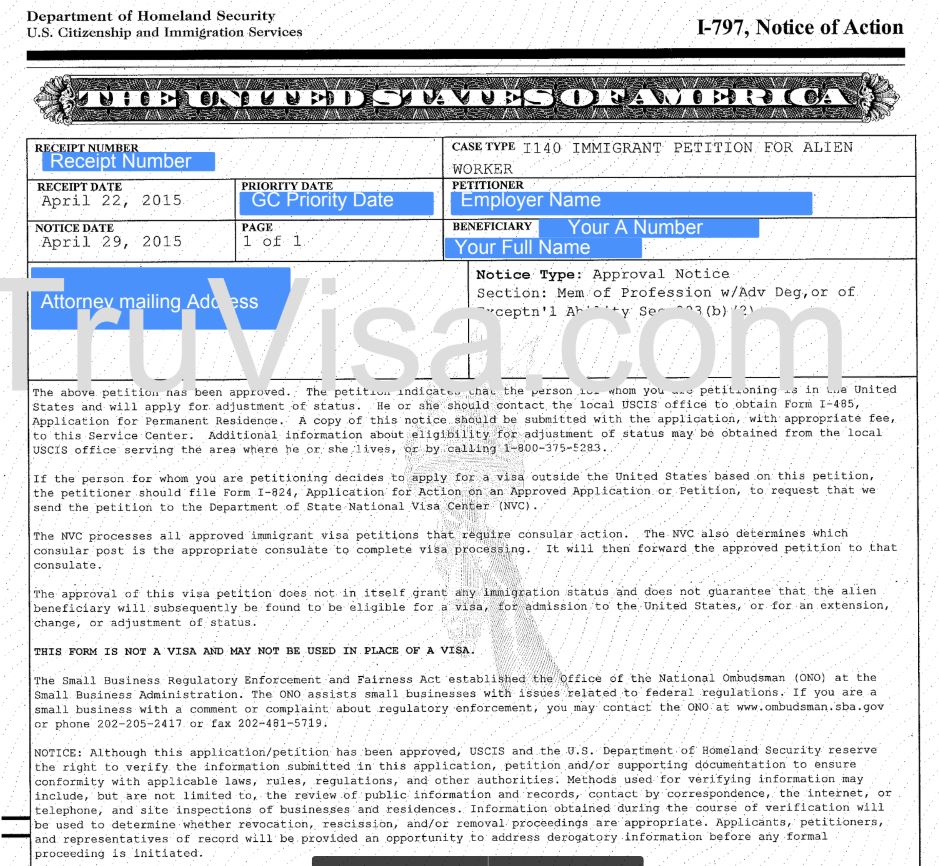 Spouses of H1B worker with approved I-140 approved can file for H4-EAD work permit.
#3 I-485 Green Card Application 12-15 months
Form i485 can be filed to get US green card when your country's priority date becomes current.
USCIS issues an immigrant visa (called Green Card) to the applicant and any dependents (spouse and/or children) under 21).
The status of the applicant is adjusted from "non-immigrant" to "immigrant." (Lawful permanent resident status).
I-485 fees
I-485 EAD card
i485 EAD processing time is usually 90 days. i485 EAD is issued for period of 1-2 year and can be renewed until i485 is pending.
I-485 Processing Time
I485 processing time varies from 10 to 12 months depending on your priority date remaining current at the time of approval for your country of birth.
The USCIS will send the actual "green" card within 1 to 3 months or the applicant can go to their local CIS office to have his or her passport stamped at that time to permit foreign travel.
The employee should show their Green Card to the H.R. department to update I-9 form.
Green Card Processing Time?
The total time from start to finish for an employer sponsored Green card is based on the country of birth specific queue. Most of the countries have immediate GC availability except China & India.
India has the longest waiting time in terms of GC availability.
What this means is that if you are an Indian and started the GC process in 2019, you can't file i485 application unless your country's Priority date date reaches 2019.
So, the total time apart from the timings mentioned above (for 3 mandatory paper work) is this waiting time for your country's queue to reach your year.