Green Card Process: EB1, EB2, EB3 (and H1B Visa)
US Green card process H1B PERM, I140 & I485. Minimum processing time = 2 yrs. Max = Country of birth queue. Longest waiting time for India & china EB2, EB3.
AM22Tech Team
Updated 5 Sep, 21
A USA green card allows you to stay permanently and work in any occupation. The two primary options to get a permanent residency in US are family based and other is employment based.
Out of total green card issued by USCIS every year, almost 67% are given to family based applications. Your best chance of immigrating to US is through family relationship, if you can.
Different paths to US Green card:
Family-Based Sponsorship – US citizen close family member files your I-130 application.
Employment-Based Green Card – US employer sponsors your H-1B or L visa and then files PERM, i140 followed by i485 to get a green card.
Green card using Business Investment – Green card using E-5 investment green card.
We will talk about the process to get Green card while you are in the USA working on H1B or L1 work visas.
Employer-sponsored GC process has 3 main steps:
PERM – Permanent Labor approval by DOL (Department of Labor).
i140 – Filed within 6 months of PERM approval to retain the priority date.
i485 – Adjustment of Status if your country's PD date is current.
The total H1B max out time as is commonly known as is time to get PERM and i140 approvals.
H1B Max out time = PERM + i140 approval time
PERM Process
PERM labor certification processing can take up to 15 months (1.2 years) in total with no premium processing available.
The U.S. Department of Labor (DOL) issues PERM approval to certify that:
There are no qualified Americans available or qualified to perform the job.
Hiring a foreign national will not harm the wages and working conditions of American workers.
PERM process has multiple sub-steps and all have to be completed by your sponsoring US-based employer, usually the same as H1B or L1 sponsor.
Job Ads – 2 to 3 months
PWD – Prevailing Wage Determination – Takes 1 to 3 months
PERM – 4 Months
#1 Job Ads 2-3 months
The first step in sponsoring an employee's PERM is to make a real recruitment effort to hire Americans.
Employer has to:
Publish two Sunday newspaper ads over a period of 2 to 3 months before the PERM application can be filed.
Conduct Interviews – Employer has to conduct interview if any American applies for the job through new paper AD. All the paperwork for the job applications received, interviews took (if any), and interview rejections (if any) have to be maintained by the Human Resources department (HR). DOL (Department of Labor) can ask for all these documents if your case comes under PERM Audit later.
The employer's financial documents are required to prove their ability to pay the wage offered at the time of PERM filing.
#2 PWD – Prevailing Wage Determination 1-3 months
Prevailing Wage Determination identifies the minimum salary paid at the work location (city) for a similar type of job.
Attorneys suggest that an employer should file PWD after completing Job Ads step. They can file PWD in parallel with advertisement but is not recommended as it might be the reason for Audit later.
Most good employers file PWD only after completing Job Ad step.
Check current prevailing wage determination time.
#3 File PERM
Employer can file PERM after Job Ad and PWD steps have been completed.
You will need:
PWD Document
Skill Letters – Your employer might ask you to get the 'Skill letter for Green card' and 'Experience letters' from your past 5 working years. Note that the Skill letter is different from than Experience letter. These letters are not required immediately but would be required if your PERM application is selected for audit.
The PERM application is generally filed electronically on DOL's flag website free of cost.
Track PERM Status Online
You cannot track your PERM status online on the FLAG website as it can only be accessed by your employer or attorney.
How to track PERM processing time?
Disclosure Data: DOL shares the PERM approval data on its disclosure data page quarterly in an excel sheet format. You can download and see past approvals.
AM22Tech PERM Processing Time: We collect PERM approval data shared by users on various online forms and merge it with DOL's official PERM disclosure data to show you the current PERM processing time here.
Trackkit.com – This Online tracking forum is popular with immigrants to the USA. Users share their case PERM case details to help the community.
I-140 Immigrant Visa Petition
I-140 application is filed by sponsoring the employer and locks your Green card priority date. You can apply H1B transfer using pending I-140 at the time of job change.
The I-140 must application has to be supported by the approved PERM application.
The i-140 approval notice shows:
GC priority date,
Immigrant visa categories like EB-1, EB-2, EB-3, etc., and
Country of charge-ability like India, China, etc.
i140 processing time is 6-8 months in regular application. i140 premium processing gets approval in 15 days.
Sample i797 approval for I140: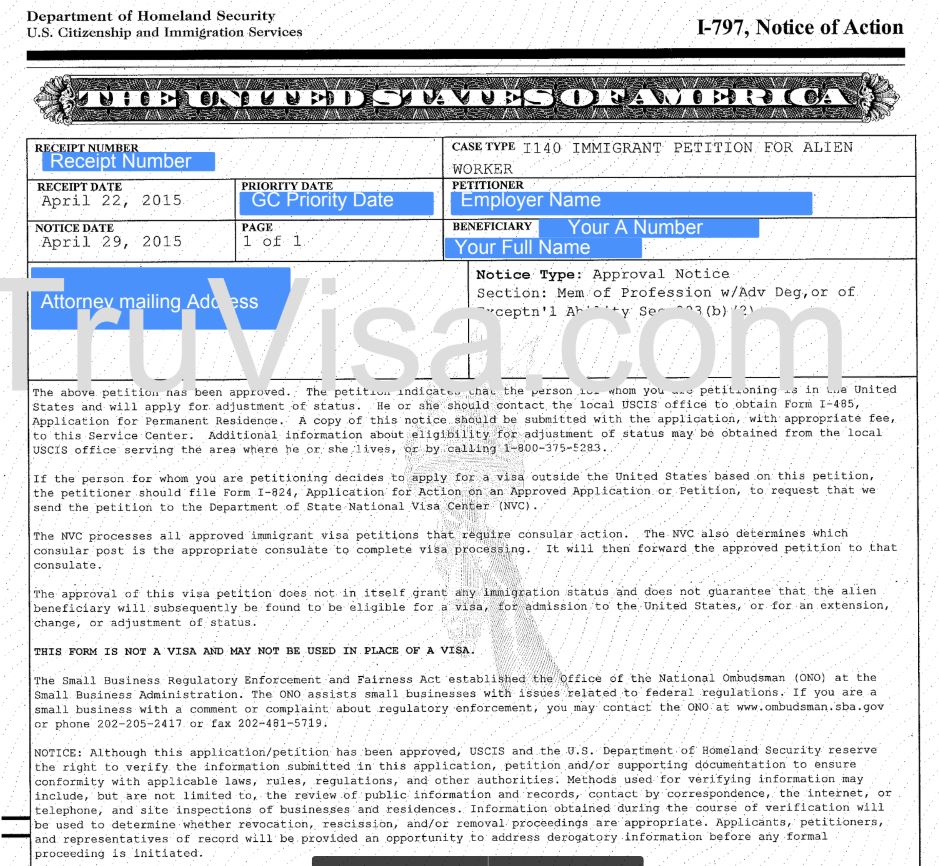 Spouses of H1B workers with approved I-140 approved can file for the H4-EAD work permit.
I-485 Adjustment of Status
Form i485 has to be filed by your employer if your PD date is current.
i-485 is a form that is commonly known as 'adjustment of status' as you technically ask USCIS to change your status from work visa to a Green card while you continue to stay in the USA.
USCIS issues an immigrant visa (called Green Card) to the applicant and any dependents (spouse and/or children) under 21.
Once it is approved, the status of the applicant is adjusted from "non-immigrant" to "immigrant." (Lawful permanent resident status).
You can check Current i485 filing fees on USCIS website.
I-485 EAD card
You can get an unlimited work permit called EAD card while your green card application is pending. This is called i-485 EAD card.
i485 EAD processing time is usually 90 days. i485 EAD is issued for a period of 1-2 years and can be renewed until i485 is pending.
I-485 Processing Time
i485 processing time varies from 10 to 12 months depending on your priority date. The PD date should remain current in the USCIS visa bulletin to get an approval.
If you are outside the USA and your PD date gets current, you can apply for a green card at the US embassy.
FAQ
Can a PERM be filed from outside USA?
PERM can be filed even if you are outside US or have not joined the employer in the US yet.
How soon can I get USA Green Card?
The total time from start to finish for an employer-sponsored Green card is based on the country of a birth specific queue. Most of the countries have immediate GC availability except China & India.

India has the longest waiting time in terms of GC availability.

What this means is that if you are an Indian and started the GC process in 2019, you can't file an i485 application unless your country's Priority date reaches 2019.

Hence, the total time apart from the timings mentioned above (for 3 mandatory paperwork) is this waiting time for your country's queue to reach your year.